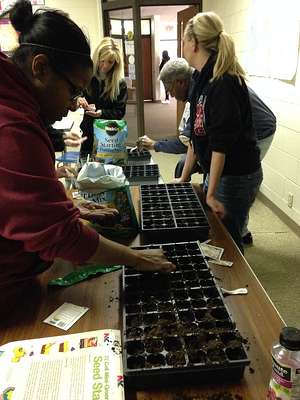 In March, a group of 11 Nebraska Methodist College students participated in the Spring Break Service Immersion, giving them a first-hand look at food issues in the surrounding Omaha community. The service immersion focused on the nutritional status of children among Omaha's urban population.
Nebraska Methodist College's service immersions provide students with intensive community-based learning experiences. Through the service immersions, Nebraska Methodist College aims to provide students with opportunities to gain greater self and global awareness by studying diverse cultures, politics, economics and healthcare.
During the March service immersion, students explored food insecurities within Omaha and learned about strategies for preventing of childhood obesity. The service immersion took the students to a number of organizations in the Omaha area to both learn and volunteer:
The group joined with employees of Woodhouse Auto Group in volunteering at the Food Bank for the Heartland. The group formed a production line to package weekend food backpacks for area children in need. The project provided breakfast and lunch for children in need during the weekends when they are away from school. The food was provided by a partnership between the Food Bank and ConAgra, which serves more than 8,000 children throughout 220 schools.
Students learned about The Big Garden, an outreach program aimed at establishing community gardens throughout Omaha in an effort to improve nutritional health and facilitate community development. The community gardens are focused on providing communities of need with options of having fresh produce and bringing the community and neighbors together by working as a team. The Big Garden provides support in establishing the community gardens, including securing grant money for seed and soil, building raised beds in areas where the soil may have lead contamination and providing education to the individuals in the community about continuing their garden.
The group visited Table Grace Café during the service immersion. The café is a non-profit restaurant in downtown Omaha that focuses on providing food to everyone who walks through their door whether or not they can pay for it. The café runs off of donations from patrons, but doesn't turn away those who can't donate. The café encourages those who can't donate to volunteer at the restaurant.
The immersion brought the students to the Omaha Opportunities Industrialization Center where they assisted members of the adult program in starting their own garden. While some students helped the members assemble garden starter kits of seeds and potting soil, other students helped till soil in garden beds to prepare for planting. The students provided instructions on how to care for the new plants and talked about ways to prepare the vegetables. The members were very excited and seemed to have a lot of hope for taking care of their new project.

The students visited with a school nurse at Minne Lusa Elementary School in North Omaha to learn about the food insecurity issues among the families in the surrounding community.