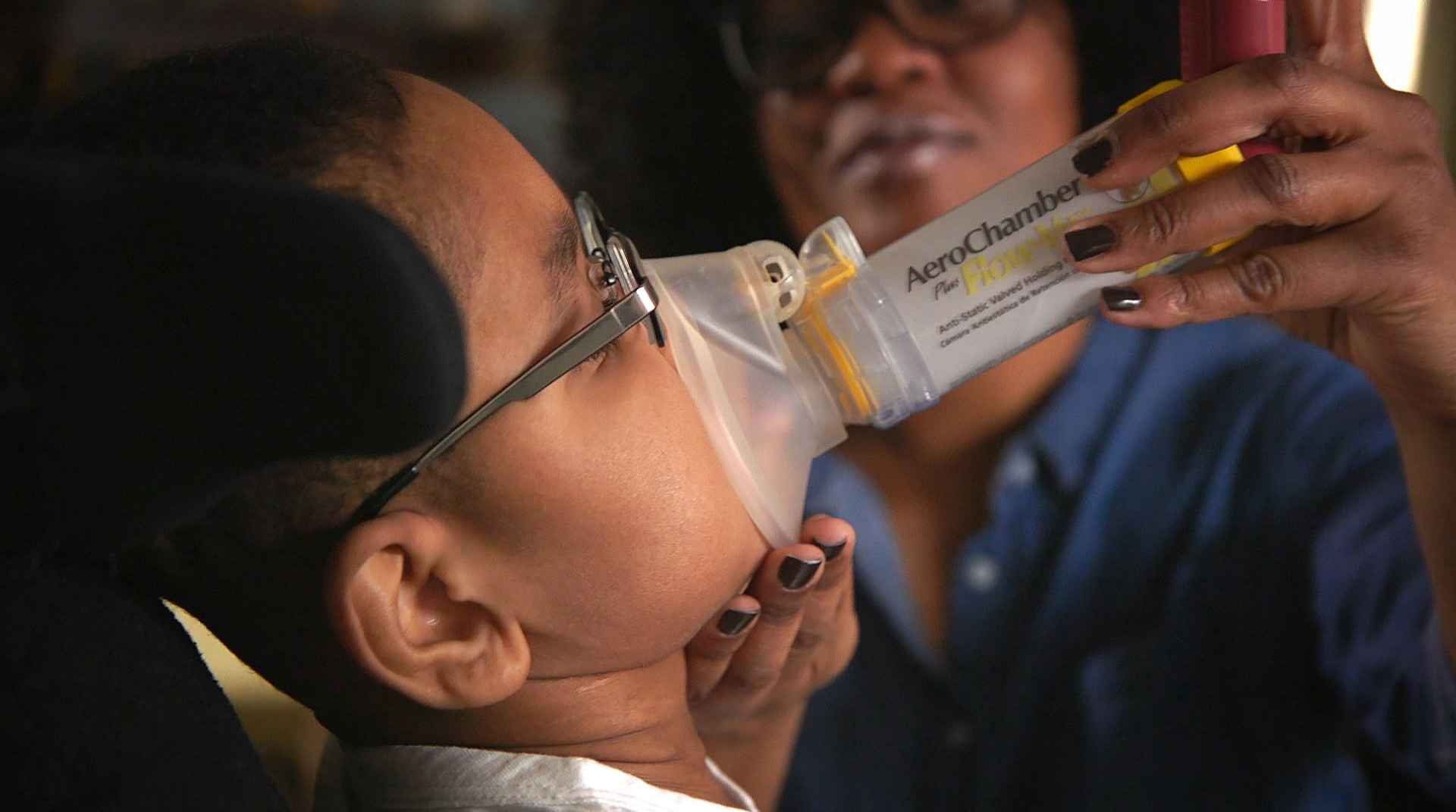 Being a respiratory therapist means providing compassionate care to patients who are suffering from chronic respiratory diseases.
"Can you go into a room and brighten somebody's day?"
That's the first question LaToya Sharp, a registered respiratory therapist and graduate of Nebraska Methodist College (NMC), asks when someone wants to know what it takes to make it in this career field.
"Helping someone with breathing problems to feel better, laugh, share or just smile makes me feel like I've kicked the winning field goal for my team," Sharp said. "You must be sensitive to the individual person's experience and truly care. That's when you know the respiratory field is for you."
It's a field Sharp never considered until her son, Tadrean, was born prematurely with multiple health issues, including the need for respiratory therapy.
With no previous healthcare experience, she changed careers and went back to school in her thirties. She graduated from NMC with an Associate of Science in Respiratory Care in 2018 and later earned her Bachelor of Science in Respiratory Therapy.
"I did this not just for me, but for my son and others like him," Sharp said.
While a career in respiratory therapy is rewarding, there's also a demand for respiratory therapists, especially in rural areas.
Employment is expected to grow by 14% between 2021-2031, much faster than the average for all occupations, according to the U.S. Bureau of Labor Statistics. This means the nation will need 18,400 more respiratory therapists through 2031.
Respiratory therapy is also considered one of the best jobs in the United States. U.S. News and World Reports ranked respiratory therapist as the 15th best healthcare job and 36th best job out of 100 in 2023.
Read more: How to Start a Career in Respiratory Therapy
Working as a respiratory therapist requires specific personality traits and skills. Discover six important characteristics of a good respiratory therapist, and find out if it's the right career for you.
1. Compassion as a Respiratory Therapist
As a respiratory therapist, you'll help patients who suffer from chronic respiratory diseases such as asthma, bronchitis, emphysema and COVID-19.
A part of providing medical care to a patient is offering emotional support. Being diagnosed with a disease can be a scary time for patients, and you'll often be the one assisting them with their emotional and mental needs.
As a student at NMC, you'll learn how to provide compassionate care to patients through hands-on learning, clinical experiences and community service.
2. Being Detail-Oriented: A Key Trait of a Successful Respiratory Therapist
Being detail-oriented is an important skill for respiratory therapists. Patients must receive specific treatments and medications, and their progress has to be monitored and recorded.
3. Why Interpersonal Skills Matter in Respiratory Therapy
Respiratory therapists interact with patients and their families. You may have to help family members understand how to care for the patient at home or in the community.
You'll also work as part of a healthcare team, following instructions from a supervising physician.
4. The Role of Patience in Respiratory Therapy
For patients with respiratory illness, progress can take time. You'll more than likely work with patients for many months or even years.
While it might seem like a challenge to work with patients who make slow progress, knowing that you're having an impact on patients' quality of life will be rewarding and meaningful. Your patience will be key to feeling that sense of accomplishment.
5. Problem-Solving Skills for Respiratory Therapists
A necessary skill for respiratory therapists is the ability to problem-solve. You'll evaluate patients' symptoms, work with a healthcare team to give a diagnosis and recommend treatment options.
Read more: Respiratory Therapists: Front-line Heroes
6. Science and Math are Key Respiratory Therapist Skills
As with most healthcare careers, respiratory therapists must have an understanding of anatomy, physiology and math. This knowledge will help you understand a patient's diagnosis and work with the healthcare team to administer medications and treatments.
How to Become a Respiratory Therapist
Sharp knows she was meant to become a respiratory therapist.
"It makes me happy to help people get through each day without struggling to breathe," she said. "I teach them their lives are not over because of a respiratory condition."
During her career, Sharp has worked with many of the same respiratory therapists who cared for her son, including the one who inspired her career change.
Every choice Sharp has made for her son's care, her career and her advanced education was made to have a positive impact in the lives of others.
"It's the passion that keeps you engaged and makes you want to do this work," she said. "Respiratory therapy isn't just a job, it's a part of your life."
At NMC, you can earn an associate or bachelor's degree in respiratory therapy. The bachelor's program has two paths:
RRT to BSRT

- This path is for registered respiratory therapists who wish to earn their bachelor's degree online while working full-time.

Dual Degree AS + BS

- This path allows you to earn your associate degree on campus in three years followed by your bachelor's degree online in the fourth year.
Are you ready to channel your compassion, attention to detail, interpersonal skills, patience, problem-solving abilities and science skills into a rewarding career as a respiratory therapist?
You can make a profound difference in people's lives, just like LaToya. The field is growing, and it's in need of dedicated professionals.
If you're eager to get started or wish to learn more, contact us today. We'd love to help you embark on this life-changing journey towards becoming a respiratory therapist.