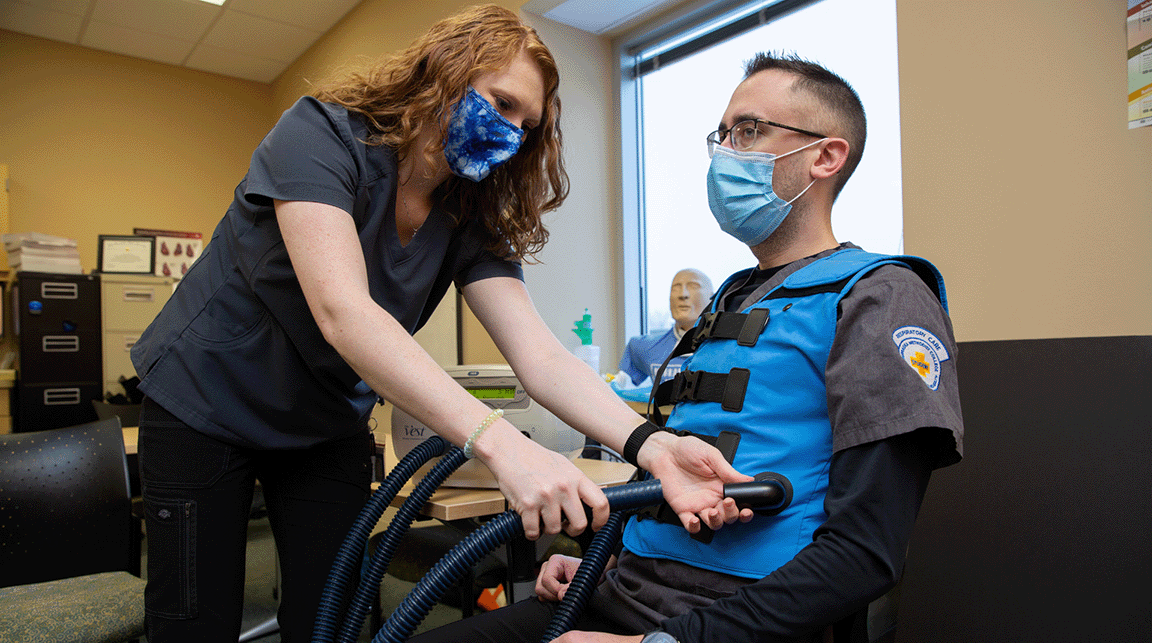 Respiratory therapists are more important than ever.
The demand for highly trained respiratory therapists is high in cities and rural areas due, in part, to long-term symptoms of COVID-19.
To become a respiratory therapist, you must earn a bachelor's or associate degree, pass an exam to become certified and take an advanced practitioner exam.
What is a Respiratory Therapist?
Respiratory therapists help patients who suffer from chronic respiratory diseases such as asthma, bronchitis, emphysema and COVID-19.
"An excellent respiratory therapist is a critical thinker, problem-solver, collaborator and willing to be a lifelong learner," said Dr. Lisa Fuchs, associate professor and program director of respiratory care at Nebraska Methodist College (NMC).
"Respiratory therapists also have to have a heart set of empathy. They are compassionate and gentle when dealing with stressful situations in pulmonary healthcare."
The work is frequently fast-paced, involving emergency care to open airways following a heart attack, drowning or other illness or injury. It also involves preventive care and patient education. In addition, respiratory therapists diagnose and manage chronic lung and breathing conditions such as asthma, emphysema or heart failure.
The profession allows you to evaluate and treat diverse patients. For example, respiratory therapists work with premature infants lacking fully developed lungs, adults suffering from labored breathing and older adults suffering from disease.
Fuchs said advanced practitioners have extensive training in extracorporeal membrane oxygenation, which allows them to intubate patients and place them on ventilators.
A Demand for Respiratory Therapy
The COVID-19 pandemic has created a higher demand for respiratory therapists.
"The need for more respiratory therapists in long-term settings rehabilitating COVID-19 survivors is surmountable as patients are fastened to breathing machines with tracheostomy tubes too weak to breathe on their own," Fuchs said.
That demand is high in cities, but rural areas are experiencing a significant shortage of respiratory therapists.
Because of staffing shortages, many hospitals and clinics hire temporary traveling respiratory therapists.
Fuchs said working as a traveling respiratory therapist is ideal for those who have flexibility, want to gain experience in various healthcare settings and have a desire to travel.
"The pay and benefits are incredible," she said. "But the traveling therapist is not for everyone as you must rent or own a home base."
The median annual wage for respiratory therapists was $62,810 in 2020, according to the U.S. Bureau of Labor Statistics. Depending on the part of the country and level of experience, traveling respiratory therapists can make $1,000 to over $2,000 a week.
Employment for respiratory therapists is expected to grow 23% through 2030, much faster than average among all occupations.
Education Requirements for Respiratory Therapists
An associate degree will prepare you to take the Certified Respiratory Therapist (CRT) exam, leading to the advanced practitioner exam to earn the Registered Respiratory Therapist (RRT) credential.
Those with an RRT credential are eligible to enroll in a bachelor of science program. A bachelor's degree is the future of the profession, as determined by the American Association for Respiratory Care (AARC).
The NMC respiratory therapy program is unique and future-forward, featuring three different pathways into the profession.
Whether you're a first-time first-year student or a transfer student, there's a program that will fit your needs.
Students can become leaders in the field and enter respiratory therapy practice with a wage-earning professional year built into this innovative Bachelor of Science in Respiratory Therapy, NMC's newest program.
NMC's dual degree plan allows students to earn an associate degree, become a Registered Respiratory Therapist (RRT) and finish a bachelor's degree while working in an advanced professional role.
In the first three years, a student is dually enrolled in both bachelor and associate level courses.
After the third year, students earn their associate degree, can take the NBRC exam and can begin working as respiratory therapists.
The fourth year resumes a few weeks after graduation and is 100% online.
Program Highlights:
A 3+1 path to a four-year bachelor's degree - three years for the ASRT and one year to complete the BSRT.
In the first three years, earn your associate degree on campus.
In the fourth year, earn your bachelor's degree 100% online while you practice as a paid professional in your local area.
Curriculum supports the changing role of the respiratory therapist. It includes content in health promotion, health education, leadership, case management and healthcare policy.
Choose one of two holistic-focused BSRT tracks in your fourth year: Education and Research or Healthcare Management and Leadership.
A practicing respiratory therapist who graduated from a CoARC-approved program can attend classes online while working and complete their degree in 12 to 15 months. A professional coming to the program with an RRT credential will be waived six credits or two courses in this program.
Program Highlights:
Earn a bachelor's degree with a 100% online program while you complete a capstone project and practice as a paid professional in your local area.
No clinical hours are required.
Curriculum supports the changing role of the respiratory therapist and includes content on health promotion, health education, leaders, case management and healthcare policy.
Choose one of two holistic-focused BSRT tracks: Education and Research or Healthcare Management and Leadership.
Students are awarded six credits for "Credit for Prior Learning" when entering the program with an advanced certification, RRT.
The associate degree program is ideal for a recent high school graduate looking to enter a healthcare career quickly or for a college graduate with a Bachelor of Science in biology or chemistry.
Program Highlights:
24-month, CoARC-accredited, on-campus Associate of Science degree program
Students may choose to complete their third year online.
Learn critical thinking skills, communication skills, patient assessment skills and disease management protocols through classroom instruction, clinical-based practice and interdisciplinary simulation.
Upon successful completion of the program, students are prepared to take the Certified Respiratory Therapist (CRT) and Registered Respiratory Therapist (RRT) exam.
Because of the 3:1 student-to-faculty ratio, each student is guaranteed hands-on experience in the clinical setting.
Program starts in January, May and August.
NMC was ranked as the 11th best online bachelor's degree in respiratory therapy in the nation by Intelligent.com for 2022. The ranking commended NMC for having the best specialization options among the top group.
NMC's respiratory therapy program was ranked as the fourth best online bachelor's degree in respiratory therapy in the nation by Best Colleges in 2019.
Find Meaning with a Respiratory Therapy Career
Latoya Sharp, a respiratory therapist and NMC graduate, was inspired to become a respiratory therapist after caring for her son, who suffered from respiratory illness.
Her oldest son was born prematurely and began having respiratory issues after he turned one. After receiving a transplant, being intubated and extubated many times and having a tracheostomy, Sharp decided to take a big step in his care.
"That got me wanting to learn more and more about his respiratory issues," she said. "I was scared at first, given that I was a little older and had been out of school for a while. I was afraid that I wouldn't be able to keep up, but that was not the case."
Sharp said the professors were supportive and helped her find success at NMC.
"I feel grateful that I did that (went to NMC). Not just for my son, but for all the other people that I'm helping. I'm happy that I chose this college. I wouldn't be who I am today without this school." she said.
How to Get a Degree in Respiratory Therapy
You can schedule a personalized visit at NMC, virtually or on campus. You'll meet one-on-one with an admissions coordinator.
If you have questions, contact Michelle Olson, associate director of enrollment services, at michelle.olson@methodistcollege.edu.
If you're ready, you can apply online in as little as 10 minutes.