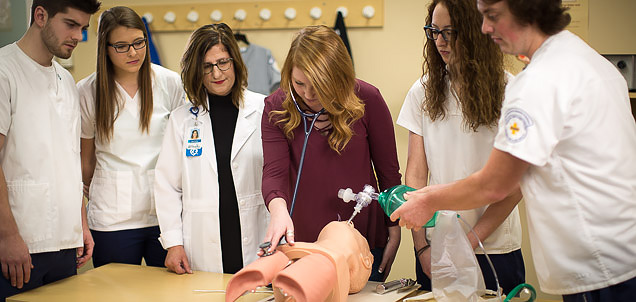 You've done your career research. You know you want to be a respiratory therapist.
But do you know what to look for in a respiratory therapy program? How to tell if it will be worth the money, let alone the time and effort? Which factors could help you decide between two programs that appear to be the same?
To help you take a deeper dive into what sets one respiratory care program apart from another, we've prepared a comparison worksheet for you to download, print and use.
Based on a questionnaire template created by the American Association for Respiratory Care (AARC) for use by prospective students, this worksheet will help you organize the program information that's crucial to your success.
In choosing any higher education degree program, be sure to identify your individual preferences as well as potential programs' strengths and weaknesses, comparing hard numbers whenever possible.
Also consider less quantifiable features, including institutional reputation, culture and student/alumni feedback.
Start by identifying your individual needs and preferences
School Size: Are you more comfortable at a small to mid-size school or a large university?
Location: How important is geographic location?
Price and Value: What are your budget considerations for tuition and fees, return on investment and overall value? Do you have college credits to transfer that may substantially reduce total cost?
Timing and Flexibility: Do you have a target start date or deadline for completion of your degree?
Culture and Customer Service: How important is individualized attention and helpful human interaction, in-person and online?
Now compare multiple respiratory therapy degree programs
Accreditation
In order to take the certification exams you need to practice respiratory therapy, the program you choose must be accredited by the Commission on Accreditation for Respiratory Care (CoARC).
Entry into Professional Practice vs. Degree Advancement
Currently, the minimum degree you'll need to be an RT is an associate degree. In fact, about 80% of what is called the "entry into professional practice" degree programs are at the associate level. However, it's important to know the bachelor's degree is the future of the respiratory care profession so you can plan accordingly.
Some schools, like NMC, offer several respiratory degree options that allow you to add that bachelor's degree later, or right away, depending on your situation.
Degree configurations differ slightly from school to school, but NMC's setup looks like this:
(1) A two-year Associate Degree, accredited by the Commission on Accreditation for Respiratory Care (CoARC) for entry into professional practice.*
(2) An online Bachelor's Degree Completion (a BSRT degree advancement program for associate-prepared respiratory therapists).*
(3) A four-year dual degree AS + BSRT (three-year, on-campus associate degree followed by online bachelor's completion).*
Number and Types of Clinical Sites
Are students exposed to a wide variety of settings for clinical instruction?
Anatomy Labs
Do students have access to a human cadaver lab to learn the anatomy of the lungs and respiratory system? And/or a 3D virtual dissection table?
Helpful Minors
For example, Nebraska Methodist College offers a minor in Spanish for Healthcare Professionals.
Reputation and Success
Is healthcare the school's traditional and primary focus or just one of many areas of interest? Does the school have consistently high board pass rates for its healthcare programs, including respiratory therapy?
Download the Student Worksheet
We hope this worksheet will help you find the respiratory therapy degree program that is right for you.
Use it as your information checklist when you speak or correspond with program directors and/or admissions staff.
Ultimately, your college selection is an intensely personal choice, and one that we'd like to be a part of, whether or not you end up choosing NMC.
* Nebraska Methodist College (NMC) is fully accredited by the Higher Learning Commission. The NMC Respiratory Care Program, CoARC Program ID 200368, Omaha, Nebraska, Associate of Science in Respiratory Care, is accredited by the Commission on Accreditation for Respiratory Care (CoARC) for Entry into Respiratory Care Professional Practice, www.coarc.com. NMC is applying for CoARC accreditation of the Bachelor of Science in Respiratory Therapy (BSRT) degree advancement program and was granted Approval of Intent 510010 by CoARC, effective Nov. 9, 2018.