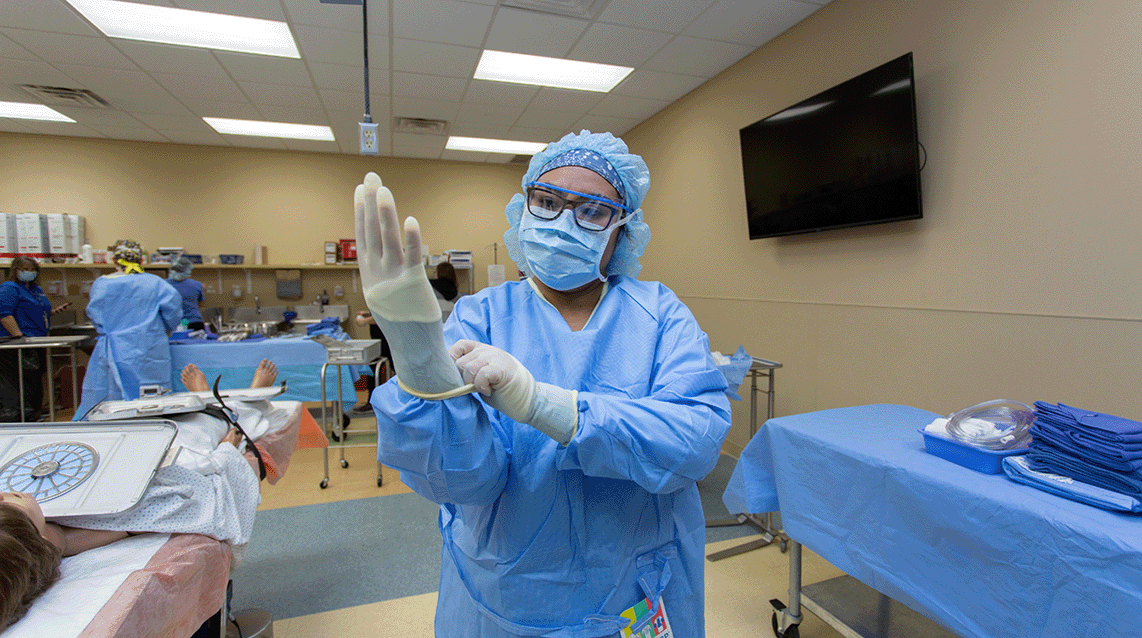 Working in allied health offers many opportunities for employment and allows you to have a rewarding career promoting health and wellness.
What is an Allied Health Degree?
The allied health field is made up of health professionals who use scientific principles and evidence-based practice for the evaluation and treatment of acute and chronic diseases.
Allied health professionals also work to prevent illness and promote wellness.
At Nebraska Methodist College (NMC), you can receive an allied health certificate or enroll in an associate's, bachelor's, master's or doctoral degree program.
Top Allied Health Degree Jobs
With an associate's degree in allied health, you can work as a physical therapy assistant, a radiologic technologist, a respiratory therapist, a surgical technology specialist or a sonographer.
The median annual salary for allied health careers that require an associate's degree is between $47,300 and $72,510, according to the Bureau of Labor Statistics.
A bachelor's degree in allied health allows you to develop more skills and experience, make yourself more employable and increase your salary opportunities. Allied health professionals with bachelor's degrees are increasingly in demand. With an allied health bachelor's degree, you can work in imaging sciences, respiratory therapy and sonography.
Radiologic technologists made an average of $63,710 per year in 2019 with a job growth rate of 7% between 2018 and 2028, according to the Bureau of Labor Statistics.
The median salary in 2019 for respiratory therapists was $62,810 per year, according to the Bureau of Labor Statistics. The profession is expected to grow by 19% between 2019 and 2029. Respiratory therapist is one of the top 25 healthcare jobs, according to U.S. News and World Report.
In 2019, the median annual salary for sonographers was $70,380 per year. Diagnostic medical sonographers (including cardiovascular sonographers, cardiovascular technologists/technicians and vascular technologists) will have a much-faster-than-average job growth rate of 12 percent from 2019 to 2029.
To work as an occupational therapist, you can earn a Master of Occupational Therapy or a Post-Professional Occupational Therapy Doctorate.
Occupational therapy is one of the 10 best healthcare career jobs, according to U.S. News and World Report.
In 2019, the median annual salary for occupational therapists was $86,250 per year, according to the Bureau of Labor Statistics. The growth projection for the OT profession is 16% between 2019 and 2029.
Why You Should Get an Allied Health Degree
An allied health degree will provide many job opportunities. Healthcare employment is expected to increase by at least 15% through 2029.
There's a demand for allied health jobs, including respiratory therapists, occupational therapists, surgical technology specialists and sonographers.
Most allied health associate degree programs can be completed in two years or less. These programs allow you to enter the job market sooner or begin working in the healthcare field while you continue your education to earn a bachelor's degree.
You can also become a phlebotomist during a 9-week certification course, a pharmacy technician during a 10-week certification program or a sterile processing technician during a six-week course. The median salary for jobs that require healthcare certificates ranges from $35,100 per year to $38,800 per year.
At NMC, cardiovascular sonography and multispecialty sonography are 21-month programs that prepare you to become a certified sonographer. The physical therapy assistant program and surgical technology program can also be completed in 21 months.
The radiologic technology can be completed in 24 months, and will prepare you to work in a hospital, clinic or diagnostic imaging center.
How to Get an Allied Health Degree
At NMC, you'll gain the skills and experience you need to become a successful healthcare provider. Students learn in state-of-the-art classrooms and laboratories, and build real-life skills by working in clinical settings.
The facilities, highly credentialed faculty and a supportive network of student services prepare students for a successful career in allied health.
NMC is a top accredited nursing and healthcare college that offers associate, bachelor's, master's and doctorate degrees with programs available both on-campus and online.
You can enroll in an allied health program at NMC at methodistcollege.edu/apply-now.