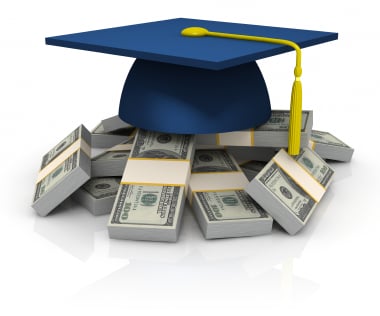 A college education is an important investment in your future. Paying for college, however, can be very intimidating. But before you say to yourself, "I can't afford to go to a private college," you should explore all of the opportunities that exist to help you pursue your education. At Nebraska Methodist College, students have a number of financial aid options.
Applying for scholarships should be one of your top priorities in paying for college. Scholarships, which are offered by numerous groups and organizations, are free investments in your education. You don't have to pay them back, and there is no limit to how many you can apply for. Whether you are an incoming or current student, you should always keep your eyes peeled for new scholarship opportunities.
Grants are another type of free money to help you pay for college. Most grants are based on a student's need, which is determined by the Free Application for Federal Student Aid (FAFSA) results. This is why filling out and submitting your FAFSA is so important. Every student should fill out a FAFSA to ensure they aren't missing out on assistance they could receive.
Federal work study is an opportunity to supplement your finances while you're going to school. Students participating in federal work study typically work 10 hours a week in an on-campus position or college-related community program. The total hours a student can work is determined by the student's need based on their FAFSA.
After applying for scholarships and grants, student loans are an opportunity for students to finance the remainder of their educational expenses. Student loans have to be repaid, and not all student loans are created equal. Students should first apply for federal student loans before considering private or alternative loans. Federal student loans offer better terms and conditions than private loans, which typically have higher interest rates and loan fees.
Nebraska Methodist College's Business Office also offers a monthly payment plan, which allows students to pay off their balance over the course of the semester rather than up front. Nebraska Methodist College also accepts VA educational benefits. Registrar Melinda Stoner is the VA Certifying Official at the college.
Penny James, Director of Financial Aid at Nebraska Methodist College offers these tips to students seeking assistance in paying for college:
Explore and exhaust all sources of free assistance before borrowing student loans. Check into what your employer offers in terms of scholarships or tuition assistance, and explore scholarship opportunities through local civic organizations, foundations and other sources.

Current Nebraska Methodist College students should submit their scholarship applications by Jan. 24 to apply for the Merit Scholarship or to renew their current scholarship.
File your FAFSA each year to be considered for federal financial aid. Also, don't ever pay a fee to file the FAFSA. It is a free application.

If you take out loans, don't borrow more than what you need. Develop a budget and be willing to make sacrifices in the short term to minimize borrowing and long-term debt.
Read the instructions and fine print regarding your financial aid. Ask questions if there is anything you don't understand.

Work closely with your academic advisor to develop a program plan. This helps keep you on track to graduate without unnecessary delays.

Beware of scholarship scams. If it sounds too good to be true, it probably is. The Federal Trade Commission offers tips on spotting scams.
Other Helpful Links:
- Nebraska Methodist College Financial Aid
- FinAid
- Fast Web