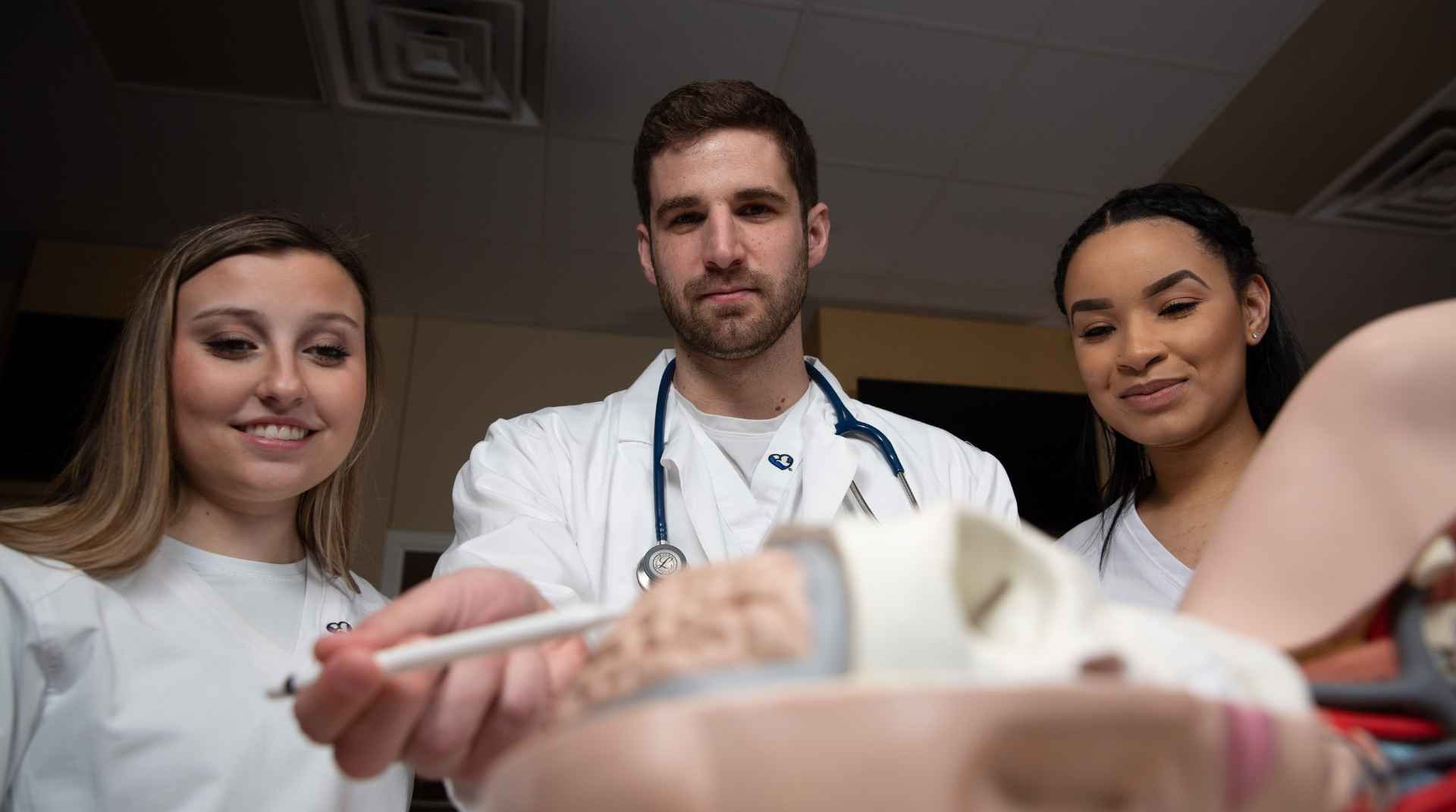 If you've been thinking about becoming a nurse, starting as a certified nursing assistant (CNA) could help get you there.
You can complete a CNA or CNA+ program in four to 15 weeks, and the knowledge you gain will be a foundation for your future nursing career.
Starting as a CNA on your path to becoming a nurse allows you to gain experience in a healthcare setting, develop professional relationships that can help you get a job as a nurse and receive tuition assistance for your nursing education.
The Path from CNA to Registered Nurse
The minimum age required to become a CNA is 16, so you can earn your CNA certificate while still in high school.
Working as a CNA during high school will allow you to see nurses in action and decide if working in healthcare is right for you.
CNAs work closely with patients daily to provide essential care, such as checking vital signs, making beds and assisting them with personal grooming. CNAs also help doctors and nurses with basic medical procedures.
If you've already graduated from high school, starting as a CNA can help you network and, possibly, receive tuition assistance for nursing school.
At Nebraska Methodist College (NMC), you can take a four-week on-campus or a six-week online, hybrid program to become a CNA.
The on-campus certificate program features small classes taught by experienced instructors who encourage a hands-on learning approach.
The hybrid certificate program features mostly online CNA courses In addition, students come to campus once per week to participate in interactive learning activities.
A 15-week hybrid CNA+ course is also available. It aims to save students time and money while giving them more career opportunities.
NMC's CNA+ program combines three healthcare courses, Certified Nursing Assistant (CNA), Medication Aide (MA) and Phlebotomist.
After completing your chosen program you can take competency exams to qualify for the State of Nebraska Nurse Aide Registry placement.
To become a registered nurse, you'll enroll in a four-year Bachelor of Science in Nursing program.
Read more: How to Get Three Healthcare Certificates in Four Months
Understanding CNA to RN Programs
Once you're working as a CNA and ready to begin your journey to becoming a registered nurse, you can ask your employer if they offer an academy program or tuition assistance.
If you work as a CNA at Methodist Health System (MHS), you'll be eligible for the Tuition Assistance Program when you attend NMC. You can receive up to $3,500 a year in tuition assistance.
You could also receive tuition coverage through the Methodist Health System Academy program.
The Certified Nursing Assistant (CNA) to Bachelor of Science in Nursing (BSN) Academy allows current CNAs at Methodist Hospital, Women's Hospital, Methodist Jennie Edmundson or Methodist Fremont Health with at least 12 months of full-time work experience to receive tuition assistance when they enroll in the BSN program NMC.
In exchange for tuition coverage, CNA to BSN Academy students must work at an MHS facility for at least 24 hours a week throughout their enrollment in the academy. They will continue their employment after graduation, working as a registered nurse (RN) for five years.
Selection for the academy is based upon acceptance to NMC, completion of the approved
academy selection form and availability of academy funds. Spaces are limited, and candidates are evaluated based on qualifications and organizational needs.
Read more: CNA vs. RN: What's the Difference?
The Benefits of Starting as a CNA in Your Nursing Career
In your CNA education, you'll learn skills and techniques to help you when you switch to registered nursing. In addition to skills like measuring vital signs and assisting patients with different tasks, you'll develop a caring nature that will allow you to excel as a nurse.
You've worked with patients, maybe even made a difference in their lives, and your attitude will position you well as a nurse.
Read more: What to Know Before Becoming a Nurse
How to Transition From CNA to RN
One of the most challenging parts of nursing school will be managing your time. You'll be balancing shifts as a CNA with classes, studying and clinicals.
It will be important for you to ask for help when you need it.
The college you choose for your bachelor's degree should have support services to help you. Some of the services that you can use are:
Tutoring
Supplemental instruction
Mentoring
Disability services
Once you graduate and transition to a registered nurse, it will again be important for you to ask questions and for help when you need it.
Read more: How Hard is Nursing School? Challenges of Becoming a Nurse
Career Growth Opportunities for CNAs in the Nursing Field
Starting as a CNA and pursuing your bachelor's degree in nursing gives you many opportunities for career advancement.
You can work in many settings, from pediatrics to obstetrics to the emergency department and more.
In addition to specializing in a certain department, you'll also have the opportunity to advance your career. Many nurses go back to school to receive their Master of Science in Nursing or their Doctor of Nursing Practice, becoming leaders in their field in the process.
NMC offers four MSN tracks:
Nurse Educator
Nurse Executive
Nursing Informatics
Care Coordinator
NMC offers four DNP tracks:
Family Nurse Practitioner
Adult Gerontology Primary Care Nurse Practitioner
Adult Gerontology Clinical Nurse Specialist
Public Health Policy
Read more: Four Reasons to Make the Leap From CNA to BSN
Begin your CNA to RN Journey
Ready to start your journey from CNA to registered nurse? Explore our CNA and nursing programs at NMC and take the first step towards a rewarding nursing career.
Click here to learn more about our program offerings and how we can support your career growth in the nursing field.