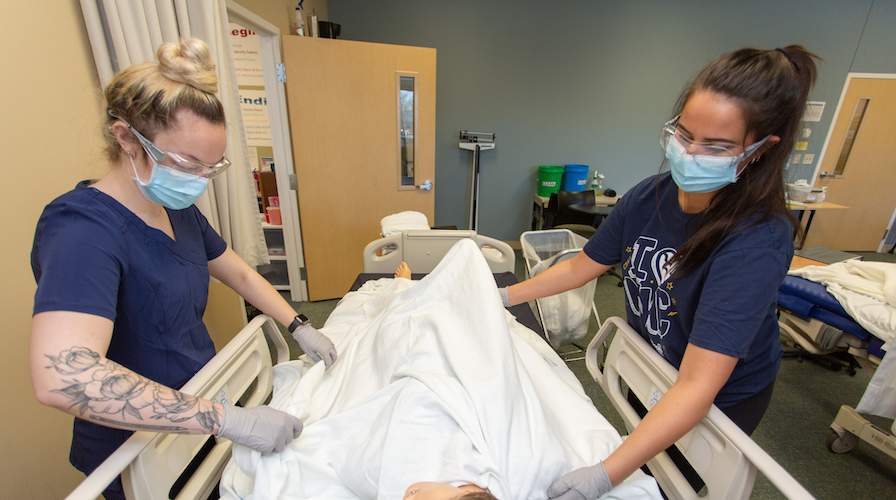 If you're ready to start your healthcare career but don't want to spend much time or money on classes, the CNA+ certificate program may be for you.
Nebraska Methodist College's (NMC) CNA+ program combines three healthcare courses, Certified Nursing Assistant (CNA), Medication Aide (MA) and Phlebotomist.
"This course was developed to shorten the time it takes to obtain three certificates," said Amy Boyles, director of professional development. "This allows students to start a career in the medical field sooner."
The 15-week course aims to save students time and money while giving them more career opportunities.
CNA+ Certificate Program
The CNA+ hybrid course allows students to complete online coursework on their schedule while meeting weekly due dates.
"This course enables students to watch videos, view presentations, complete online assignments, take quizzes and tests weekly, and come into the college to learn the skills and receive feedback," Boyles said.
Students at NMC benefit from a hands-on approach to learning, smaller class sizes and a faculty that cares about their success.
The program costs $2,000 and includes:
All course content.

Required textbooks.

One set of scrubs.

Basic Life Support for Healthcare Professionals.

Clinical and on-site state testing for CNA.
"By combining CNA, MA and phlebotomy into one course, the student is saving over $200," Boyles said. "If you currently have your CNA certification, you can still apply. If accepted, you'll receive a reduction in the $2,000 course fee and can start later in the course to take the medication aide and phlebotomy content."
State testing occurs during the program for CNA and MA after completing training and skills. Students that pass state testing can start working as CNAs and MAs while completing the phlebotomy portion of the class.
Upon completion of the course, students are eligible to take the American Society for Clinical Pathology (ASCP) certification examination enabling them to be certified Phlebotomy Technicians, PBT (ASCP).
Job Outlook for Certified Nursing Assistants, Medication Aides and Phlebotomists
Certified nursing assistants work closely with patients providing essential care such as checking vital signs, making patient beds, helping patients with personal grooming and assisting medical staff with basic medical procedures.
CNAs work in various settings, including nursing care facilities, hospitals, assisted living facilities for the elderly and home healthcare.
The projected job growth over the next 10 years for certified nursing assistants is 5%, according to the U.S. Bureau of Labor Statistics. The median annual salary in 2021 was $30,290 or $14.56 per hour.
Medication aides work under the direction of a licensed healthcare professional administering medication to patients.
Certified medication aides are qualified to work in settings such as hospitals, rehabilitation centers, assisted living facilities, medical offices and home healthcare.
The projected job growth for certified medication aides is 25% over the next 10 years, according to the U.S. Bureau of Labor Statistics. The median annual salary in 2021 was $29,430 or $14.15 per hour.
Phlebotomists collect, transport, handle and process blood and other specimens for medical analysis.
Phlebotomists work in settings as varied as physician offices, medical clinics, hospitals and commercial laboratories.
The projected job growth for phlebotomists is 10% over the next 10 years, according to the U.S. Bureau of Labor Statistics. The median annual salary in 2021 was $37,380 or $17.97 per hour.
How CNA+ Can Jumpstart Your Healthcare Career
Healthcare certificate programs are a great way to enter the healthcare field quickly and gain experience.
As a CNA, medication aide or phlebotomist, you'll experience firsthand how rewarding it can be to work in healthcare. You may discover that you've found the perfect career for you.
As you gain experience in your field, you may want to continue your education to become a nurse, respiratory therapist, radiologist, surgical technology specialist or sonographer.
Having experience working in a healthcare setting can leaping to your associate or bachelor's degree in healthcare easier.
Working in healthcare may also allow you to receive reduced tuition when you decide to return to school. Many employers offer tuition assistance or academy programs that provide scholarships.
How to Apply to the CNA+ Program
At NMC, you'll gain the skills and experience you need to become a successful healthcare provider. Students receive a high-quality education from highly credentialed faculty in state-of-the-art classrooms and laboratories and build real-life skills by working in clinical settings.
To be considered for the program, applicants must be at least 18 years of age, have a minimum cumulative GPA of 2.0, meet the technical standards for performance, and provide proof of vaccines.
To apply to the CNA+ program, you must complete an online application and submit your official high school and/or college transcripts.