Many people, when they've gotten a taste of the healthcare world as a Certified Nursing Assistant, find that they'd like to take on an even more in-depth role in the field. Usually, that means making a transition to becoming a nurse.
If that sounds like you, then you'll want to keep reading. We've found that persons who have attained their CNA credentials are uniquely equipped to tackle the challenges that come with seeking a Bachelor of Science in Nursing (BSN). Below, we'll show you why this is a career path that makes sense, as well as highlight the many benefits you can expect once you decide to pursue your BSN.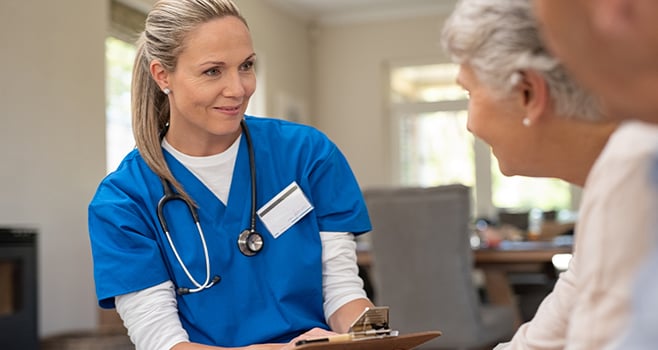 You've seen healthcare firsthand.
Because of your experience as a CNA, you've gotten a peek at healthcare from a vantage point that not a lot of other traditional students have had. As a result, you probably already know whether or not this is a field you'd be comfortable being in your entire career.
Even coming to that realization is a big step, and because of your unique position, you can move forward with confidence, knowing you've already found your place and that you belong in the healthcare community. Going from being a CNA to a BSN will mean taking courses in biology, anatomy, physiology, psychology, nutrition and more.
You're ahead of the curve.
Because of your previous CNA education, you've also learned skills and techniques that will come in handy when you make the switch to registered nursing. And we don't just mean the mechanics of things like measuring vital signs and helping patients with different tasks.
In fact, it's the caring nature you develop as a CNA that will truly allow you to excel as a registered nurse. You've worked with patients, maybe even made a profound difference in their lives, and as such, your attitude will position you well as a nurse.
Compassion is a trait that we strive to ensure all of our students exhibit at NMC, and if your time as a CNA has already instilled those virtues within you, you'll be ready to refine your positive temperament even further as a nurse.
What does a salary look like for a BSN-prepared nurse?
A job as a CNA is a rewarding title that any individual should be proud to have. But we would be remiss not to address the elephant in the room: salary.
When you secure your BSN, you can expect to have a higher rate of pay than you would as a CNA. According to the U.S. Bureau of Labor Statistics, the job market is expected to grow by 7% from 2019 to 2029, and the median pay for nurses is $73,300 per year. Many hospitals are now requiring their nurses to have a BSN which means more autonomy over your career and greater job opportunities.
We understand that this is a bit like comparing apples and oranges. Even programmatically speaking, our CNA course is four weeks compared to the four years traditionally required to attain a BSN, and the latter entails tuition costs and a greater commitment. Still, there's no ignoring that salary expectations among registered nurses are much higher than those among CNAs. If you wish to earn your BSN faster to get into the job market, an Accelerated Bachelor of Science in Nursing is an option at NMC as well. You'll want to weigh your options and decide whether or not a traditional or accelerated BSN is right for you.
You have many opportunities for advancement.
Having a BSN has many benefits. When you become a nurse, you're not just filling one role. You'll have a number of different departments you could be a part of, from pediatrics to obstetrics to the emergency department and plenty more.
In addition to being able to specialize in a certain department, you'll also have the opportunity to advance your career in other ways. Many nurses are going back to school to receive their Master of Science in Nursing or their Doctor of Nursing Practice degrees, becoming leaders in their field in the process.
Nebraska Methodist College actually offers three different MSN tracks: the Nurse Educator track is for those who want to pass their knowledge on to others, the Nurse Executive track is the perfect fit for individuals who want to become team leaders and administrators in clinical and hospital settings, and Nursing Informatics, our newest track, actually helps nurses to interpret and harness data in order to affect policy and, ultimately, patient outcomes.
The decision is yours!
The transition from CNA to BSN is a leap of faith for most people. However, when you consider the skills you've already put to good use as a CNA, you're already a step ahead of where most students begin.
If you feel that a career in nursing is right for you, don't hesitate to look into your options. And if you need some help in that regard, check out our Nursing Career Guide. It highlights the many careers out there for nursing professionals, and it may just sway your opinion on whether or not to pursue your nursing degree.
Interested in learning more about Nebraska Methodist College's BSN programs? Give us a call and we can help answer the questions above and see if we are the right fit for you! You can reach us at (402) 354-7200 or admissions@methodistcollege.edu.