Are you wondering if you should go for an Associate Degree in Nursing (ADN) or take the extra steps to get your Bachelor of Science in Nursing (BSN)? If so, you're not alone. The question of ADN vs. BSN is one we hear a lot. While the ADN might have been the standard at one time, the BSN is becoming more popular today. Here's a look at why:

A BSN sets you up with a wider skill set
More time in school means more time to learn more skills. Beyond just studying clinical practices – although those are certainly important ­– a BSN program includes leadership and management skills in:
Organization
Change
Advocacy
Coordination
Collaboration
Communication
Those abilities are vital, since you'll interact with more than just patients. Being able to be an effective and knowledgeable leader in an organization is crucial, and management skills are vital for making sure a healthcare team works smoothly together for each and every patient.
Basically, a BSN will help you be a more well rounded person and employee. You'll be prepared to care for patients and you'll be ready to step in and be an active part of a professional team.
The BSN degree can be a stepping-stone
With a BSN, you can certainly have a satisfying career as a nurse, but it doesn't have to stop there. A bachelor's degree can also be the first step to a master's or doctorate degree. "The BSN is a gateway to more career opportunities," says Linda Hughes, Nebraska Methodist College (NMC) Dean of Nursing. "The public is seeing more nurse midwives, nurse practitioners, and nurse anesthetists, and they think of these nurses as their healthcare providers."
The completion of a BSN prepares you for professional practice as a nurse generalist, with the option of pursuing advanced nursing studies, she adds.
If you like the idea of becoming a nurse practitioner or working toward another advanced nursing career, a BSN is a great choice for you.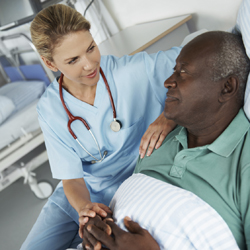 Demand for BSN-prepared nurses is climbing
Based on the current healthcare environment and anticipated changes, there will be an increased need for BSN-prepared nurses in the future. We'll need nurses who are ready to provide care to patients of all ages, and also actively influence the health and well-being of communities.
The American Association of Colleges in Nursing notes that BSN nurses are popular among employers because they can practice across a variety of inpatient and outpatient settings. They add that healthcare foundations, federal agencies, leading nurse organizations and nurse advocacy groups all recognize the distinctive value that BSN-prepared nurses bring to the workplace.
That's good news when it comes to future employment and one more reason to choose a BSN.
How is Nebraska Methodist College's BSN unique?
Nebraska Methodist College's BSN program stands out for several reasons. For one, it begins with the first nursing course freshman year. This gives you a taste of the profession early in your education. Additionally, the clinical experiences are community-based, and each course builds on the others.
That means you'll get experience in a hospital setting as well as in various health-related agencies in the community, guided by expert faculty. After graduation, you'll have a good working knowledge of resources throughout the community, which is crucial for patient care.
Most of all, there's an atmosphere of caring at NMC that comes through in interactions with other students, faculty and support staff. The award-winning faculty take the time to get to know each and every student, providing the support you need to succeed during your academic program and beyond.
Caring and compassion are also an emphasis within the curriculum. Each BSN student incorporates the core curriculum into their education with an emphasis on becoming an educated citizen – one who is a reflective individual, effective communicator and change agent.
When exploring the question of ADN vs. BSN, the short answer is that a BSN will provide you with a more holistic education. And at NMC, your education will be even more far-reaching. We understand that we're not just teaching you the technical skills to become a nurse. We're teaching the meaning of care
Still wondering if a BSN is right for you? Download our Nursing Career Guide for more information.