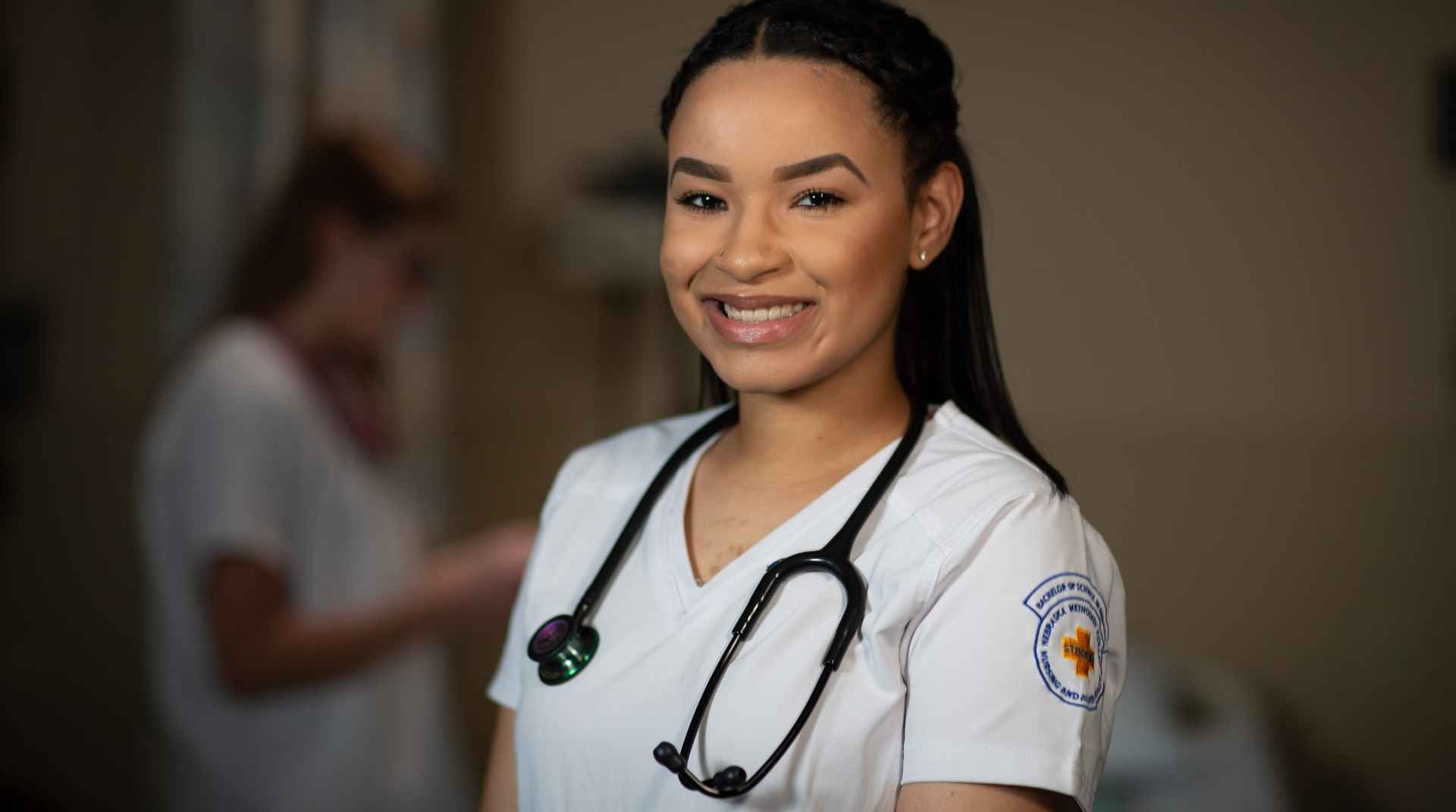 Nurses and certified nursing assistants are integral parts of the healthcare system and are needed more than ever.
While certified nursing assistants (CNAs) and registered nurses (RNs) have different responsibilities, they must have technical skills, compassion and a growth mindset.
If you've been thinking about a career in nursing, you may be wondering which path is best for you. Read on to discover the difference between a CNA and an RN.
Are CNAs technically nurses?
CNAs are not technically nurses. They work under the direction of supervisory staff, usually registered nurses, within a healthcare facility.
They work closely with patients providing essential care, including:
Measuring vital signs such as blood pressure.

Transferring patients between beds and wheelchairs.

Recording patients' health concerns and reporting them to nurses.

Assisting with patients' grooming needs.

Assisting doctors and nurses with basic medical procedures.
RNs work under the direction of a healthcare team that typically includes physicians and other healthcare specialists.
Their responsibilities include:
Assessing patients' condition.

Recording patients' symptoms.

Communicating patients' status to other healthcare professionals.

Administering medications and treatments.

Creating plans of care for patients.

Coordinating patient care with a healthcare team.

Helping to perform diagnostic tests and analyzing the results.

Communicating a patient's health status to their families.
Which is higher, RN or CNA?
Because RNs must have a bachelor's degree and CNAs earn a certificate, RNs have more responsibilities and earn higher salaries than CNAs.
Earning a Bachelor of Science in Nursing at Nebraska Methodist College (NMC) gives you the foundation for a career as a registered nurse. A BSN program will provide you with experience working with diverse patients in various settings to prepare you for a healthcare career.
Getting a certificate to become a nursing assistant allows you to learn the basics of patient care and the inner workings of a healthcare facility. NMC's program emphasizes care for all types of patients. Special attention is devoted to the aging process, including identifying physical and emotional aspects.
Read more: Is a Nursing Degree Right For You?
Is it worth it to become a CNA before an RN?
Becoming a CNA before earning your BSN to become an RN can be the right path for some.
It costs $500 and takes about a month to go through the CNA certificate program at NMC. You can then start working as a CNA, earning a salary and gaining experience working in a healthcare setting.
Many healthcare facilities offer tuition assistance to employees who enroll in higher education programs.
Methodist Health System (MHS) offers the Tuition Assistance Program to eligible employees who attend NMC. You'll receive up to $3,500 a year in tuition assistance if you've worked for MHS for at least six months at a minimum of 16 hours per week before the beginning of the semester.
If you're working as a CNA in a healthcare facility, you may be able to get a job within the same facility.
Read more: Four Reasons to Make the Leap From CNA to BSN
Who makes more money a CNA or RN?
Registered nurses make more money than CNAs. However, the education requirements and job responsibilities are vastly different for the two careers.
The median annual wage for CNAs was $30,290 in 2021, according to the U.S. Bureau of Labor Statistics.
The median annual wage for RNs was $77,600 in 2021, according to the U.S. Bureau of Labor Statistics.
Which is harder, CNA or RN?
To become a CNA, you must complete a certificate program. NMC offers a four-week on-campus program and a six-week hybrid program.
After completing the certificate program, eligible students may take the competency exams to qualify for the State of Nebraska Nurse Aide Registry placement.
To become an RN, you must earn a BSN. NMC offers a four-year traditional BSN program and a 12-month accelerated BSN program for those with an associate or bachelor's degree.
Graduates must pass the NCLEX exam and apply for licensure in the state where they plan to practice.
Read more: How Hard is Nursing School? Challenges of Becoming a Nurse
How to apply to a CNA or Nursing Program?
At NMC, you'll gain the skills and experience you need to become a successful nurse or nursing assistant.
Students at NMC experience a holistic culture of caring with a 14:1 student-faculty ratio. You'll learn in our state-of-the-art laboratories and by working in clinical settings, which will prepare you to pass your licensure exam. Nearly 95.27% of our students passed their NCLEX on their first attempt in 2021.
Apply to the CNA or BSN program by filling out an online application.
Contact an admissions coordinator at (402) 354-7200 or admissions@methodistcollege.edu and ask questions about the requirements for the application process.
Is nursing right for you? Download NMC's nursing career guide to learn more.