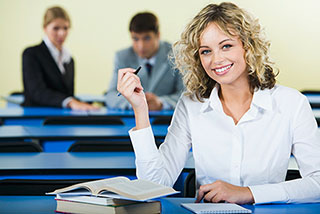 You know you want to. It's that nagging idea in the back of your mind that you can't quite ditch. It's most persistent during those times when you're frustrated at work or when another opportunity for advancement passes you by.
The thought is going back to college. Starting and finishing a degree is something that most people will think about for years before taking that first step, but there's only one way to truly scratch that itch.
Below are four ways to plan your trek back to the degree that could change your life. In putting these into action, you may find that going back is not only possible, but a better scenario than you ever dreamed.
Making Time
The biggest hurdle some students face, even more so than money, is time. It takes time to earn your degree, and if you're raising a family and working a job, time is at a premium.
There are ways to make things easier on yourself. As we pointed out before, you can use student loans to live off of during your time at school, which might allow you to reduce your work hours at least somewhat. You can also look into the possibility of night and weekend classes.
Going to class on a part-time basis rather than full time may also alleviate your stress. Don't let the time it will actually take to get the degree dissuade you from doing so. Too many people never begin because they see the four or five year commitment and it seems like they'll never get out the other end of that tunnel. But 20 years from now, when you're at a job you love making money that wouldn't have been possible without the degree, those four years don't seem so bad.
And if you're really worried about the time you'll be in school, consider degrees that don't take so long. An associate degree can typically be completed in two years, and there are also Bachelor's degrees that only take three years of study. Heck, at NMC, our students can earn a Bachelor's and an Associate's in just three years.
Think Long-Term About Money
One of the biggest issues with going back to college is affordability.
The thought of taking out student loans, especially when already struggling to make ends meet, is enough to cause most people to hold back from going back. But when weighing the costs and benefits, it's best to play the long game.
The income divide between those who earn their high school versus college degrees is striking. Early in life, those with a high school degree tend to make more money than their college counterparts. They get a job right out of high school and may get regular annual raises. Meanwhile, persons who go to college are saddled with student loans and take longer to get started. So when newly minted college graduates enter the workforce to get their initial jobs, persons who started working fulltime straight out of high school do make more money.
But things begin to change after a handful of years go by. Persons with a college degree are afforded more opportunities, and their pay reflects these heightened job prospects. More importantly, after ten years or so, student loans tend to be paid off, thereby increasing net gain even further.
That means that, in the long run, persons tend to make more money with a college degree, even once student loans are taken into consideration.
Weigh All Financial Options
Scholarships are not just for students straight out of high school. Numerous financial aid options exist for persons of all ages going into many different kinds of programs.
At Nebraska Methodist College and many other schools around the nation, upfront merit scholarships are provided to transfer students who demonstrate certain GPAs. If you qualify, this is an automatic reduction in how much you'll have to pay for school. Plus, you can independently pursue multiple scholarship options, some from the school itself, others from outside sources. You would be amazed what you might qualify for.
Then there's the FAFSA. It costs nothing to attain a FAFSA ID and apply for Federal Aid, but depending on your income level, the level of aid you get from the government could make going back to school much easier than you anticipated.
With student loans, you won't have to put your own income toward paying for your college degree. In fact, student loans allow some people to finish school faster than they otherwise would, because they can live partially off of that financial aid, meaning they can cut their job hours back completely or at least to part-time.
No one relishes the idea of taking on more debt through student loans, but the income you might qualify for upon graduation will hopefully more than offset what you pay to put yourself through school.
Seek Support
Although it may seem at times like the weight of the world is on your shoulders, remember that you don't have to go this alone.
For some, it's family or friends who provide the incentive and the encouragement needed to complete school. But what you might not realize is the abundance of resources your college itself probably has in place to support your educational goals.
TRIO Student Support Services, for example, provides tutoring, financial assistance and more to persons who are first-generation college students, meet a certain low-income threshold and/or have a physical or learning disability. If you meet any of those categories, you owe it to yourself and your education to sign up.
Even if you don't qualify for TRIO, you should use the resources offered by your school. At NMC, we offer multiple kinds of support depending on your needs. For instance, our students can take advantage of one-on-one counseling with their professors, an online form of assistance called NetTutor, peer-to-peer support and more. Not every school will have that degree of choice, but every school should have something in place, and if they don't, you should consider a college that does.
The Door Is Open
Returning to college can seem rather difficult at times, but those who make the leap find it's the best decision they've ever made. By taking a look at the possibilities that exist and approaching them with determination and planning, you can begin the journey to a degree you've been putting off.
Ready to get serious about returning to college? Download our 11-Step Guide today.