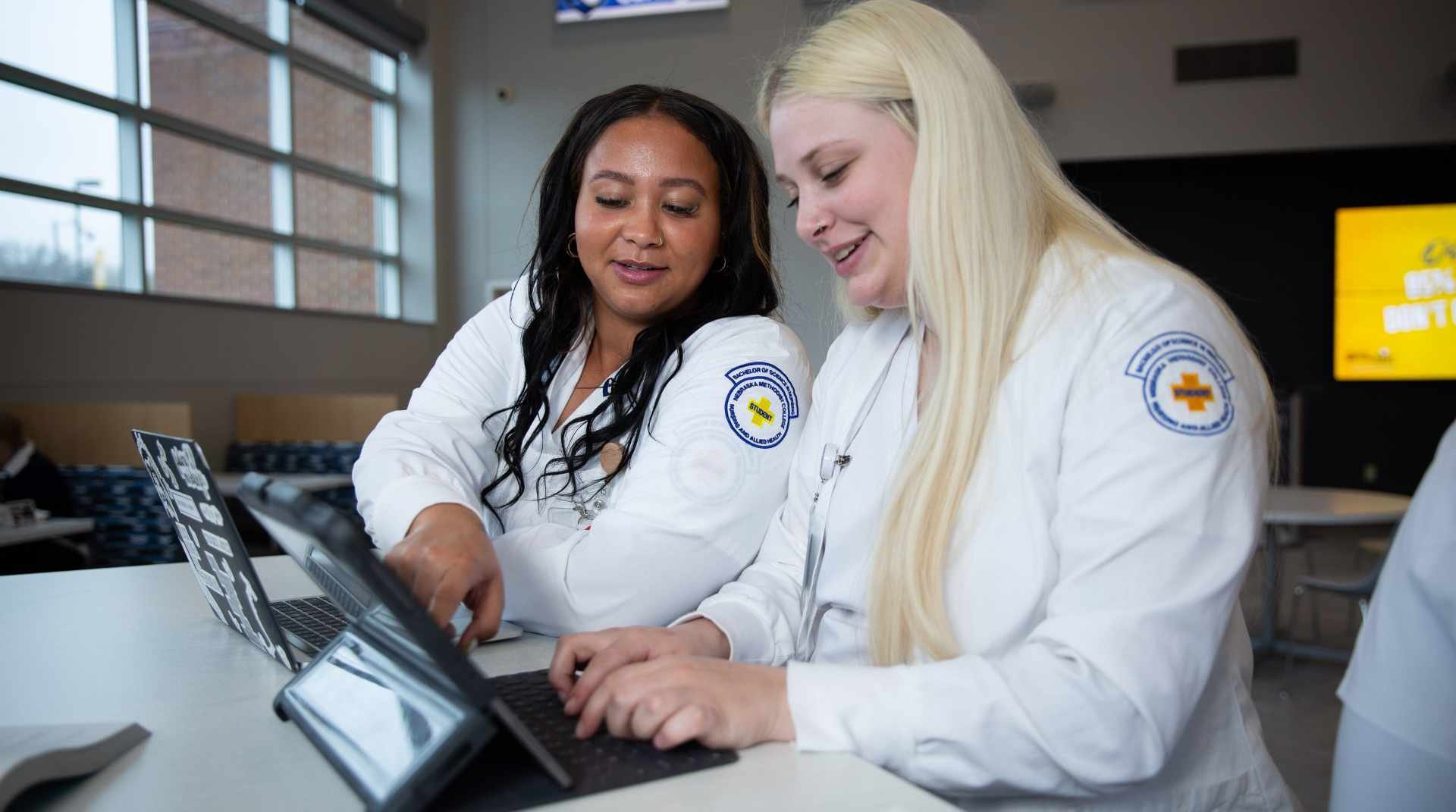 Once you've decided that you want to pursue a career in healthcare, you have to start thinking about paying for your college education.
When you add up the cost of tuition, housing, textbooks and everyday expenses, you might feel overwhelmed. But being strategic about your education will allow you to save money and feel less stressed.
There are many options for financial aid in college. Whether you utilize low-interest loans, scholarships, tuition reimbursement programs or alternative healthcare education pathways, you can decrease the cost of your education.
Starting Your Affordable Healthcare Education Journey
The cost of college may make you hesitant to start your education. But having your degree will allow you to pursue your dream career in healthcare.
Taking the time to figure out how to reduce the cost of your college education is worth it.
In addition to having a career you're passionate about, you have the potential to earn a higher salary.
According to the National Center for Education Statistics, the median earnings for those with a bachelor's degree were 55% higher than the earnings of those who completed high school.
Benefits of Affordable Healthcare Education
Many people don't believe that a college education is accessible to them because of the cost.
While it may take a strategic approach to financial aid, college is accessible to a diverse range of students.
Reducing the cost of your healthcare education will make your college experience easier, but will also help you manage your finances after graduation.
Having less to pay back in student loans will allow you to meet financial goals such as purchasing a home or creating an emergency fund, and have more disposable income.
Reducing the cost of your education could also give you more flexibility with your career. You may be more interested in a position that pays less because you know it would align with your passions.
Healthcare Scholarships and Grants
College scholarships, grants or tuition assistance are free aid, and repayment isn't required.
Because you don't have to pay back scholarships or grants, you'll want to invest time into researching your options and applying for as many opportunities as you can.
Certain scholarships are automatically available to new students who have been admitted with no additional application.
Once you've submitted your Free Application for Federal Student Aid (FAFSA), you are eligible to receive these institutional scholarships.
That includes the Upfront Merit scholarships at Nebraska Methodist College (NMC).
Upfront Merit scholarships range from $2,500 to $4,500 for first-time students and $2,000 to $4,000 for transfer students, depending on high school GPA.
Other scholarships require a separate application and are given out on a competitive basis.
NMC's academic and leadership scholarships are renewable awards ranging from $6,000 to full tuition and fees.
You can look for scholarships through organizations, churches, parents' or guardians' employers and your employer. EducationQuest is a good place to start.
Navigating Federal Student Aid for Healthcare Students
The U.S. Department of Education provides funding and serves as a lender for Federal Direct Loans. Students must be enrolled at least half-time during the period of the loan. All loans require completion of the FAFSA.
Direct Subsidized Loans, which are for undergraduate students, are based on financial need as determined by your FAFSA results.
Federal loans typically have lower interest than private loans, allowing graduates to pay less in interest fees over the life of their loan.
The federal government pays interest on the loan while you're in school at least half-time. The interest rate is fixed at 5.5% annually for the 2023-2024 academic year.
Read more: How to Apply for Federal Student Loans: A Step-by-Step Guide
Tuition Reimbursement Programs and Employee Scholarships
Some employers offer tuition assistance or scholarships to eligible employees.
The Tuition Assistance Program at Methodist Health System (MHS) offers NMC students tuition assistance. Employees can receive up to $3,500 a year in tuition assistance when they've worked for MHS for at least six months at a minimum of 16 hours per week before the beginning of the semester.
The Employee Development Grant provides up to $1,600 per academic year for eligible MHS employees enrolled in a degree program at NMC.
You may want to consider getting a job at a healthcare facility that offers tuition reimbursement or scholarships for employees.
There are many healthcare jobs that require four- to 15-week certificate programs.
Jobs that require certificate programs:
Certified Nursing Assistant (CNA)
CNA+: Certified Nursing Assistant, Medication Aide and Phlebotomy
Certified Medication Aide
Phlebotomy
Sterile Processing Technician
You may also want to look into entry-level jobs. Those may include:
Receptionist
Information desk associate
Patient escort
Stock clerk
Nutrition services worker
Maintenance person
Cleaning technician
Environmental services worker
You can contact your supervisor or human resources to find out more information about tuition reimbursement or scholarship opportunities.
Read more: Becoming a CNA as a Stepping Stone to Becoming a Nurse
Part-time and Internship Opportunities in Healthcare
You may want to consider enrolling in college part-time so that you can work part- or full-time while attending.
This will allow you to earn enough income to pay your tuition in full each semester so you don't have student loans after graduation.
Getting a paid internship can allow you to earn money while gaining experience in your field of study.
Managing Loans with Income-driven Repayment Plans
Six months after you graduate, you'll have to start making payments on your federal student loans.
Before those payments begin, you might want to apply for an income-driven repayment plan.
This payment plan sets your monthly student loan payment at an amount that is intended to be affordable based on your income and family size.
An income-driven repayment plan can help you manage your finances and meet your financial goals, rather than being overwhelmed by student loan payments.
To apply, you can fill out an online application at studentaid.gov.
Crafting Your Affordable Healthcare Education Journey
Being strategic will help make your college education more affordable.
Applying for scholarships and grants, working at a healthcare facility that offers tuition reimbursement, enrolling part-time and working and minimizing the amount of student loans you borrow will help lessen your financial burdens during college.
Ready to reshape your healthcare education journey with affordability in mind? Learn more about financial aid for healthcare students by scheduling an appointment with a financial aid advisor. Together, we can redefine the future of healthcare education.