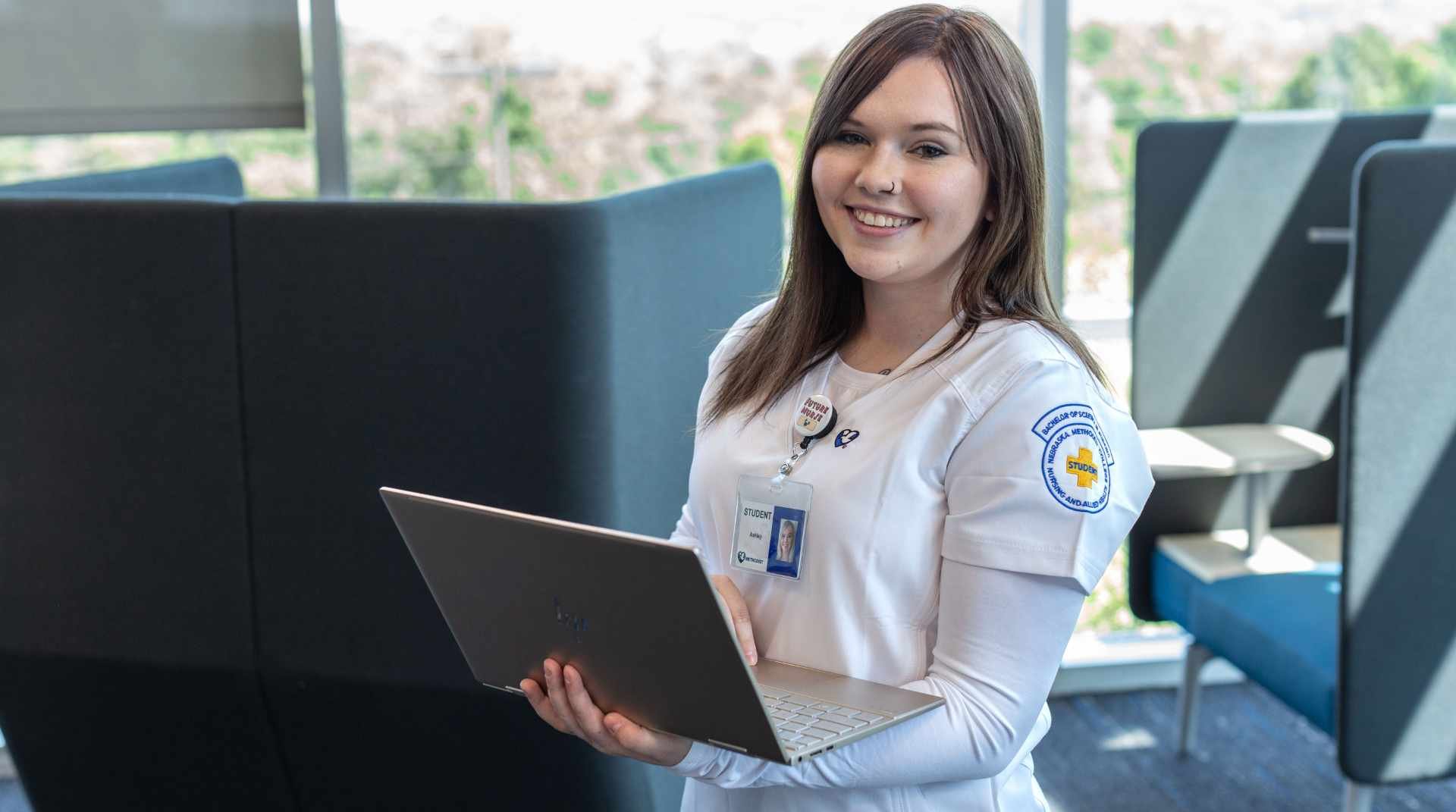 Applying for nursing college might feel overwhelming. But with the right strategies, you can get through the application process with ease.
Nebraska Methodist College (NMC) uses the Centralized Application for Nursing Programs, also known as NursingCAS, to assist with all nursing program applications.
NursingCAS is operated by the American Association of Colleges of Nursing (ACCN) and offers a convenient and efficient process to apply to nursing school using a web-based application.
The application offers online checklists and instructions to easily navigate through the process of applying. Students are able to track the receipts of the application, transcripts and references 24/7.
Continue reading to learn how to use NursingCAS effectively for a successful nursing school application…
The Timeline: Mapping Out Your NursingCAS Application Process
Applying for nursing school is not something you want to put off until the last minute.
The application process includes submitting transcripts, a personal statement and certification documents.
The best practice for a NursingCAS application is to start about six weeks before the nursing program's application deadline.
Six weeks before the deadline, you'll want to create a NursingCAS account and start to familiarize yourself with the application requirements.
The next step is to request transcripts from your high school or colleges attended if they are required. You might also have to request references if they're required.
Four weeks before the deadline, you should begin the application and gather any other required materials, such as a personal statement and certification documents.
Three weeks before the application deadline, follow up to make sure your transcripts have been received.
Finish and submit your application at least two weeks before the deadline.
After completing the NursingCAS application, check your emails to see if any additional materials are needed. You can check the status of your application by logging in to your account.
NursingCAS Success: Top Strategies from Experts
Online applications add convenience, but can also add an element of frustration. We've compiled seven tips to serve as your NursingCAS application guide and make applying for nursing college as seamless as possible.
1. Take care of items out of your control first, such as requesting your official transcripts. Transcripts must be requested from your high school or college and sent directly to NursingCAS. This process can take a few weeks and can cause a delay in completing your application in a timely manner.
2. Complete the application on a desktop computer rather than a mobile device or tablet.

3. Google's Chrome web browser seems to work best.

4. If you are asked to answer essay questions directly on the application, write your response in a word document and copy and paste your materials into the application. This way you can save your responses just in case.

5. Include your name and page numbers on any documents that you attach to your application, such as essays, written statements or a resume.

6. Don't procrastinate submitting your application. It can often take three to four weeks to get materials verified in NursingCAS. Don't wait until the last minute to submit your materials or you might miss the deadline.
7. When in doubt, contact the NursingCAS Customer Service line at 617-612-2880 or email them at nursingcasinfo@nursingcas.org.
Crafting a Compelling Personal Statement: Making Your NursingCAS Application Shine
An important part of maximizing your NursingCAS profile is writing a compelling personal statement.
Read through the instructions for the personal statement carefully. You may want to create an outline to organize your thoughts before starting the writing process.
Your personal statement is your chance to tell your story, share why you want to be a nurse, show how you use logical reasoning and critical thinking skills, and give examples of your communication skills.
You may also have an opportunity to address any low grades on your transcripts or withdrawals from courses you've taken previously.
To make your personal statement more captivating, use specific examples or stories from your life. Sharing your own experiences allows the admissions team to get to know you and discover whether you have a growth mindset and the ability to learn the skills necessary to become a nurse.
Before submitting your statement, check your spelling and grammar with a resource like Grammarly.
Nebraska Methodist College and NursingCAS: A Partnership for Your Success
Ready to elevate your nursing journey with Nebraska Methodist College? Start your successful NursingCAS application today and let our expert team guide you every step of the way.
Reach out to an admissions coordinator at admissions@methodistcollege.edu with questions. Click here to begin your application!