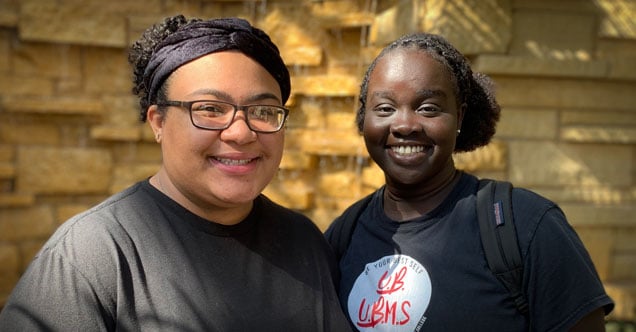 You've made it to college! And you're the first one in your immediate family to do it — way to go. Getting into college is a great accomplishment, and now your new challenge is to learn how to stay there.
College is a new environment for you, and you may feel like you don't belong. Remember that you have earned this and that you deserve to experience college to the fullest. Here are five insider tips you can use to be successful in your first semester:
1. Go to New Student Orientation Events.
There is a reason your Office of Student Engagement puts these events on — it is way easier to start your college career when you're already familiar with your classmates, faculty and campus.
At these events, you'll learn which classes you need to take, how to get your books and where the bathroom is. To make this experience even more memorable, introduce yourself to at least one new person. Remember that you are all in this together.
2. Talk to your academic advisor.
College is not like high school. You have a list of required classes, and may have transfer credits. Each class requirement is different, and some of them can be met by different course options, while others have specific requirements. It can feel overwhelming, and making a mistake can be expensive and time consuming.
Luckily, you have an academic advisor who is your guide to help you make sure you meet your requirements to graduate. They can also help you problem solve other issues that arise throughout your semester or college career. Ask them what they wish students knew on their first day, and you'll be surprised at the wisdom they'll share.
3. Budget for some additional expenses, such as access codes or supplies.
Before your first class starts, you'll have access to a booklist. You'll use this to purchase e-books or texts for your classes, but also pay attention to any access codes or uniform supplies. Your faculty member will give you more information in their course syllabus, but know that it is common for you to find out about additional expenses in that first week of classes.
For more information about additional fees, visit NMC's Tuition and Fees page, which shows the costs associated with each program.
4. Introduce yourself to your faculty members on the first day.
Faculty members usually say the best part of their job is their students. At smaller schools, faculty will get to know your name and will expect you to ask questions. It makes a fantastic first impression if you reach out to them with a firm handshake and a smile on day one.
5. Be mindful.
Why did you choose to go to college? Write a note to yourself and keep it posted in your study area so you can refer to it when you get frustrated or tired. You have a goal to meet, and it will take hard work and perseverance, but it will be worth it!