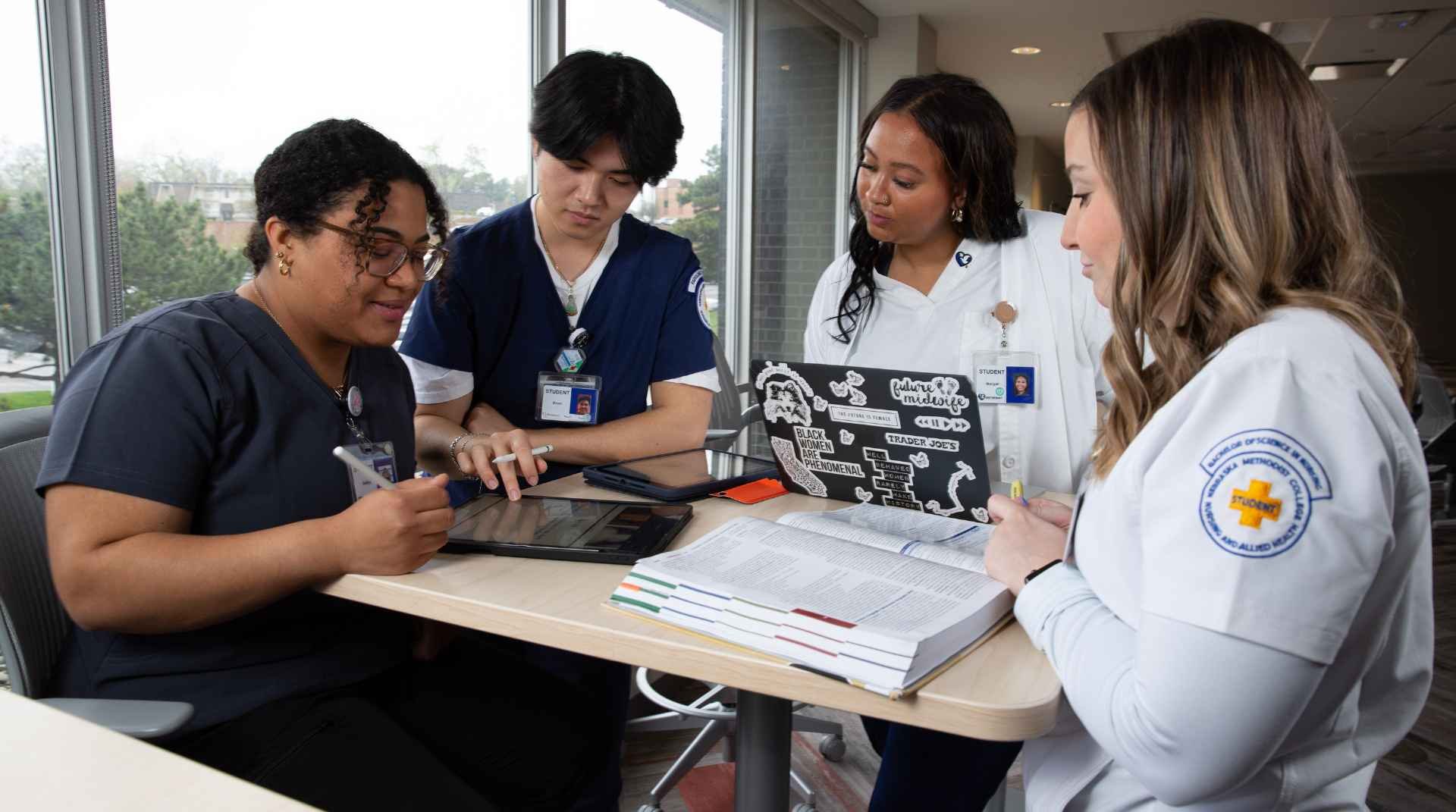 You've decided that you want a healthcare career, and now you have to figure out how to pay for your education.
While it might feel overwhelming to think about the cost of tuition, textbooks and campus housing, there are ways to reduce the cost of your healthcare education.
Before learning to make paying for college more affordable, find out the answers to incoming students' most common questions about financial aid.
Are Financial Aid and Scholarships the Same Thing?
Scholarships fit into the category of financial aid, but financial aid also includes grants, employee tuition assistance, work-study and loans.
College scholarships, grants or tuition assistance are free aid, and repayment isn't required.
Whether borrowed from the government or private entities, loans must be repaid with interest after graduation.
The U.S. Department of Education provides funding and serves as a lender for Federal Direct Loans. Students must be enrolled at least half-time during the period of the loan. All loans require completion of the Free Application for Federal Student Aid (FAFSA).
Every year, Nebraska Methodist College provides its students with over $19 million worth of financial assistance.
To get financial aid at NMC, you must initially be accepted into an eligible degree program.
Certain scholarships are automatically available to new students who have been admitted with no additional application. Other scholarships require a separate application and are given out on a competitive basis.
How Many Scholarships Can I Get From FAFSA?
Once you've submitted your FAFSA, you can receive institutional scholarships.
NMC awards about $4 million annually in scholarships and grants, including $3 million in institutional scholarships.
Those include the Upfront Merit scholarships and academic and leadership scholarships at NMC.
Upfront Merit scholarships range from $2,500 to $4,500 for first-time students and $2,000 to $4,000 for transfer students, depending on high school GPA.
NMC's academic and leadership scholarships are renewable awards ranging from $6,000 to full tuition and fees.
Scholarship funding is limited and distributed based on deposit FAFSA filing dates.
What is the Easiest Scholarship to Get?
There are different eligibility requirements for scholarships. They include:
Financial need.

Academic achievement.

Extracurricular experience.

Group membership.

A combination of criteria.
You will automatically be considered for merit-based scholarships after admission to NMC. Since you don't have to fill out an application, these are the easiest scholarships to obtain.
When Do I Apply for Scholarships?
To apply for financial assistance at NMC, you must first be admitted to an eligible degree program.
New students may qualify for certain scholarships once admitted, with no separate application required. However, other scholarships are competitive and require an application.
External scholarships and Methodist Health System employee resources require an application.
Ways to Reduce the Cost of Your Healthcare Education
At NMC, we know how important it is to make your healthcare education more affordable. Here are six ways to help reduce the cost of college.
1. Make an Appointment With a College Financial Aid Advisor.
NMC's financial aid advisors help students understand the financial aid options available to them.
Each financial aid advisor focuses on specific programs. Students can schedule an appointment and ask follow-up questions via email or phone.
2. Apply for Scholarships and Grants.
You could qualify for scholarships and grants after being admitted to college and submitting your FAFSA without additional applications.
But you might want to research external scholarships. They might be available through organizations, churches, parents' or guardians' employers and your employer. EducationQuest is a good place to start.
3. Find Out if Your Employer Offers Tuition Assistance or Scholarships.
Some employers offer tuition assistance or scholarships to eligible employees.
The Tuition Assistance Program at Methodist Health System (MHS) offers NMC students tuition assistance. Employees can receive up to $3,500 a year in tuition assistance when they've worked for MHS for at least six months at a minimum of 16 hours per week before the beginning of the semester.
The Employee Development Grant provides up to $1,600 per academic year for eligible MHS employees enrolled in a degree program at NMC.
4. Take Out Less in Student Loans.
When you receive your student loan payment each semester, you'll most likely receive more than you need to pay your tuition.
If you don't need that extra money, you can ask your college to return the funds to the lender.
5. Earn Money While You're in College.
Working part-time will allow you to earn money for your tuition, textbooks and other expenses. When you pay for some of your college expenses immediately, you can take out less in student loans and pay less interest.
6. Graduate on Time.
Changing your major or failing classes will delay your graduation date and increase the cost of your education.
When you change your area of study, you'll most likely have to take prerequisite courses and enroll in 100-level courses.
If your graduate date is delayed because you didn't pass classes, you'll end up spending more money to retake those classes.
Learn More About Financial Aid at NMC
To learn more about your financial aid options at NMC, schedule an appointment with a financial aid advisor.