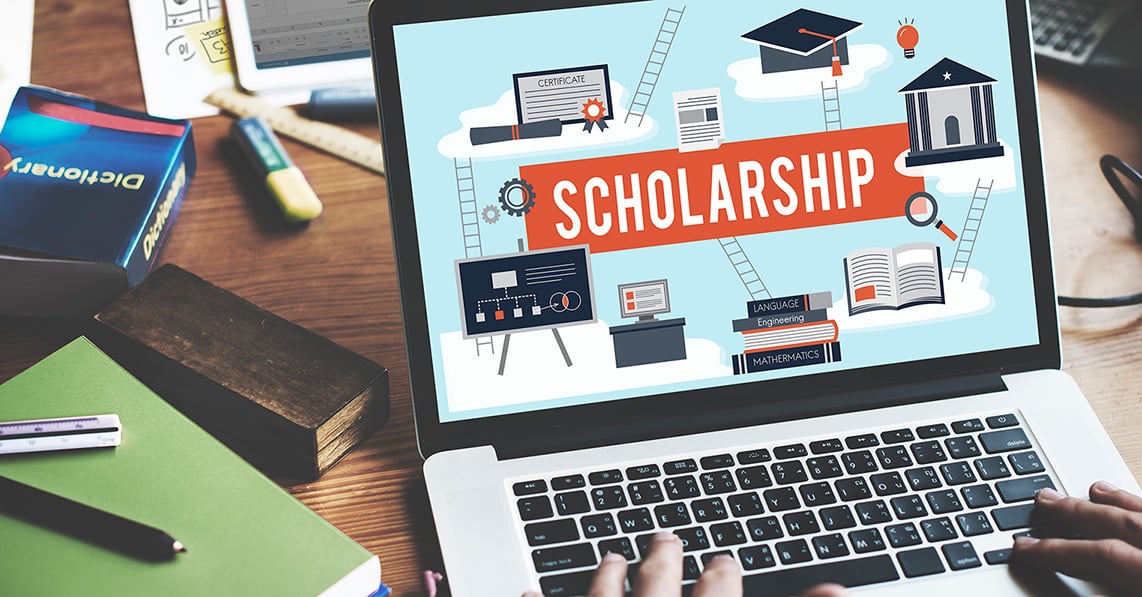 One of the first things to do when you're applying to colleges is to find scholarships. We know the importance of scholarships for our students, so we updated them for the 2020-21 school year.
Learn more about Nebraska Methodist College's scholarships for entering freshmen students and how you can make the most out of them.
Here's how we updated our scholarships for the 2020-21 school year
1. We're raising Upfront Merit Awards
The Upfront Merit Scholarships are great for students because you'll find out if you're eligible for these just by looking at the included graphic below!
Upfront Merit Scholarships for Entering Freshmen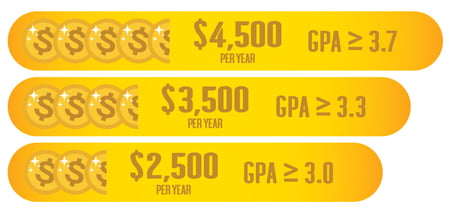 These scholarships are based solely on academic performance and will be offered to you automatically upon acceptance into a program if you fall into one of the three tiers. No additional scholarship application is required.
"One thing I appreciate about our scholarships is that they are transparent and easy to interpret. It's either this or that, especially with the upfront merit scholarships," Megan Kokenge, director of enrollment services, said.
Additionally, if your GPA changes after you apply, you can get bumped up in the upfront scholarship tiers.
"We will honor improvement," Kokenge said. The student would just need to contact the Admissions Office to let them know that their information had changed since they applied. The Upfront Merit Scholarships can be renewed each year you attend NMC.
2. Upfront Merit Scholarships and Academic and Leadership Scholarships are now stackable
In contrast to the Upfront Merit Scholarships, Academic and Leadership Scholarships are based on academic performance and leadership potential demonstrated by participation in activities outside the academic setting and service to the community. A separate application is required for these prestigious awards.
In the past, if you were awarded an Upfront Merit Scholarship and one of the Academic and Leadership Scholarships, you would have to choose which of the two you would accept.
Now, these scholarships are stackable, meaning that you can take advantage of BOTH an Upfront Merit Scholarship AND an Academic and Leadership Scholarship.
For example, the Becker Presidential Scholarship awards $9,000 per year and the highest tier on our upfront merit scholarships awards $4,500 per year. If you qualify for both, almost your entire tuition for a year would be covered.
Both of these types of scholarships can be renewed each year.
Here's a closer look at the Academic and Leadership Scholarships NMC offers.
Becker Presidential Scholarship - $9,000 per year. Entering freshmen students admitted to a bachelor's degree program. Minimum cumulative GPA of 3.5.
Excellence in Allied Health - $6,000 per year. Entering freshmen students admitted to an associate or bachelor's degree allied health program. Minimum cumulative GPA of 3.2 required.
Wischmeier Dean's Nursing Scholarship - $6,000 per year. Entering freshmen students admitted to the BSN program. Minimum cumulative GPA of 3.5.
3. HOSA Leadership Scholarship
The HOSA Leadership Scholarship is a one-time, $1,000 award for active members of a high school HOSA chapter.
HOSA is an international student organization recognized by the U.S. Department of Education and the Health Science Education (HSE) Division of ACTE (Association For Career & Technical Education). Its two-fold mission is to promote career opportunities in the healthcare industry and to enhance the delivery of quality healthcare to all people.
4. We're updating the Legacy Grant to include additional family members
The Legacy Grant was a $2,000, one-time award for students with a parent who is an NMC alumnus. Now, the grant will be awarded to a sibling of a current NMC student, or a sibling or dependent child of an NMC alumnus.
Here's what we recommend to
make sure you're getting all the scholarship money you can
1. Fill out your FAFSA
This should be the first step you take when applying for financial aid and scholarships.
The FAFSA, or Free Application for Federal Student Aid, needs to be filled out in order to receive NMC scholarships.

2. Take advantage of scholarship opportunities from other organizations
Even with all these scholarship opportunities, we encourage students to research external scholarships. In Nebraska, EducationQuest is a good place to do that.
EducationQuest provides free college planning services, need-based scholarship programs, college access grants for high schools, college access resources for middle schools and outreach services for community agencies.
Our Financial Aid Office communicates that it's important to seek scholarship opportunities whether through NMC or other sources.
"We have a list of external scholarships on our website," Penny James, director of financial aid, said. "We always encourage students if they're in high school to work with guidance counselors and look into organizations they or their parents are involved with to see if they can apply for those."
3. Check into scholarships you can apply for after you're enrolled
It's not uncommon for schools to set aside scholarships for current students.
In addition to the Upfront Awards already mentioned, at NMC you can apply for certain scholarships after you're enrolled.
Every spring semester, currently enrolled students are able to submit an application to be considered for additional one-time scholarships for the following academic year. These are stackable* with the awards you might have received when you were admitted, and you can reapply each year. These awards typically range from $2,500 to $15,000.
*The combined total of all NMC scholarships may not exceed the student's institutional charges for the term.
4. Now is the time to start looking into scholarships
The following semester and school year always seems to sneak up. Start reaching out to your resources and researching scholarship opportunities now to get ahead of the game.
If you have any scholarship questions for the 2020-21 school year, please contact the Admissions Office at (402) 354-7200.
Click the button below to access our scholarship and financial aid guide.