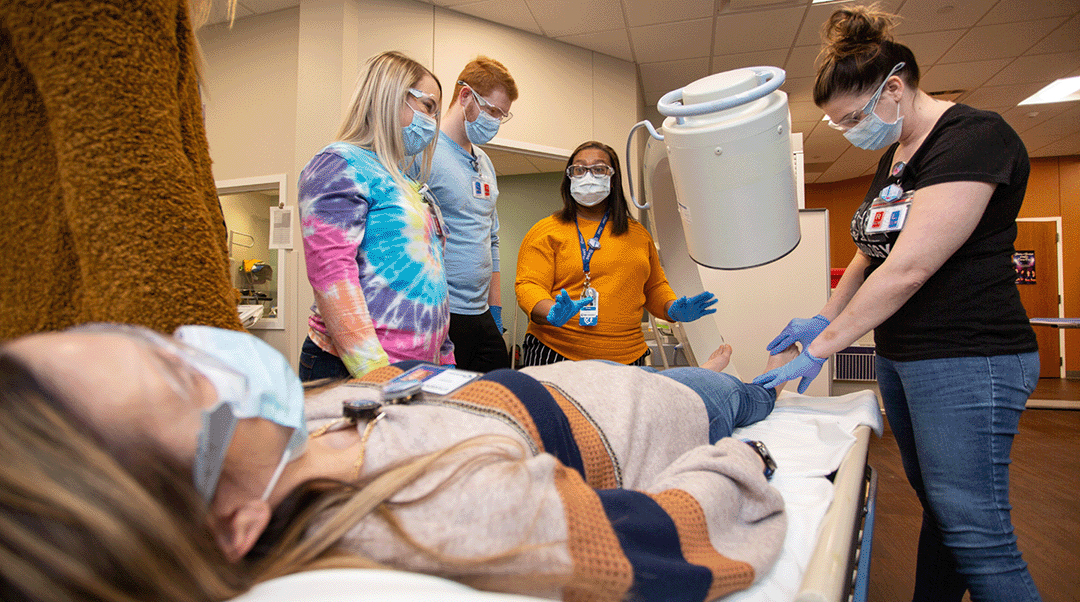 When you have to get your blood drawn for lab work, a phlebotomist collects your blood. When you have surgery, a surgical technologist preps the room for surgery. When you have an ultrasound, a sonographer performs and analyzes that ultrasound. When you pick up a prescription, a pharmacy technician dispenses and labels your medication.
All of these healthcare workers have one thing in common - they're allied health professionals.
The allied health field includes healthcare providers who use scientific principles and evidence-based practice to evaluate and treat acute and chronic diseases. Allied health professionals also work to prevent illness and promote wellness.
Allied health practitioners are healthcare professionals who aren't nurses or doctors, and they play an essential role in-patient care.
"Allied health professionals work collaboratively with the medical team to help ensure the best health that they can for their patients," said Kendra Craven, dean of health professions at Nebraska Methodist College (NMC). "Typically, people working in the allied health professions will provide a specific skill set that will help diagnose, evaluate and treat patients to help them live a better life."
Many allied health professions evolved from a demand in the healthcare system, especially during the World Wars when physicians needed assistance caring for wounded soldiers, according to the National Institutes of Health.
The term "allied health" wasn't commonly used until after the 1980's.
The Allied Healthcare Job Market
Allied health professionals make up 60 percent of the healthcare workforce, according to the Association of Schools Advancing Health Professions.
Healthcare is the fastest growing profession in the United States. Employment in healthcare is expected to grow 16 percent from 2020-2030, which is faster than the average for all occupations, according to the U.S. Bureau of Labor and Statistics.
Approximately 2.6 million jobs could be added through 2030.
Craven said allied health offers job security and high job satisfaction.
"Many jobs in the allied health career field are in high demand and some will offer hiring bonuses," she said. "A career in allied health allows you to have a direct or indirect impact on someone's healthcare journey, which can be very rewarding."
Allied Health Jobs
The following is a list of jobs you can get with an allied health certificate or degree from NMC:
Phlebotomist
Pharmacy Technician
Sterile Processing Technician
Physical Therapist Assistant
Radiologic Technologist
Surgical Technologist
Respiratory Therapist
Cardiovascular Sonographer
Diagnostic Sonographer
Ultrasound Technician
Occupational Therapist
Allied Health Education Requirements
Many allied health jobs need a certification or associate's degree that require just one to two years of education.
"Some of the careers may require less schooling, which allows you to finish your education more quickly and enter the workforce faster, letting you have an impact on the lives of others sooner, Craven said.
You can become a phlebotomist during a nine-week certification course, a pharmacy technician during a 10-week certification program or a sterile processing technician during a six-week course.
Sonography, physical therapist assistant and surgical technology associate's degree programs can be completed in 21 months. A radiologic technology associate's degree can be completed in 24 months.
You can earn a traditional four-year bachelor's degree in imaging sciences, respiratory therapy and sonography. Occupational therapists must earn a master's degree or doctorate.
How to Get an Allied Health Degree
Enrolling in an allied health program at NMC will allow you to receive a high-quality healthcare education from highly credentialed faculty in state-of-the-art classrooms and laboratories.
You can enroll in an allied health program at NMC at methodistcollege.edu/apply-now.