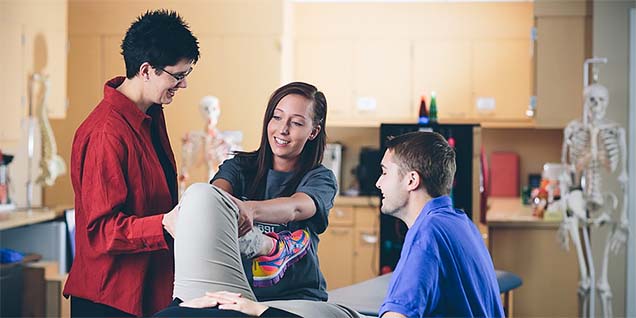 There are several reasons why a physical therapy assistant program is a natural next step for exercise science majors. Exercise science can be a popular major for college students who have a passion for sports and wellness. But what if your exercise science degree plan isn't working out?
Maybe you were planning to go to physical therapy school, and you found it was so insanely competitive to get in that you needed a Plan B. Or, maybe you realized that the job outlook with a bachelor's degree wasn't what you thought it would be.
Wondering what to do now? We'll explain why enrolling in a leading Physical Therapy Assistant Program could be your answer.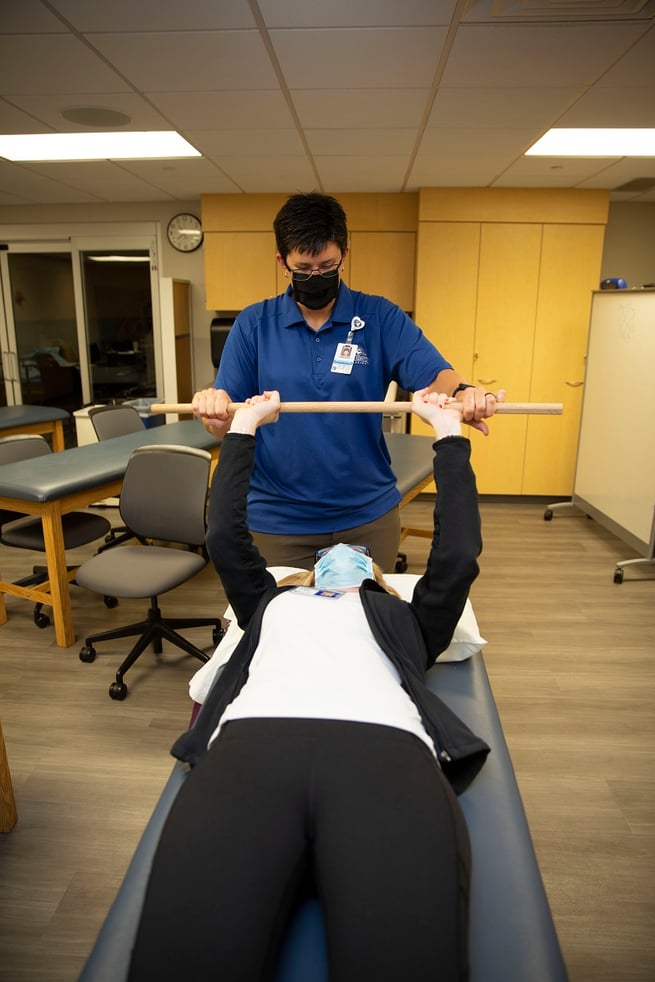 A physical therapist assistant (PTA) program can be a natural next step for you. This route allows you to make a career change without having to start over with another four-year bachelor's degree.
In fact, it's not uncommon for bachelor's degree holders to go back for an associate degree tied to a professional license, like PTA.
At NMC, 27 percent of the 2018 entering class already had their bachelor's degree before starting the PTA program.
You can look forward to completing a typical PTA program in two years and winding up with a career path in a growing field. Not to mention being able to sit for the national certification exam and gain PTA credentials.
The good news is you probably already have many of the courses required in a PTA program from your exercise science classes.
However, while the two degrees share much of the same body of knowledge, there are some important differences between them. Let's take a look.
1. Education
Exercise Science
A bachelor's degree in exercise science typically takes four years. But it also can be a great stepping stone to becoming a physical therapist, occupational therapist and many other advanced-degree fields. Those jobs, though, would require applying for graduate or post-graduate school and earning a master's or doctoral degree.
PTA
For PTA, you're looking at about two years of school to attain your associate degree, the preferred entry requirement for the profession. Graduates then sit for the national certification examination through the Federation of State Boards of Physical Therapy. PTAs also are required to pass a jurisprudence exam in most states.


Nebraska Methodist College unveiled an updated PTA and OT lab in Fall 2020. This lab features state-of-the-art equipment that includes an elevated ceiling for client stair training, an overhead track system for treadmill tasks and wall-length mirrors for balance retraining. Upgraded technology includes an Apple TV to pair with the student iPads.
2. Career Paths
Exercise Science
Unless an exercise science graduate decides to pursue PT or OT school, most end up working as personal trainers at a gym. Sometimes those jobs don't require a bachelor's degree, or, in most states, even a certification. Therefore, there is often not an advantage for trainers with a bachelor's degree. However, you wouldn't necessarily have to wait until you graduate to begin working, either.
In addition, trainers are usually expected to do a lot of sales and marketing on top of developing fitness plans for their clients. Some trainers love the variety. Others may wish to spend more time with clients.
PTA
PTA positions aren't as well known as their physical therapist (PT) counterparts, but they're the ones who interact regularly with patients.
While PTAs follow a PT's plan of care to create and advance a patient's exercises, they have considerably less paperwork and administrative duties.
In this role, you can also work in fitness facilities along with hospitals, outpatient clinics, nursing homes, rehabilitation facilities, schools, private practices and home healthcare. You can begin working as a PTA right out of school, in just under two years. Being a PTA is an excellent way to kick-start your career in healthcare.


3. Salary & Outlook
Exercise Science
The median salary for personal trainers was $40,390 per year in 2019, according to the Bureau of Labor Statistics (BLS), with the projected job growth of 15 percent from 2019 to 2029.
PTA
According to the BLS, the median salary for PTAs was $48,990 per year with a much faster than average projected job growth of 29 percent from 2019 to 2029. As a comparison, the average growth rate for all occupations is only 7 percent.
4. Natural Next Step
As a PTA you would likely enjoy a higher salary, better job outlook and less time in school while still getting to make a difference and help people in a field you love.
But maybe you're in the middle of your program and are worried about transferring before finishing your bachelor's degree. Not a problem. Many of your exercise science course credits probably transfer to a PTA program.
Our admissions counselors frequently review courses to assess whether they're good fits with our requirements. They even developed a transfer credit worksheet to make it easier.
You can download your own copy of this worksheet by clicking the graphic below. Hopefully, it will help you in your decision-making process.
If you want to explore the exciting, rewarding career in physical therapy, apply today and advance your education and career.