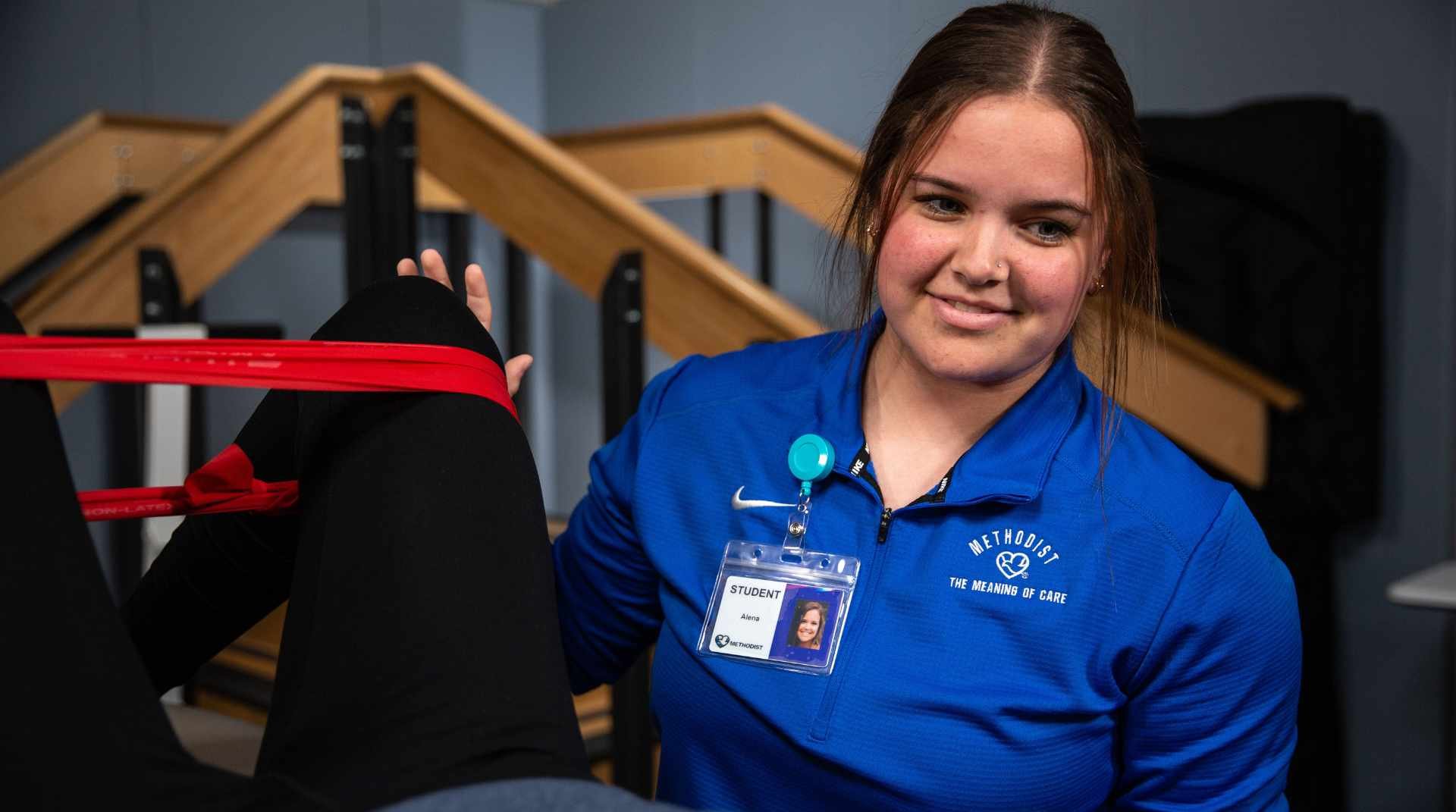 A physical therapist assistant (PTA) program is a natural step for exercise science majors.
Exercise science is a popular major for college students who have a passion for sports and wellness. But what if your exercise science degree plan isn't working out? Maybe you were planning to go to physical therapy school, but you realized that it was too competitive to get in. Maybe you realized that the job outlook with a bachelor's degree wasn't what you thought it would be.
If you're wondering what you should do now, consider enrolling in a leading Physical Therapy Assistant program.
A physical therapist assistant education allows you to make a career change without having to start over with another four-year bachelor's degree.
It's not uncommon for a bachelor's degree graduate to return to college for an associate degree tied to a professional license, like PTA.
At Nebraska Methodist College (NMC), 31% of the 2023 entering class already earned their bachelor's degree before starting the PTA program.
A typical PTA program can be completed in two years, and you'll be able to take the national certification exam and gain PTA credentials.
As an exercise science major, you may have already taken many of the courses required for a PTA program. So you'll want to determine if you have courses that will transfer to your new program.
While exercise science and PTA degrees share some of the same body of knowledge, there are some important differences between them. Let's take a look.
Exercise Science and PTA Education: A Comparative Look
Understanding Exercise Science
Many exercise science graduates work as personal trainers. Personal trainers work with individual clients or small groups in a gym or in clients' homes. They evaluate their clients' current fitness level and personal goals, then create a personalized program to help them reach their goals.
Personal trainers demonstrate and explain how to perform exercises to prevent injuries and improve strength, mobility and endurance. They also monitor clients' progress and adapt programs when needed.
A bachelor's degree in exercise science typically takes four years to complete.
But a bachelor's degree in exercise science can also be a stepping stone to becoming a physical therapist, occupational therapist and many other advanced-degree fields.
Those jobs require applying for graduate or postgraduate school and earning a master's or doctoral degree.
What is a Physical Therapist Assistant Program?
A physical therapist assistant plays an important role in the individualized treatment a patient receives. Following the physical therapists plan of care, PTAs help patients return to their maximum level of physical function after an injury or illness.
As a PTA, you need to be able to translate the physical therapist's plan of care into a treatment plan. The PT relies on you to follow their plan in order to help the patient achieve their short and long-term goals after their injury.
PTA's take patients through many different movements to help them regain mobility, and also use therapeutic modalities such as ultrasound, electrical stimulation, cold laser and diathermy.
A physical therapist assistant's duties also include keeping data and reports on patients so the physical therapist can analyze the information.
An associate degree for a physical therapist assistant program takes about two years to complete. The associate degree is the preferred entry requirement for the profession.
Graduates then take the national certification examination through the Federation of State Boards of Physical Therapy. PTAs also are required to pass a jurisprudence exam in most states.
At NMC, you'll experience hands-on classroom instruction and gain real life experience through clinicals. Students study in the PTA lab, which features state-of-the-art equipment including an elevated ceiling for client stair training, an overhead track system for treadmill tasks and wall-length mirrors for balance retraining.
Read more: What Does a Physical Therapist Assistant Do?
Career Opportunities for Exercise Science and PTA Graduates
Working as a Personal Trainer
Unless an exercise science graduate decides to pursue PT or OT school, most end up working as personal trainers at a gym.
Getting a job as a personal trainer doesn't typically require a bachelor's degree. In most states personal trainers don't even need a certification. Therefore, there is often not an advantage for trainers with a bachelor's degree. However, you wouldn't have to wait until you graduate to begin working as a personal trainer.
In addition, trainers are usually expected to do a lot of sales and marketing on top of developing fitness plans for their clients. Some trainers love the variety. Others may wish to spend more time with clients.
Career Prospects after a PTA Program
PTAs aren't as well known as physical therapists, but they're the ones who interact regularly with patients.
While PTAs follow a PT's plan of care to create and advance a patient's exercises, they have considerably less paperwork and administrative duties.
In this role, you can work in fitness facilities along with hospitals, outpatient clinics, nursing homes, rehabilitation facilities, schools, private practices and home healthcare. You can begin working as a PTA right out of school, in just under two years.
Working as a PTA could be a stepping stone into the healthcare field.
Read more: Physical Therapy Assistant vs. Physical Therapist: What's the Difference?
Salary Expectations and Job Outlook: Exercise Science vs. PTA
The median salary for personal trainers was $40,700 per year in 2021, according to the U.S. Bureau of Labor Statistics (BLS). The projected job growth between 2021-2031 is 19%.
According to the BLS, the median salary for PTAs was $49,180 per year with a much faster than average projected job growth of 24% from 2021 to 2031.
Read more: Six Traits of a Great Physical Therapist Assistant
The Connection Between Exercise Science and Physical Therapy
During exercise science and physical therapy assistant programs, you'll study human anatomy and physiology to develop a deeper understanding of how the body works.
Both programs also require courses on medical terminology.
Those courses create a foundation of knowledge necessary to work as a physical therapist assistant.
Transitioning from Exercise Science to PTA: A Logical Progression
As a PTA you would likely enjoy a higher salary, better job outlook and less time in school while still getting to make a difference and help people in a field you love.
But maybe you're in the middle of your program and are worried about transferring before finishing your bachelor's degree. Many of your exercise science course credits probably transfer to a PTA program.
Our admissions counselors frequently review courses to assess whether they're a good fit with our requirements. They even developed transfer credit guides to make it easier.
An admissions counselor will walk you through the steps to a PTA program to make the process as easy as possible.
Read more: How to Become a Physical Therapist Assistant
Steps to Enroll in a PTA Program
Want to turn your passion for exercise science into a thriving career? Learn more about our PTA program at Nebraska Methodist College (NMC).