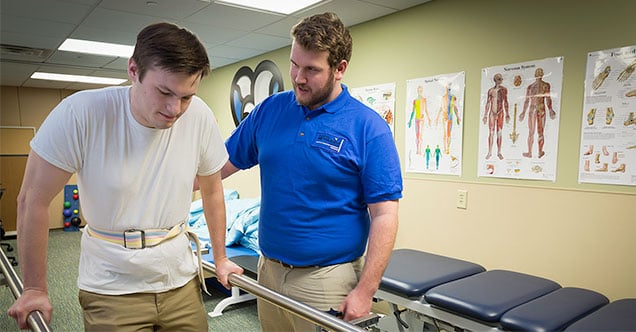 A Physical Therapist Assistant (PTA) provides hands-on care to patients with a wide range of conditions. As a PTA, you will lead a patient through a plan of care set by a licensed Physical Therapist, delivering the personalized treatment a patient requires after an injury or illness in order to return to the maximum level of physical function.
The work is challenging and rewarding. It takes a unique individual who has the ability and dedication to keep a patient on what may often be a painful regimen of exercise in order to achieve desired goals. Seeing a patient three times a week creates a personal partnership with the PTA. It's the kind of relationship that when difficult therapy results in physical progress, the PTA and the patient share the joy of achievement.
We at Nebraska Methodist College recognize six traits that are key to a great PTA. Our Physical Therapist Assistant program is designed to nurture each of these traits through education, experience and mentoring.
1. Good Communication Skills
First, a great PTA must be a great communicator. You need to possess strong verbal and written communications skills, and also be a good listener.
In the hour that a Physical Therapist (PT) meets with a patient for the first time, there may be issues or concerns that the patient doesn't immediately disclose. As a PTA spends more time with the patient, you can pick up on these issues. It is an opportunity to ask good questions and listen closely to the answers. Communication builds trust with the patient, and enables you to suggest changes to the therapy program that may minimize discomfort or help accelerate progress.
Therapy often inflicts pain upon the patient. Being a good communicator allows the PTA to explain what you are doing and why. Building a rapport based on trust and understanding creates buy-in with the patient, and this can lead to better, faster outcomes.
The PTA also has to be able to communicate with the PT and other members of the care team. You have to recognize when you need to bring the PT back in to retool the therapy program, for example, if the patient has sustained a fall and their range of motion has decreased.
PTAs are responsible for providing progress notes to physicians, and must be able to communicate not only achievements but precisely how, and why, a patient may be struggling.
Lastly, a PTA must communicate openly and clearly with the patient's family. Therapy creates a team that includes the PT, the PTA, the patient and their family. The family has to be able to understand why therapy may be painful and lengthy. They must also be partners when it comes to the therapy, especially with an elderly family member. The family needs to understand what the patient can and cannot do physically – and they must adhere to your advice and instructions. Once again, this is a relationship rooted in trust, professionalism and compassion.
2. A Sincere Desire to Help People and Improve Their Quality of Life
Being a PTA is not easy. Deliberately inflicting pain on a person through exercise and therapy is difficult. It requires an understanding that what you are doing is for the good of the patient. And it requires a willingness to keep going even when the patient wants to stop.
If you don't have the desire to help people, the patient isn't going to get better. When the patient wants only to quit, a good PTA needs to be driven to sit beside the patient and tell them that what you are doing will help them get back on their feet – and back home again.
It is a trait that can't be learned or faked. It has to be sincere, and it has to come from within.
3. The Ability to Work Independently While Still Being a Team Player
In most clinics, PTAs have their own caseload. You will need to be able to take the PT's evaluation and plan of care and treat the patient accordingly, independently. In home health care, for example, the PTA often works with no one else around but the patient. At the same time, you are working under the supervision of the PT, and must keep communicating progress, or the lack of it.
This independence often drives a person to become a PTA. These are the people who desire the day-to-day interaction with the patients. They want not only to see them – they want to see them get better.
4. High Degree of Professionalism
Speaking with doctors, family members, other caregivers and the patient requires a level of professionalism that results in trust.
The PTA who presents as confident, experienced and professional will help people believe what you say and accept your answers. It doesn't mean you can't interact on a personal level with the patient. You will laugh with them, and you will cry with them. Professionalism means knowing when what you do is appropriate, and why.
5. A Good Motivator and Advocate
Finding ways to motivate a patient is critical to achieving progress.
When dealing with a patient who is apprehensive, frightened, in pain or depressed, a good PTA needs to know how to motivate them to do something even when it is going to hurt – and to be willing to do the same exercises at home when you aren't there to spur them on.
Good motivators are often good innovators. If an exercise is especially difficult or tedious, incorporating one of the patient's interests or goals into the routine is an option. For example, a golfer who requires therapy after a shoulder injury and is concerned about their golf swing may find it motivating to use a golf club as part of their therapy.
Being an advocate for a patient is also critical, and being a good advocate goes back to being a good communicator. Having an honest, open relationship with a patient can yield a better understanding of what that particular patient needs – and when to go to bat to fulfill those needs.
6. Good Problem Solving Skills
Working independently as a PTA requires being able to think quickly and comprehensively. You need to know when to act, and when to ask for help. If the therapy you are delivering is not working, how can you change it to make it work? And, if those changes aren't up to you, who can help? Physical therapy is not the only way a patient can get better. Would calling in a chiropractor be beneficial? Would acupuncture be a helpful alternative?
A physical therapy plan is neither set in stone nor one-size-fits-all. It calls for personalized care delivered by an interdisciplinary team – with a PTA who possesses the traits to be an integral, successful member of that team.
If these traits apply to you, consider becoming a PTA at Nebraska Methodist College.
A former personal trainer, basketball player and coach, Shannon Struby, PTA, MA, joined the Methodist system in 2001 as a Rehabilitation Technician. She went on to become a PTA and a clinical instructor for PTA students, and now serves as the program director.