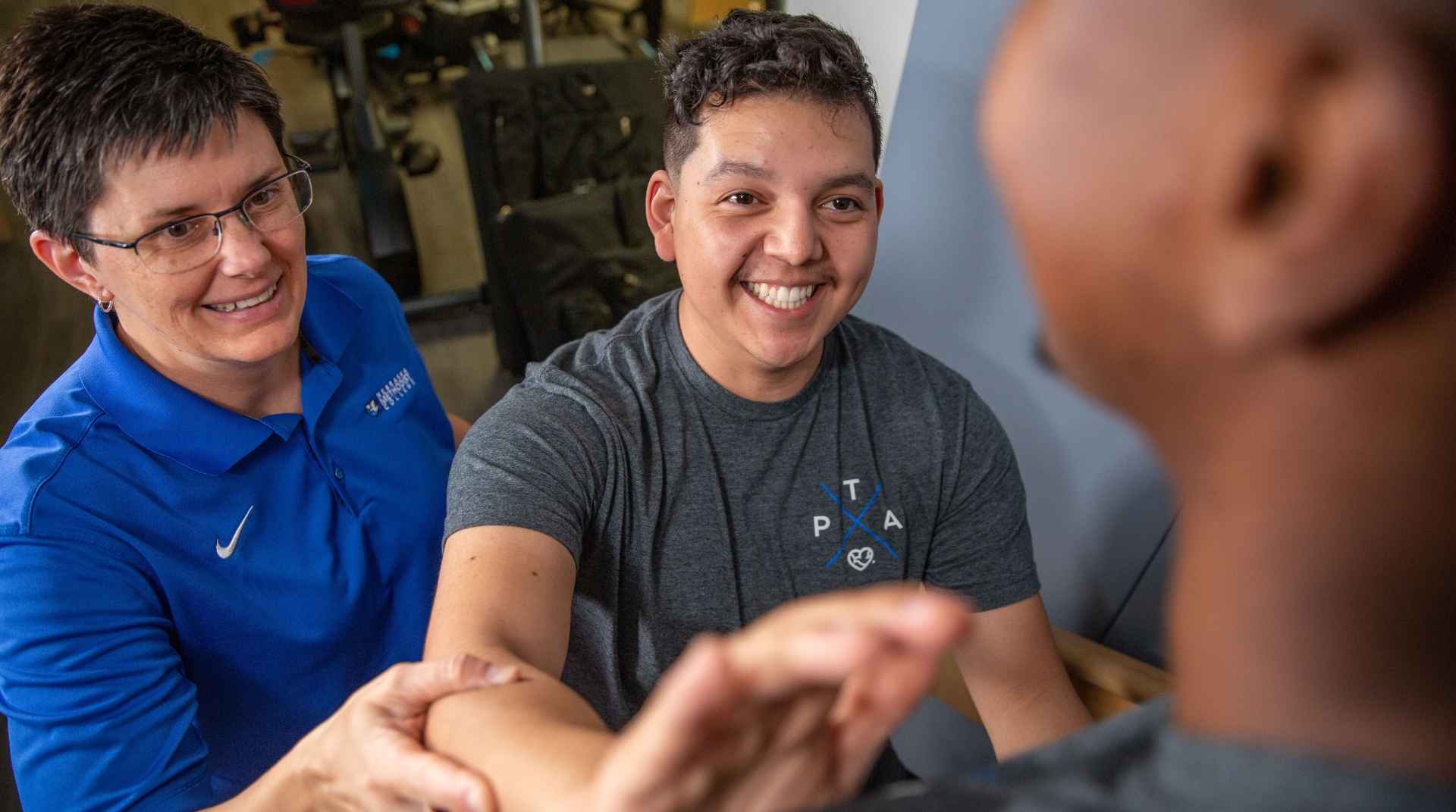 If you know you want a career in healthcare but want something a little different, becoming a physical therapist assistant might be for you.
Physical therapist assistants are there for people in vulnerable moments and encourage them along the way, making it a meaningful and rewarding career.
All allied health careers are centered around caring for others, but as a physical therapist assistant (PTA) you'll have more interaction and connection with patients.
What does a physical therapist assistant do? Learn what you should expect from a career as a PTA along with the many benefits that come with the ability to change lives on a regular basis.
Develop an Understanding of Anatomy and Physiology as a PTA
Understanding the mechanics of the human body and how every muscle, bone and ligament interacts is the beginning of what you'll learn as a PTA.
To help a patient heal, you must possess knowledge of what the human body goes through when everything is working right.
You also need to understand how the body changes over the course of time or how it could differ between demographics. The best practice for helping a child or an elderly person might be different than the assistance you'll need to offer a varsity athlete.
Following Treatment Plans and Taking Direction as a Physical Therapist Assistant
The physical therapist assistant's job is to practice under the supervision of a physical therapist. The PT is responsible for the patient's initial evaluation as well as occasional consultations to check on the patient's progress. But providing the therapy itself is largely part of the PTA's job responsibilities.
As a PTA, you need to be able to translate the physical therapist's plan of care into a treatment plan. The PT relies on you to follow their plan in order to help the patient achieve their short and long-term goals after their injury.
A physical therapist assistant's duties also include keeping data and reports on patients so the physical therapist can analyze the information.
Read more: Physical Therapy Assistant vs. Physical Therapist: What's the Difference?
Providing Patient and Family Education as a Physical Therapist Assistant
When we speak with students who have graduated from the program, they consistently say that the best part of being a PTA is meeting new people.
There's a mistaken assumption that the PT takes on the bulk of patient interaction. That's not the case. It's the PTA who works with each person regularly. During those sessions, you get to know the person you're helping.
This isn't like other disciplines where you might come in, perform a single test and you're done.
As a PTA, you spend hours with each patient as you help them become more mobile. You teach them movements and exercises as therapy progresses, and you learn about their lives and who they are as a person. You're also responsible for making sure a patient and their family understands exercises and stretches they need to do.
If you're not a people person, then this isn't the job for you. But if you truly enjoy meeting new people most days, and you could see yourself working hard to help them improve their quality of life, then being a PTA might be right for you.
Read more: Physical Therapy vs. Occupational Therapy: What's the Difference?
Effective Communication and Treatment Planning for Physical Therapist Assistants
The other benefit of being a physical therapist assistant is that you get to see visible progress of the people you help.
In other health professions, the results typically happen long after care has been prescribed. In physical therapy, you see the results because you're helping to produce the results.
If someone comes in after tearing their ACL, your first appointment will probably be when they are significantly lacking range of motion, making walking difficult. You'll get to witness their progress, watching them return to a quality of life that would have been impossible without the physical therapy you've assisted with.
There's no feeling quite like watching a healthy person walk out the door of the clinic for the last time, knowing that it was the result of the hard work you've put in. Their determination becomes your own determination, and that cycle gets to repeat itself over and over for as long as you maintain your career.
Read more: Six Traits of a Great Physical Therapist Assistant
Movement Therapy and Therapeutic Massage Techniques for Physical Therapist Assistants
The list of jobs you'll be tasked with is probably a lot longer than you imagine.
In many cases, you're helping with motions that you probably already picture when you think of physical therapy. You help a person as they learn to walk, take them through different movements so they can regain mobility and assist them as they learn the basics of using crutches, a wheelchair, etc.
But therapy extends far beyond that. In many cases, you'll act as a teacher, talking to someone about the exercises they can do once they leave and making sure they stick to their "exercise plan." At other times, your job will be to act as pain manager, using different types of therapies to ease a person's suffering as they cope with a debilitating injury.
You may not have even realized the different kinds of therapies that will fall under your care. Massage therapy, for instance, is something that all PTAs must learn. Deep tissue massage can help reduce pain dramatically, and as a PTA, it's up to you to administer these. Therapeutic modalities such as ultrasound, electrical stimulation, cold laser and diathermy are additional therapies that can be beneficial for patients.
Read more: How to Become a Physical Therapist Assistant
Why Pursuing a Career as a Physical Therapist Assistant is an Obvious Next Step for Your Future
If you're considering life as a PTA, then this list of skills and job duties should re-confirm what you already know. Working with patients to improve their quality of life is a fulfilling path, one that will continue to surprise you and reward you for years to come.
As you determine whether a career as a physical therapist assistant is right for you, you'll want to consider the education requirements. To become a PTA, you'll need an Associate of Science, which can be completed in 21 months. The education requirements to become a physical therapist are more lengthy. PTs need a bachelor's and doctoral degree in physical therapy, which takes seven to eight years to complete.
Are you ready to embark on a fulfilling career in healthcare as a physical therapist assistant? Let us help you take the first step. Explore our comprehensive physical therapist assistant program and discover how you can make a positive impact on patients' lives.