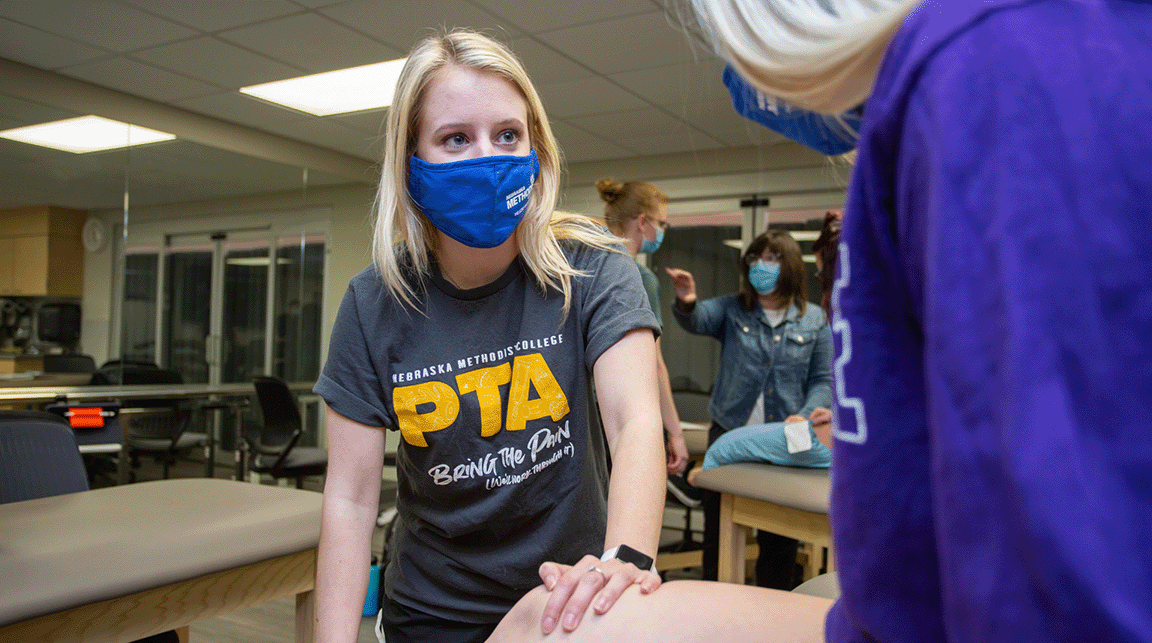 Being a part of someone's recovery from an injury or illness is meaningful and fulfilling.
Physical therapist assistants work with patients one-on-one to improve their body function and quality of life. They also teach patients how to maintain their health and well-being long-term.
A challenging and rewarding career, working as a PTA will allow you to help people every day.
What is a Physical Therapist Assistant?
A physical therapist assistant is part of the care team that treats a patient's movement and physical capabilities.
Works under the supervision of a physical therapist doing most of the hands-on treatment with patients.
Provides direct care to patients who are recovering from injuries and illnesses.
Works in fitness facilities, hospitals, outpatient clinics, nursing homes, rehabilitation facilities, schools, private practices and home healthcare.
"The PTA is the therapist that works with the patient the most consistently within the physical therapy team," said Shannon Struby, physical therapist assistant program director at Nebraska Methodist College (NMC). "They work within the plan of care that is created during the initial evaluation by the physical therapist. They are ultimately responsible for the daily improvement of the patient toward their goals."
What's the Salary of a Physical Therapist Assistant?
The median annual wage for physical therapist assistants was $61,180 in 2021, according to the U.S. Bureau of Labor and Statistics.
Employment for physical therapist assistants is projected to grow 32% through 2030.
Demand for physical therapy is expected to increase to address the health needs of an aging population, specifically the baby boomer generation. Older adults are at a greater risk for heart attacks, strokes and mobility-related injuries that require physical therapy and rehabilitation.
How Long Does It Take To Become A Physical Therapist Assistant?
The minimum and preferred education requirement for PTAs is an associate degree.
NMC's physical therapist assistant Associate of Science program can be completed in 21 months.
The program combines 710 hours of clinical experience with hands-on classroom instruction. Clinicals are located in the Omaha metro area as well as surrounding communities.
The physical therapist assistant program is ideal for those who are recent high school graduates that want to start a career quickly. The program is also a natural step for someone with a bachelor's degree in exercise science.
What's the Difference Between a Physical Therapist and a Physical Therapist Assistant?
There are differences between physical therapist assistants and physical therapists, including the length of education required, the cost of education, the day-to-day responsibilities and the salary.
Physical Therapist Assistant
Two years of education with an Associate of Science are required to enter the occupation.
PTA programs aren't typically competitive.
Expertise in therapeutic treatments and exercises.
Provide direct patient care.
The median annual wage in 2021 was $61,180.
Physical Therapist
Seven or more years of education with a Doctor of Physical Therapy are required to enter the occupation.
One year of clinical residency is required after graduation.
PT programs are competitive and accept a limited number of applicants.
Expertise in theory and diagnosis.
Develop plans of care for patients.
Often run their own clinic, which requires management responsibilities.
The median annual wage in 2021 was $95,620.
What Does Physical Therapist Assistant School Entail?
A physical therapist assistant must have an associate degree from an accredited program.
Utilizing state-of-the-art equipment, NMC students learn how to teach movement, strength and coordination exercises.
The PTA lab features equipment used in physical therapy clinics giving students real-life experiences. The state-of-the-art equipment in the lab includes an elevated ceiling for client stair training, an overhead track system for treadmill tasks and wall-length mirrors for balance retraining.
Students learn how to train patients to use crutches, canes and walkers. They also learn about massage therapy, mobility development, pain management, modality use, and how to use ultrasound and electrical stimulation.
Students get hands-on learning experiences by practicing with classmates and volunteers.
Working in a clinical environment provides real-life experience to hone skills in therapy, patient interaction and communication.
Academic Support at NMC
Because the faculty-to-student ratio at NMC is 14:1, students receive personalized attention and support.
"At NMC, we are a family. Students learn the importance of collaboration early on and how interdisciplinary teamwork accelerates patient healing," said Struby. "We put our students first and get to know each of them on a personal level. We work with them through their time here to help ensure their success."
NMC provides academic coaching on developing a study schedule, time management, procrastination, motivation, note-taking, textbook reading, test preparation, test anxiety and learning styles.
The College also has an accessible testing center, which features individual testing spaces, white noise, a safe area to leave backpacks, noise-canceling panels and more.
When students use the testing center, they can pick up earplugs, fidget toys, mints and more to make their testing experience more supportive.
Claire Bristow, a physical therapist assistant graduate, enrolled in the program to advance her career and increase her salary to better provide for her son.
"Going to school at NMC, I was able to continue being a full-time mom while being a full-time student," she said.
"All the faculty are there to support their students and cheer them on. I knew by the second semester that I needed to improve my study and testing strategies. I spoke with my program director. Not only did she give me personal advice, she gave me the resources to get the assistance I needed."
Students have access to free tutoring, supplemental instruction, mentoring and mental health services.
"The staff and professors made me feel like part of a family. From the moment I met them, I knew they would take care of me and help me succeed," said Emma Jarosik, a graduate of the physical therapy assistant program.
There are also support services for low-income students that include professional development, financial assistance, academic support, a food pantry and a book borrowing program.
How To Become a Physical Therapist Assistant
To become a physical therapist assistant, apply to NMC's associate degree program.
You'll fill out an online application and submit materials such as a written statement and official high school or college transcripts.
Applications are reviewed upon receipt and students are notified of their application status by letter or phone.
After graduation, you must pass the National Physical Therapy Exam (NPTE). NMC's program has an overall pass rate of 100%.
Request more information by contacting admissions.