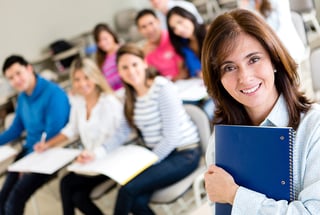 As a parent who's thinking of going back to school, you face a lot of obstacles that your average college freshman doesn't have to deal with: daycare. A job. The daunting thought of going back to a setting you thought you left behind years ago.
At Nebraska Methodist College and many other institutions across the country, a concerted effort has been made to welcome parents who are returning to college. You should be commended for taking that step, and we're ready to help you any way we can.
With that in mind, read on for six valuable tips for parents going back to college. Once you've finished reading, also be sure to download our 11-Step Guide to Returning to School, which explains precisely what's needed in order for anyone, parents included, to make a successful transition.
1. Explore Campus Housing Options
As a parent, you probably don't want to live in a cramped dorm space. But that doesn't mean you shouldn't give on-campus housing a shot.
Nebraska Methodist College offers apartment-style housing that accommodates all sizes of families. Forget the dorm room; we have one and two bedroom options available depending on your needs, and they're a lot more spacious and affordable than you've probably pictured.
Our housing rates are competitive with similar apartments in Omaha, but with the added bonus of all utilities, cable and internet included. Size-wise, our 980 square foot (on average) apartments are a lot bigger than the 228 foot average at other institutions.
And don't forget: children and spouses are welcome at NMC. We want your space on campus to be a home, allowing you to alternate between studying and family time in a way that makes sense for you. Because it's right next to the college, an NMC apartment is a great way to ease personal scheduling and thereby remove a potential barrier to success.
2. Engage With Student Support Services
Most colleges offer some kind of support to their students, but NMC goes above and beyond.
We provide assistance both academic and otherwise. We have free tutors available to help you get through that tough assignment, exam or class that just isn't clicking. Aiding our efforts is NMC's recent Trio Student Support Services grant, which allows us to expand our resources even further.
The college also provides a variety of different counseling services depending on your needs. Whether a test has you stressed out, you're struggling to fit school in with your work schedule or you need spiritual support, NMC has your back. In fact, I recently wrote a blog dedicated to the different types of support we offer, and I'd advise that you check it out to find out more about the NMC experience.
3. Find A Study Buddy
This is important. Whether it's relying on your own family or our community of like-minded individuals, there are people willing to go on this journey with you.
Reach out to people in your classes. NMC encourages our students to participate in study sessions in preparation for exams, as this sense of camaraderie can be incredibly helpful. These people will be your biggest cheerleaders as the years progress.
Enlist the support of your friends, loved ones and, if they're old enough, your children as well. Ask them to hold up flash cards for you or quiz you on the difference between a transverse and a comminuted fracture (if you're in Surgical Tech, don't let them see the blood-spattered pictures).
4. Find Time For You
As a superhero parent, you probably put others first. I mean, let's face it, you're reading a blog produced by a nursing and allied health college, so clearly you have an interest in helping others.
Never forget that self-care is just as important. You will never be able to care for others 100% if you don't care for yourself.
It's critical to do whatever you can to get eight hours of sleep per night. Eat healthy meals. Exercise, even if it's just a few minutes of activity per day. Give yoga a shot. Finally, think of something that you truly enjoy doing, whether it's reading a book or watching a favorite television program, and schedule a time to do that thing each and every day.
Even a little bit of "you" time can go a long way toward easing your stress and getting you back to being the best superhero mom or dad you can be.
5. Plan Ahead
Although you might be returning to school precisely because you want to get out of your current job, it's not a bad idea to speak with your supervisor to let them know of your intentions. That way, there won't be any surprises when you're asked to work a shift that conflicts with a big exam.
You should also give careful thought to daycare options. If you have a current provider, let them know about your intent to start school and be open with them about any changes to drop-off or pickup times.
The more you can sort out prior to your start date, the better off you'll be throughout your degree path.
6. Scholarships
Don't overlook this last critical thing: financial aid.
Yes, you may still qualify! NMC has a whole series of grants for transfer students, and parents are certainly not excluded. You may be eligible for scholarships and help that you never even would have imagined. Many employers also offer their own assistance packages.
Inquire with an admissions rep about financial aid and apply for everything you can. You'll be glad you did when you've wrapped up your college tenure and you see how much you've saved.
That about covers it. If you're thinking about going back to college as a parent, we hope you'll take this advice to heart and do what you can to earn the degree of your dreams. And remember, if you're looking for even more detailed information, check out our 11-Step Guide to Going Back to College below.