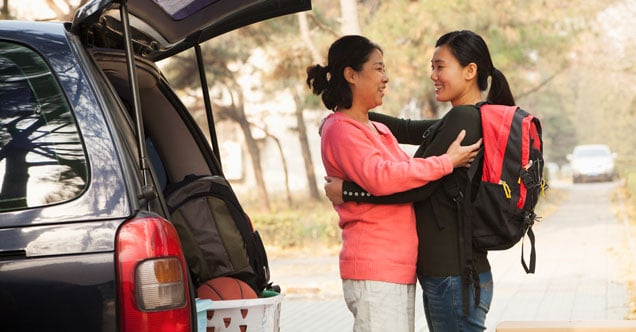 NMC guest blogger and Director of Enrollment Services Megan Kokenge created a list of steps to help parents support their student through the college search process. Through working with parents and students every day, she offers a unique perspective on the topic from an admissions standpoint.
After working in higher education for almost twenty years, I have seen and heard a lot from students' parents. Some good, some bad, but all parents had the same goal — to see their student succeed.
Preparing to send your student to college is stressful. Here's a list of steps that will help make this important milestone less stressful and set your student up for success.
1. Listen
Starting the college search process can be overwhelming. Students have so many options and lots of different factors to consider. You and your student very well might not have the same goal in mind when picking out a school.
Because of this, it's important to start with a conversation with your student about what they want in a college experience.
Are they looking to stay close to home or spread their wings?
Do they know what they want to study, or do they need to explore a little bit?
I recommend starting the conversation and listening to what your student is looking for. This can help put things into perspective and guide your search process.
Click here to download our College Selection Timeline document. This checklist is designed to help your student stay on track with the college selection process.
2. Talk
Once your student has shared with you what they are looking for in a college, it's important to keep the conversation going.
As you visit colleges and learn more, priorities will probably change. After visiting that really large city campus, your student might realize that it's not a good fit. Or it might seal the deal, letting you cross some schools off the list and moving your search to the next step.
Ongoing conversations will also allow you to share what your expectations are and offer timely advice and words of wisdom. This is your moment to share the "when I was your age..." stories!
3. Coach
Your job is to assist and coach (not complete) the application process on your student's behalf. Applying to college is your student's chance to shine. It's also an opportunity for them to learn the importance of deadlines, time management and advocating on their own behalf. Colleges are really most interested in hearing from them, not you.
Students should complete their own materials for the application process. Of course, you can offer your assistance and guidance by proofreading written statements or reminding them of deadlines. But this is the opportunity for your student to learn how to manage things on their own from beginning to end. You won't be writing that term paper or studying for final exams, so let the student's application be an example of their best work.
4. Prepare
The real work begins once your student narrows down their options and selects a college. Your student will need your support more than ever.
As they navigate their final year of high school, it is important that you continue to guide them. They will need you to assist them in preparing for things like financial aid paperwork, housing, class registration, immunization requirements and other important next steps.
5. Grow
The biggest issues for students going to college might not be in the classroom. Is your student ready to be an adult yet and act independently?
When a student goes to college their day-to-day routine will be vastly different. No tardy bells, no one taking attendance, no "lunch break"- it is all on them to determine the course of their day, week and month.
Let them navigate their own schedule, complete the mundane but necessary day-to-day tasks, and most importantly advocate on their own behalf. Help your student grow into a confident young adult, and they will flourish in college.
6. Celebrate
Finally, as you send your student off to college, whether it's in another state or down the street, be sure to celebrate what you and your student have accomplished. Attending college for the first time is a huge accomplishment. Remember to take a moment and recognize this!
For more information, click the button below to access our College Decision Guide, designed to help parents support their student through the college search process.