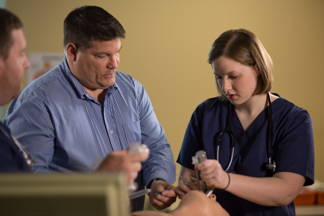 Do you like thinking on your feet and being challenged to make important medical decisions? Would you enjoy working directly with patients to make a difference in their quality of life?
With plenty of variety to keep you engaged, numerous instances of hands-on patient care and a wide array of job opportunities, respiratory therapy is a career worth considering.
In today's blog, we're going to look at what you'd be doing on a day to day basis as a respiratory therapist, why there's a demand for RTs right now and how to actually take on this exciting role.
Respiratory Therapists' Responsibilities
Respiratory therapists work with patients of any age, from premature babies to the elderly. The role involves finding, managing and preventing problems related to the cardiopulmonary system. You might work with an individual who has emphysema, for example, or maybe someone who's been in an accident and now has trouble breathing without assistance.
Your patients will rely on you to help diagnose conditions like asthma and sleep disorders, at which point you'll help them decide upon different therapies. Once a decision has been made, you'll implement and manage ongoing care and treatment programs.
Although hospitals are the primary place of employment for respiratory therapists, jobs are also growing in additional areas, including:
Wellness centers
Medical offices
Asthma clinics
Sleep disorder centers
Respiratory Therapists Needed
As healthcare evolves to focus on prevention and wellness, the respiratory profession is growing quickly. Patient self-management and education are big focuses in healthcare today, and RTs fit right into that category. Growth in the middle age and elderly population will also mean a higher number of patients with respiratory problems. As these trends continue, there will be a higher demand for respiratory therapists throughout the country.
Salaries in respiratory care are also on the rise. According to O*Net Online, the median salary in 2014 for a Respiratory Therapist was $56,730 per year ($27.27 per hour).
What it Takes to Get Into the Field
The path to becoming a respiratory therapist requires:
A strong interest in health sciences.
A professional but caring attitude and a genuine empathy for others.
A two-year Associate of Science degree from an accredited program. To earn this, you'll study human physiology and the cardiopulmonary system while learning all about critical thinking, communication skills, patient assessment, disease management protocols and care-plan development. You'll learn through both classroom teaching and hands-on practice in clinicals.
Passing mandatory exams. After completing the program, you'll take the Respiratory Therapist (CRT) exam, which then leads to the advanced practitioner exam to earn your Registered Respiratory Therapist (RRT) credential.
If your goals include becoming a manager or educator, you can pursue a bachelor's degree in respiratory care. Examples of these positions include:
Respiratory care department manager
Health education specialist
Educator in respiratory care programs
Health promotion manager
Community agency employee, such as with the American Lung Association
What You'll Gain at Nebraska Methodist College
Our respiratory program sets high standards for our students, both in the classroom and as a part of a wider healthcare community. From participation in Asthma Camp to activities related to Cystic Fibrosis, students get a chance to work as part of a healthcare team, all while being encouraged in an educational environment that harnesses high-tech nursing labs and a variety of cutting-edge techniques.
Nebraska Methodist College grads grow through their experiences working with patients during clinicals and attending training modules throughout the Omaha metropolitan area and various rural sites. This wide breadth of knowledge will further expand the career paths and options available to students.
Respiratory care is an important job in a growing field. It's definitely worth considering if you're looking for a high-demand, hugely versatile career path. To find out more about the Respiratory Therapist program at NMC, click the button for further details.