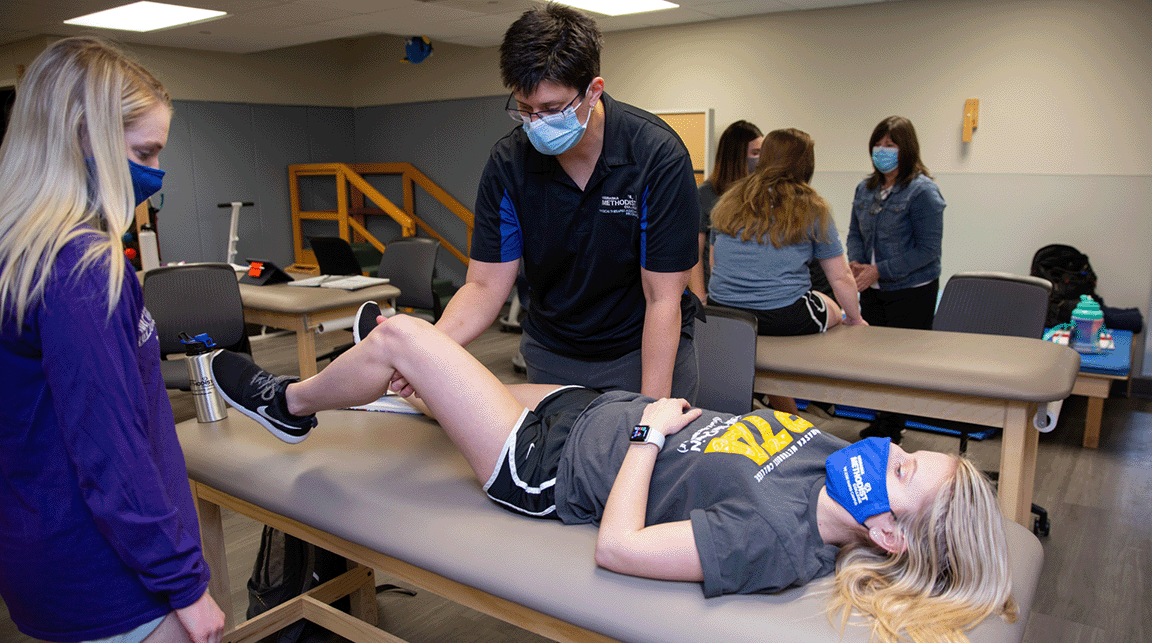 Working as an allied health professional will allow you to play an essential role in patient care and have a rewarding career helping patients live healthier lives.
Just ask our faculty! The allied health faculty at Nebraska Methodist College (NMC) each chose their career path for different reasons, but they all wanted to positively impact people's lives.
NMC Faculty Share Why They Chose Allied Health
Becca Bouckaert, cardiovascular sonography program director
"I went into the cardiovascular sonography field because I find the heart and vessels fascinating. As a sonographer we can work closely with the patients and providers, making a significant impact in the healthcare field.
I went into teaching because I always enjoyed being a clinical preceptor while working in the field. As an instructor, I am able to apply what I learned in the clinical setting and help better prepare students to become the best cardiovascular sonographer they can be!"
Shannon Struby, physical therapist assistant director
"As a former athlete, I spent my fair share of time in the training room and PT clinic. I gained a high level of respect for what the therapists did to help get me back to doing what I loved. That really spoke to me. I wanted a profession where I could enable people to return to their normal lives after an injury or accident, and physical therapy was exactly that.
I was kind of thrown into teaching by a mentor. I really love watching students connect the dots - take what they have learned and put it all together to treat a patient. I enjoy watching them problem solve and work together, knowing that's what they are going to be doing when they graduate.
Also, teaching future healthcare professionals allows me to impact even more patients than when I was treating them."
Kate Rollins, radiology and imaging sciences program director
"I come from a family full of RNs - my mother, a grandmother, aunts and cousins. I decided I was interested in healthcare but didn't want to be an RN. I wanted more variety in my daily work.
In high school, I joined a local HOSA club, and was exposed to many different fields in healthcare. I was highly intrigued by the radiography department. The use of high-tech equipment, patient care skills and the vast opportunities to perform a variety of diagnostic procedures was for me!
The decision to teach in healthcare came more as an opportunity. I had always been appreciated as helpful in modeling students in their clinical education while I was a staff RT. I was asked if I would teach a course or two. I was surprised at how naturally this came to me since I hate public speaking. I excelled and received exceptional course evaluations from the students.
When a full-time instructor retired, I was encouraged to apply and I got the job. Since then, I have acquired more education and developed professionally to help build a strong program in radiography and graduate hundreds of radiographers into this career that I love."
Dr. Lisa Fuchs, respiratory therapy program director
"I went into respiratory therapy because I like to help people. When I learned that I would be working with a variety of patients from asthma to critical care, it seemed like a perfect fit. I would never be bored caring for people ages 23 weeks to 108 years old.
Teaching has been the common thread throughout my career from clinical to quality and on to teaching at a higher level of education. When I came to NMC, I had a five year plan. If I was not happy after five years I would move on to another field of medicine and/or teaching. I am enjoying teaching at NMC, and I designed a new BS program that is provisionally accredited."
Marjorie DiLorenzo, phlebotomy technician program coordinator
"I decided to go into allied health because I loved science and chemistry in high school. I wanted to be in healthcare but not necessarily direct patient care. My clinical laboratory science major and chemistry minor in college fit the bill. My career as a medical laboratory scientist and hematology specialist made the clinical laboratory the perfect fit.
I always wanted to be a teacher, even as a little girl. I began teaching medical laboratory science students early in my career in the laboratory. I eventually began to teach at various universities and colleges.
As a medical laboratory scientist, I have also worked as an administrator and author. I enjoy sharing my love of the laboratory with students. I get to watch them correlate the blood tubes and laboratory tests with patient conditions, and recognize that the laboratory testing of blood specimens is vital to the correct diagnosis, treatment and monitoring of a patient's condition."
Karin Bellows, radiologic technology clinical coordinator
"I loved the sciences growing up, through high school and into college. I knew my calling was not to be a physician or research scientist. I found radiologic technology through an unconventional pathway of career counseling and then shadowed at a local hospital.
I was surprised by how much I loved the fast-paced, hands-on experience I could have with patients while still using my critical thinking skills. I knew that every day would be different and, therefore, would keep the excitement fresh.
Teaching was a natural evolution. After completing radiography school, I enjoyed working with students. I wanted to be a mentor, a source of inspiration and someone they could trust. I served as a clinical preceptor at Methodist Jennie Edmundson Hospital prior to becoming the clinical coordinator for our program. I wanted to have a bigger impact and work more closely with student development."
Jody Berg, multispecialty sonography program director
"I could never get enough of math and sciences. I had an amazing biology teacher that exposed me to anything, from cat dissections to river studies. In addition, a local medical team allowed me to be a frequent fixture in our rural hospital. Thanks to these experiences, I knew, without a doubt, medicine was where I was headed.
My mom was a nurse, and I knew that nursing was not for me. An ESU summer honors program in medicine, where I got to be involved with ultrasound, really sparked my interest. It was the perfect mix of my love for math and science as well as my passion for crime TV. Ultrasound is like solving a mystery. We gather information, look for clues and piece the whole story together. Every day, every patient brings something brand new with brand new challenges.
I was drawn to teaching from very early on in my career. I enjoyed getting to know new students that were going through our department. I loved being able to share my knowledge, collaborate with and empower these students. It's not only a necessity, but it's our responsibility to ensure we are teaching the next generation of sonographers. I'm not interested in teaching students that will only be as "good" as I am. I am teaching sonographers that have the tools to make advances and far more of an impact on the field than I ever could. That's the beauty of teaching!"
Melissa Kimmerling, occupational therapy program director
"I became an occupational therapist because of a series of unfortunate events in my life. When I was 16, I broke 18 bones in a car accident where I was ejected from a vehicle. This included five bones in my back, nine ribs, my right hip, right shoulder and both bones in my right forearm.
To say I nearly died is an understatement. The pain was nearly insurmountable. It was working with the therapists, including occupational therapists, in my acute care stay and outpatient rehabilitation that helped me to do the things that were important to me again. That is when I truly started to live.
This experience led me to choosing occupational therapy as a career. Through my work in academia, I can impact not only the clients I continue to work with, but all the clients that our students will someday work with. It is an honor to influence their future careers."
Janet McAdams, surgical technology program director
"I always had an interest in helping others and I gravitated towards a career that would allow me to serve the public. When I first learned about surgical technology and researched what it was really all about, I was hooked. I could not believe that there was a career out there that allowed me to follow my passion and interest in how the human body works, how we fix it and what we do to make it better.
A big part of my 18 years in the OR was working with new employees and students. I enjoyed working with them and helping them grow their own skill set. When an opportunity presented itself to enter the teaching side of my profession in a permanent role, I decided I wanted to share that passion and the excitement that I have for surgical technology with the students."
How to Get an Allied Health Degree
Enrolling in an allied health program at NMC will allow you to receive a high-quality healthcare education from highly credentialed faculty in state-of-the-art classrooms and laboratories.
The faculty at NMC have the experience and expertise to help students master the art and science of healthcare while providing a holistic culture of caring. The 13:1 student to faculty ratio allows students to receive the support that they need to succeed.
With an allied health degree or certificate, you can work as a phlebotomist, a physical therapist assistant, a radiologic technologist, a respiratory therapist, a surgical technology specialist, a sonographer or an occupational therapist.
Whichever path you choose, you'll have many opportunities as the healthcare job market is one of the fastest growing in the country.
You can enroll in an allied health program at NMC at methodistcollege.edu/apply-now.