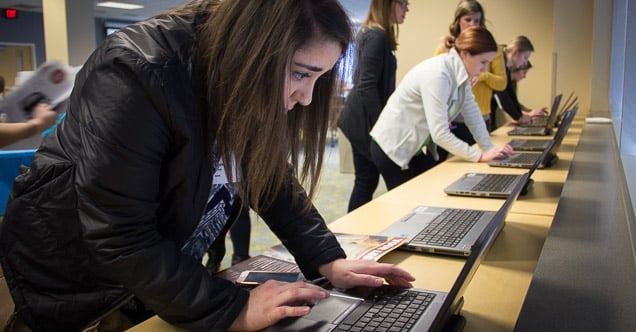 Congratulations on your acceptance to Nebraska Methodist College (NMC)! By now you have completed your application and received your acceptance packet. This is the moment you have been waiting for - all this college application stuff to be over, right?
The good news is you're admitted. You can breathe a sigh of relief because no matter what you have a school to attend this fall.
1. First things first, CELEBRATE!
You should be very proud of your acceptance to NMC. As a healthcare college, each of our programs has a limited number of seats available. All applicants are carefully reviewed and selected based on the criteria of what makes a phenomenal healthcare professional. Kudos to you, we see potential in you and know you are going to be very successful at NMC!
2. Visit Campus
If you have not already visited campus, we encourage you to set up a personal campus visit. We want to make sure you feel NMC is the right fit for you, and the best way to do that is to spend some time on campus. Even if you have already visited campus, consider coming again. This is potentially going to be your "home away from home" for the next few years, so let's be sure you know the lay of the land and feel comfortable in your new digs!
3. Submit Your Enrollment Deposit
Once a student is admitted to NMC, we ask that you submit an Enrollment Deposit within 30 days. Payment of this fee holds your seat in the program and is confirmation that you are planning to attend our school. Remember: we only have a limited number of seats in each program, so this is how we keep track of how many seats we have left or if the program is full! Your enrollment deposit is credited towards your first semester's tuition bill.
4. Let's Make it Official
Take a minute and follow NMC on Instagram, Facebook, and Twitter. Even better, update your status and let everyone know you are attending @NMCOmaha. You can also subscribe to our blog for more insights and helpful tips.
5. Complete Your FAFSA Application
If you are interested in pursuing Federal Financial Aid, we will need to have a FAFSA application on file. The FAFSA is used to determine Federal and State financial aid funding. This electronic form must be completed each year if you would like to be considered for grants and/or loans. You can complete the FAFSA by visiting: www.fafsa.ed.gov. When completing the FAFSA be sure to designate Nebraska Methodist College with code: 009937.
NMC scholarship recipients are also required to complete the FAFSA application by June 1. If you have any questions regarding the FAFSA or Financial Aid, we have a wonderful team of Financial Aid Counselors who are happy to answer your questions!
6. Campus Housing
If you are interested in living on-campus, we encourage you to connect with our Housing Coordinator. NMC offers one- and two-bedroom apartments at very affordable rates. Housing is offered on a first come-first serve basis. You can also tour campus housing when you come for a personal campus visit!
7. Submit Updated Documents
If you are a high school senior, we will need a final copy of your high school transcript once you have officially received your high school diploma. If you have completed any dual credit college courses, it's important that you have your official college transcripts sent to the college for review.
Transfer students: if you are still taking courses at another institution, make sure you are also submitting your updated official transcripts. This will allow us to update your official advising record and transfer in courses you have completed.
Updated official transcripts should be submitted to the Admissions Office.
8. Register for CARE Day (Connect, Ask, Register, Explore)
CARE Days are held for incoming students a couple of months before classes start each semester. At CARE Days, you will register for classes, access your student email and myMethodist account, connect with faculty and staff and meet with campus health. These days were created to help you check several important tasks off your "to do" list.
Tip: You will want to make sure all of your updated transcripts are submitted prior to attending your CARE Day.
Sign up online for one of our upcoming CARE Days here.
9. Ask Questions
As you navigate the in-between stage of "Yay, I am admitted" and "I need to get ready for the school year," please remember we are here to answer your questions along the way. We are happy to help! Feel free to contact us at (402) 354-7200 or admissions@methodistcollege.edu.