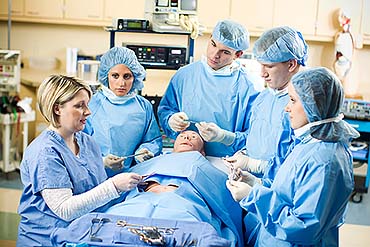 How would you like to see an open-heart surgery in person? Or help remove a gallbladder? If you'd love to be a vital part of an operation, becoming a surgical tech will put you right in the middle of the action.
Surgical technologists are an important part of a medical team, serving as the surgeon's right hand and getting a front-row seat for fascinating, life-saving procedures. If that sounds like fun to you, take a look at the top four reasons you might love being a surgical tech.
1. If Variety is the Spice of Life, Surgical Technology is Your Uncle's 15-ingredient BBQ Rub
It's a little of this and a little of that. Depending on where you work, you could see a huge variety of procedures, from pediatric surgeries to neurological operations. Even when you regularly assist with similar types of procedures, bodies are different and every case is unique.
As a surgical tech, you'll have to think on your feet to keep up with the changes in a job that's anything but business as usual. You might:
Get a patient ready for surgery
Prepare sterile equipment
Anticipate a surgeon's needs and provide the right tools at the right time
Guide a camera during the operation
Cauterize blood vessels
Handle specimens for analysis or disposal
Close wounds
Apply bandages
Account for surgical tools after the procedure
Sterilize equipment
And more
2. It's the Anti 9-to-5 Desk Job
If the idea of looking at a computer screen all day sounds stifling, you need a career that's more hands-on. Surgical techs are on their feet and using their hands to manipulate equipment and take part in physical work throughout their shifts. Our students and graduates tell us they love this kind of job because they feel like they're actually doing something.
Writing a great business report or making sales calls might be fulfilling for some people, but others need something more energizing. When you help a surgeon remove a tumor or repair a heart, you can see the good you're doing firsthand, and that feeling of satisfaction is hard to match.
3. It's Never Boring

There's a lot going on in an OR, and surgical technologists work to stay organized and on top of it all. Some people might be intimidated by the high-stress situation, but surgical techs think it's exciting. With the always-fast pace of the OR, you quickly learn to expect the unexpected. The best techs keep a level head when things don't go as planned and help doctors get the situation under control. It's less predictable than a lot of jobs, but you can bet it's never dull.
4. Employers are Hunting for You
Even in an economy where many people are having trouble finding a job, surgical techs are in high demand. Advances in medical technology and aging baby boomers mean there's a need for most positions in the medical field, and surgical techs definitely fit that bill. It's a popular program at Nebraska Methodist College, as area hospitals count on us to train and prepare the technologists they need to keep up with the pace of medical demand.
While you're in school at NMC, you'll get plenty of hands-on experience, which means you'll be ready to enter the field right away when you graduate. You'll learn about human anatomy, surgical tools and more in the classroom, and our state-of-the-art labs let you hone your skills before getting in the operating room. Clinicals even give you real-world experience in the OR (more than 760 hours at a variety of sites), which means you'll have a well-rounded knowledge before you even have your first job.
There's also the possibility to advance your career after you've been in the field by becoming an assisting technologist or even a PA. Overall, it's a great way to enter the medical field and get in on the action.
Ready to learn more? Then find out everything you need to know about the Surgical Technologist program at NMC by clicking the button below.