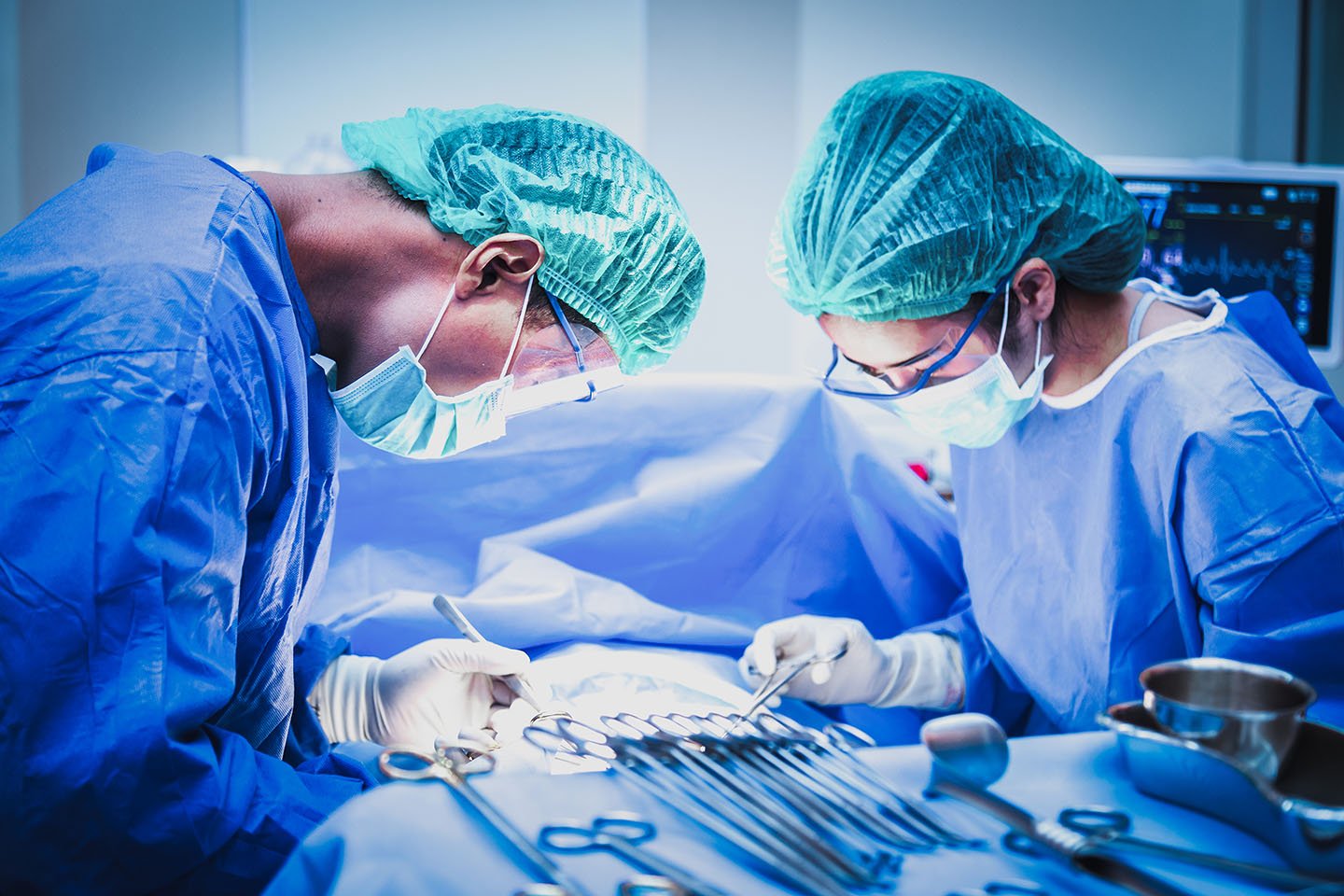 The challenging field of surgical technology puts you in the center of the action in an operating room, alongside surgeons and other skilled medical professionals. You work to ensure the highest quality patient care before, during and after surgery.
As a surgical technologist (surgical tech, surg tech or scrub), you are responsible for inspecting and ensuring the surgical instruments are sterile and the operating room (OR) is organized for the medical team.
During surgery, surg techs help position patients on the operating table and drape them with sterile cloths. They also troubleshoot equipment when necessary. Surg techs assist in an array of surgical procedures, from general surgery to neurosurgery, labor and delivery and cardiac surgery. They work in hospitals, outpatient surgery facilities, physicians' offices and dental offices.
All of this is possible with a 22-month associate's degree through our surgical technology program. The value of our comprehensive curriculum will be enhanced in the fall of 2020 as the college is reducing tuition for the program to $230 per credit hour from the current $580. That is a reduction of just over 60 percent, and it will be available to new and current students.
The college and Methodist Health System championed this change to the surgical tech program as a way of placing more surg techs in the field without burdening them with student loan debt. Our surgical technology students are often hired six months before graduation. Becoming a surg tech also serves as a springboard to other health care careers. Our students have returned to obtain their bachelor's or master's degrees in nursing.
I have been a certified surgical technologist for 20 years and understand firsthand the critical role we play in the operating room. No two days are the same in the OR, and no two medical cases are the same. Even cases that sound similar, such as removing brain tumors from two patients may involve vastly different and fascinating techniques.
As a surgical technician and as the program director, I have come to recognize many qualities that surgical technologists needs. I'd like to share five:
1. Have strong organizational skills.
Attention to detail is a top priority in the operating room. Each surgical session requires dozens of different skills and technologies and hundreds of pieces of equipment. Each must be ready to use and in its proper place, both before, during and after surgery. A single mistake can have a huge impact on the outcome. Beyond attention to the equipment, surgical techs also must have extensive knowledge of aseptic techniques, the practices and procedures that prevent contamination from pathogens and minimize the risk of infection.
2. Be an adrenaline junkie.
An operating room redefines "stressful." Complex surgeries such as a heart operation, transplant or trauma case such as a gunshot wound put every member of the surgical team on edge. Even a simple surgery can take a negative turn in an instant. A great surgeon's assistant needs to be able to act quickly and skillfully, no matter how much pressure.
3. Be hands-on.
Assisting in surgery is a front-row occupation. You will see things that are frightening, disturbing, unfortunate and unavoidable – and you have to be ready to react no matter what. If a surgeon is unfamiliar with a piece of equipment, it is up to you to explain it, quickly and accurately. Surgical assistants are active participants in the OR. Even when they stand back and watch, they are ready to act at a moment's notice.
4. Be a team player.
While a surgical tech plays a vital role in the OR, so does everyone around you. Each member of the surgical team is precisely that: one member of a team. While they may do their job independently, each person works under the direction of the surgeon. But even the world's greatest quarterback won't be able to complete a pass without an offensive line that does its job. Working together as a team requires good anticipation skills. Seeing what your surgeon needs before he or she asks for it makes the job easier for every member of the team.
5. Have patience.
Not every word spoken in an OR will be complimentary. The stress of the environment may lead to some very unkind words. Surgical techs have to be able to withstand the pressure of the moment no matter who says what. You can't take things personally but you can learn from those moments, and when possible, act to defuse a similar situation in the future.
If you have an interest in playing a critical role in the operating room – and doing it as soon as two years from now – I hope you will consider enrolling in the technology program at Nebraska Methodist College.
# # #
Christy Grant, CST, began her career in Surgical Technology at Methodist Hospital in Omaha and joined the staff at Nebraska Methodist College as the clinical coordinator for the Surgical Technology program in 2009. The following year, she was promoted to program director.