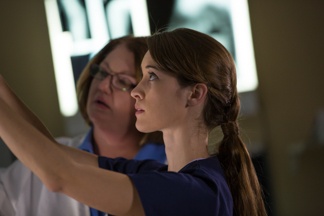 You've probably heard the phrase "What you see is what you get." But what about all those things you can't see? In the medical world, they're pretty darn important, and it's up to Radiologic Technologists to create a picture of the health issues plaguing patients.
Today's edition of Careers 101 casts a spotlight (or rather, an X-ray) on a field that offers plenty of options for specialization and numerous opportunities for patient interaction. As the one responsible for carrying out a test that can illuminate a sick or injured individual's medical condition, you may find that this fulfilling career path is the perfect fit for your ambitions.
So Much More Than A Button Pusher
Ever since kids used to order x-ray specs out of the back of a comic book, society has embraced the possibilities of being able to use radiation to get an accurate picture of the body.
Yes, you're taking x-rays of the human body. But this simplistic description fails to do justice to the wide array of tasks that go into your job.
Technologists are often referred to as "button pushers," with the large scope of their skills and knowledge going unrecognized. Radiologic Technologists are indeed button pushers; button pushers that can apply the inverse square law to set imaging techniques, understand the interactions of radiation with matter, recall positioning protocols for imaging all 206 bones and 360 joints in the human body, improvise in trauma situations and provide quality patient care.
That's a lot more than just the push of a button.
Different Strokes for Different Folks
During a single shift, technologists may touch the lives of more than fifty patients. Some are in for preventative or follow up exams, others are in pain and some are scared of what the technologist will find. Technologists must be able to quickly adapt their communication style to fit the unique needs of each patient.
A technologist may begin the day performing scheduled CT exams, provide C-arm coverage for a hip replacement, complete a few mammograms, assist the radiologist with a hip injection and a barium enema, perform multiple routine follow-up x-rays on clinic patients, report to the emergency department (ED) for a multiple trauma situation, move the portable machine up to the inpatient floor to image patients and provide overnight on-call coverage for the hospital.
As a technologist myself at a rural hospital, I was responsible for aspects of patient billing, scheduling, coding, medical records, staff scheduling and charting in addition to performing imaging procedures. That's a lot to handle, but it's a perfect fit for someone who thrives on diversity but really wants to make a difference in people's lives.
Specialization Options
The Rad Tech program at Nebraska Methodist College is great because it gives you the opportunity to specialize in different facets of the field, allowing you to attain subsequent degrees and certificates based on your interests.
Upon graduation from the two year associate's degree program, students are eligible to seek certification from the American Registry of Radiologic Technologists (ARRT). But that's just the beginning of the educational possibilities. Here at NMC we also have an Imaging Sciences bachelor's degree that you can transition into seamlessly whether you just attained your Associate's or you're an RT looking for a degree completion option.
NMC also offers certificate options that provide Computed Tomography (CT) and Magnetic Resonance Imaging (MRI) opportunities.
By pursuing your career in this field, you're entering an industry with an exceptional job demand. Across the country, the median salary for a Rad Tech was $55,870 in 2014, and for persons who specialize in MRI, it was even higher at $67,090 per year. Job growth for both up until 2022 is projected to be 21%, faster than the average across all industries.
Is This The Right Fit For You?
Each patient presents a new challenge that allows you to decide what is best in the situation in order to protect the patient and produce a quality diagnostic image. A technologist must be attentive to their patients and the images they produce, as doing so can be lifesaving.
I once performed an after-hours CT scan on an outpatient with neck pain. During the CT scan I was able to notice a fracture. I quickly immobilized the patient's head and contacted the radiologist and physician on call. The patient was then flown to a trauma center for care.
Those who may be interested in radiologic technology are doers. They are able to critically think and make a decision in a moment's notice. They must be open to working with rapidly changing technology. If you're considering the profession, you must also understand things like starting IV's, inserting enema tips, working in surgery and administering contrast media. If blood and bodily fluids make you squeamish, this may not be the profession for you.
Your Future Is Now
Radiologic Technology is a beautiful mix of art and science. Students must possess great communication and technical skills. RTs play an important role as a liaison between the patient, the radiologist and the ordering physician.
Most importantly, the technologist is ultimately an advocate for the patient. And that's more valuable than merely pushing a button could ever be.
If this sounds like the type of role you'd be interested in, then download our Radiologic Technologist degree guide today!