Radiologic technologists are the unsung, behind-the-scenes players in the healthcare industry. If you've ever broken a bone or needed an ultra-sound, chances are you were helped by a radiologic technologist, or rad tech.
Radiologic technologists perform diagnostic imaging exams on patients and work in hospitals, clinics or other diagnostic imaging centers. They're also one of the most in-demand healthcare jobs today. Read on to learn more about rad techs, their responsibilities and how to earn your degree at Nebraska Methodist College.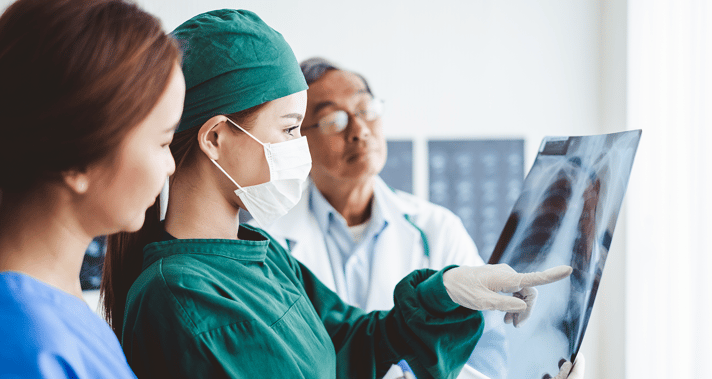 What is a radiologic technologist?
Rad techs, radiographers or radiologic technologists are healthcare professionals that use several different types of equipment to get images that help physicians diagnose patient injuries and ailments to determine the best course of action for treatment. Most rad techs are trained and experts in using X-ray and computed tomography imaging, or CT. MRI technologists operate magnetic resonance imaging (MRI) scanners, which also create diagnostic images.
What are the benefits of a degree in radiologic technology?
Imagine being part of a physician's team and getting to see inside the human body without invasive procedures. That's exactly what you'll bring to the team as a rad tech. Radiologic technology is growing and evolving and so are the career opportunities. Earning an associate's degree in radiologic technology will open many doors and provide a strong foundation in your healthcare career.
The program at Nebraska Methodist College is just two years. In addition to a first-class education, you'll earn hands-on training and experience in various healthcare settings. Students get to work in the state-of-the-art, fully energized digital X-ray lab on campus. According to the Bureau of Labor Statistics, Radiologic Technologists project a faster-than-average job growth of 9 percent between 2018 and 2028.
Upon graduation from the two year associate's degree program, students are eligible to seek certification from the American Registry of Radiologic Technologists (ARRT). At NMC, we also have an Imaging Sciences bachelor's degree that you can transition into seamlessly whether you just attained your Associate's or you're an RT looking for a degree completion option.
No two days are the same.
During a single shift, technologists may touch the lives of more than fifty patients. Some are in for preventative or follow up exams, others are in pain and some are scared of what the technologist will find. Technologists must be able to quickly adapt their communication style to fit the unique needs of each patient.
A technologist may begin the day performing scheduled CT exams, provide C-arm coverage for a hip replacement, complete a few mammograms, assist the radiologist with a hip injection and a barium enema, perform multiple routine follow-up x-rays on clinic patients, report to the emergency department (ED) for a multiple trauma situation, move the portable machine up to the inpatient floor to image patients and provide overnight on-call coverage for the hospital.
What are the other job duties?
Radiologic technology is so much more than just x-rays (although, that is a big part of it). In addition to being skilled equipment operators, they also care for patients and have to be great with detail. They're also responsible for putting images taken to work with physicians and working with a team to determine a diagnosis and treatment plan.
Other duties include maintaining and operating imaging equipment, prepping patients for procedures, following instructions about areas needed for the best images possible, operating computerized equipment to get images and working with physicians to evaluate images. It's important for rad techs to be great with communication, teamwork, problem solving, computer literacy, writing, research and more.
Your future is now!
Radiologic Technology is a beautiful mix of art and science. Students must possess great communication and technical skills. RTs play an important role as a liaison between the patient, the radiologist and the ordering physician.
Most importantly, the technologist is ultimately an advocate for the patient. And that's more valuable than merely pushing a button could ever be.
If this sounds like the type of role you'd be interested in, then download our Radiologic Technologist degree guide today!