A career in healthcare is rewarding and provides an invaluable service to your community. Everyone's reasons for wanting to be a nurse or a physical therapist assistant might be different, but there's no denying that healthcare careers are more in demand than ever, especially due to the recent pandemic and the accessibility of healthcare.
The novel coronavirus (COVID-19) has placed an emphasis on the country's need for more healthcare professionals. But what are some of the fastest growing, most in-demand, non-physician healthcare jobs right now? Learn more about the different options, growth rate of healthcare jobs as well as their pay. Plus, discover Nebraska Methodist College's different programs for the following healthcare careers.
According to the Bureau of Labor Statistics, healthcare professionals have a much faster-than-average projected job growth rate between 2018 and 2028. About 1.9 million new jobs have been added, mostly due to an aging population.
Medical Healthcare Careers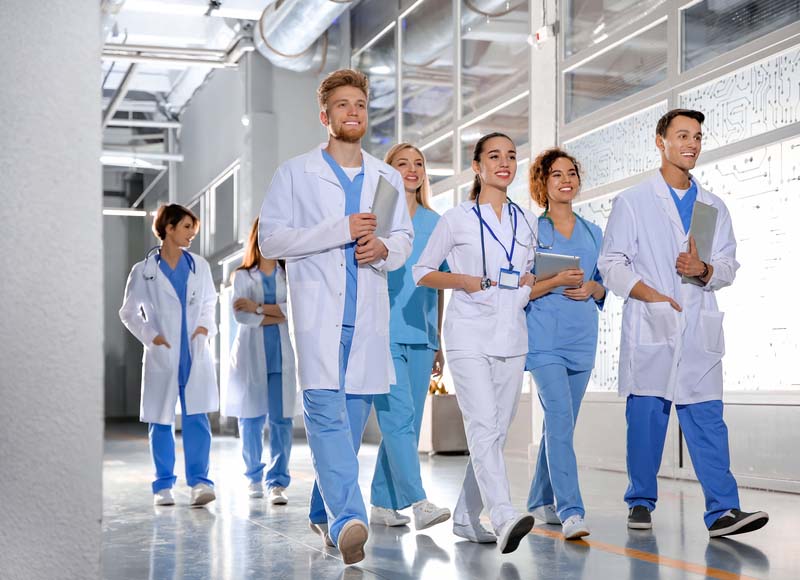 1. Physical Therapist Assistant- 26% growth rate
A physical therapist assistant provides hands-on care to improve the physical capabilities of patients. PTAs get to see the patient from the beginning of an injury or illness all the way to their maximum level of physical function. In addition to having a rewarding career on a personal level, PTAs can expect to earn a median salary of $48,990 (May 2019 statistic).
2. Medical Assistant- 23% growth rate
If you like to wear many hats while at work, consider a career as a medical assistant. At Nebraska Methodist College, you can begin this rewarding career in just a year (yes, really). You'll work in medical offices, hospitals, and outpatient facilities. Job duties range from administrative work, maintaining correspondence with patients, bookkeeping and more. Earn a median salary of $34,800 (May 2019 statistic).
3. Respiratory Therapist- 21% growth rate
Respiratory therapists assist patients who have trouble breathing. Most of the reasons include emphysema, asthma, sleep disorders, cystic fibrosis and most recently COVID-19. RTs deal with breathing treatments, and they typically work in the ER, medical offices, asthma clinics, hospitals and more. The median annual salary for RTs in 2019 was $61,330.
4. Diagnostic Medical Sonographer- 19% growth rate
Diagnostic medical sonographers' main focus is creating images of the body's tissues and organs. They provide sonograms and ultrasounds which are the first tests performed when a disease could be present or suspected. Sonographers use ultrasound transducer to scan parts of the body being examined. They work closely with patients as well as surgeons and physicians throughout the processes. In May 2019, the median salary for diagnostic medical sonographers was $74,320 annually.
5. Healthcare Manager- 18% growth rate
Medical and healthcare managers are responsible for overseeing different departments such as nursing, surgery, physical therapy and more. Depending on where they work, they may plan, direct and coordinate the daily business tasks of healthcare providers. Most healthcare managers work in hospitals, nursing homes and group medical practices. Managers/administrators could earn a median salary of $100,980 (May 2019 statistic).
6. Cardiovascular Sonographer- 14% growth rate
Due to population aging, medical conditions such as heart disease and blood clots will need to be diagnosed. This is where cardiovascular sonographers come in. They work with patients using ultrasound equipment to collect and evaluate images of the heart, heart valves and blood vessels. Salaries will range by state and experience, but the median salary in May 2019 for cardiovascular sonographers was about $74,320 annually.
7. Registered Nurse- 12% growth rate
The career path of a registered nurse can go many ways; there are many different types of nurses and they work in a variety of places. The primary responsibilities for registered nurses include coordinating patient care, assessing patients' conditions, observing patients, recording medical records, operating medical equipment, educating patients and families on various conditions and so much more. The median annual wage for registered nurses was $73,300 in May 2019.
8. Radiologic Technologist- 9% growth rate
If a day of operating X-rays and MRI scanners sounds like what you want, then a career as a radiologic technologist is for you. Radiologic technologists perform diagnostic imaging exams on patients and work in hospitals, clinics or other diagnostic imaging centers. Other responsibilities include mammography, keeping detailed patient records, operating other computerized equipment and more. Depending on the state, radiologic technologists can earn a median wage of $62,280 annually.
9. Surgical Technologist- 9% growth rate
Be a surgeon's right-hand assistant as a surgical technologist. In addition to providing tools and patient care, surgical techs have strong stomachs who work under the direction of a medical team and prep patients for surgery. They troubleshoot equipment and can also clean and cauterize blood vessels and close wounds. If the sight of blood isn't a problem for you and you can work well under pressure, this may be the career for you. Surgical technologists earned a median wage of $48,300 annually in May 2019.
Consider these healthcare career paths and more. Healthcare careers have expanded into administrative work, technology, assisting and so much more. Not only do they pay well, they provide a meaningful life for all involved.
If you want to make a difference in the lives of others, check out Nebraska Methodist College to further your education and start a life-changing career.