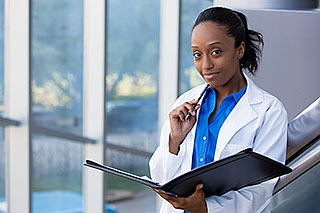 You've been through college. Put in the time. Got through the NCLEX with flying colors.
But now, months or years removed from school, the idea of going back gets brought up. Maybe you're seeing the numerous positions nurses can hold in modern healthcare, or perhaps you simply enjoyed the world of academia and love the idea of learning new things.
Whatever has you thinking about returning to school to earn your Master of Science in Nursing, we're here to tell you that your instincts are probably right. Trends within the United States are such that there's truly never been a better time to make the leap from BSN to MSN. The following are just a few of the key reasons to make the leap soon.
1. More Roles for Nurses than Ever Before
Nurses' voices are being heard en masse within the upper levels of healthcare systems. Chief Nursing Officers and other nursing executives are the norm, and additionally, nurses have an unprecedented opportunity to specialize exactly where they want to within their fields.
In order to reach that higher degree of specialization or to get the chance to truly lead within healthcare, you need an MSN. The BSN gets you in the door, but it's the MSN that opens the next door.
The MSN is the minimum education requirement for many of the advanced roles that are increasingly being held by nurses. If your goal is to manage personnel or oversee an entire facility, the Nurse Executive option gives you the opportunity to do just that.
The ability to prescribe medication has also been granted to nurses in many states. This permission only comes once a nurse has further demonstrated his or her skills by earning their Master's or even Doctorate degree of nursing practice.
The Master's level nursing degree demonstrates a heightened level of specialization that healthcare institutions look for. If you want your career to continue on an upward trajectory, it's essential to meet this benchmark.
2. The Clinical Floor Is Only the Beginning
Notice that in the previous point, clinical care never even came into play. That's because the MSN is a chance to expand your sights beyond what's possible in acute and other types of care settings.
Oftentimes, nurses who come to Nebraska Methodist College don't attain their MSN to get away from providing care; rather, they want to supplement that rewarding work by giving back in other ways.
An MSN doesn't mean that you're getting away from the patient interaction that made you passionate about nursing in the first place. Instead, you learn how to provide for patients in additional ways big and small.
If you take the Nurse Educator route, for instance, you learn to become a teacher and a mentor to future generations of nurses, giving them their introduction to the clinical world and thereby making an impact on more patients than you would ever see as an individual.
If you become a manager, you get more say in the policies and strategies that impact the patient experience. Nurses make fantastic supervisors and executives precisely because they've been on the floor and witnessed firsthand how decisions at the executive level can trickle down to affect care.
In the modern world, there's even a route called Nursing Informatics that gives nurses the tools they need to harness data into actionable insights for a care system. Clinical care provides you with the additional X factor you need to really absorb the data and determine how decisions based on the same can affect healthcare in ways micro and macro.
Never think of an MSN as an end to clinical care (although it can be if you really want to transition out). Think of it as an opportunity to take that care to a whole different level.
3. Salary Expectations
Let's discuss the scrub-clad elephant in the room: salary.
As an MSN-qualified nurse, you can expect to make more money in most roles than you would as a BSN-qualified nurse.
In many instances, this will be the case even if you don't immediately take on a new job. Numerous health systems have a pay scale that will adjust your wages based upon the degree you've attained.
But even if this isn't the case, as we've discussed up above, the new roles that you are now able to transfer into will likely carry a higher salary than what you've been accustomed to in the past. This is to be expected if you're managing a team or have been given additional responsibilities thanks to your expanded knowledge base and experience.
So yes, it's possible and even likely that pursuing and earning your MSN will put you in a position to command greater earning power over the course of time.
4. The Nurse Faculty Loan Program
For this point, we're speaking specifically to those persons who opt to become Nurse Educators, who will be responsible for teaching those who pursue their own passions in the nursing field.
Nursing is one of the most in-demand industries in the country, and nurse education is in lockstep with it. If there are tens of thousands of nurses receiving their Bachelor of science in nursing degrees in the next couple years, there needs to be thousands of nurses capable of teaching those persons the intricacies of the profession.
The Nurse Faculty Loan Program addresses this conundrum. Because of the nursing shortage, the federal government has stepped in with a system that offers loan cancellation for persons who commit to teaching fulltime at a nursing college.
How much loan cancellation? That's the best part. For the nurse who agrees to teach for four years straight, he or she will have a whopping 85% of their loans wiped off the books. That leaves that person having to pay back just 15% of what they'd otherwise borrow for an MSN.
The availability of this program is what makes going from a BSN to an MSN an attractive prospect for someone specifically interested in teaching.
Strike While the RN Is Hot
If you're considering going for your MSN, then our biggest piece of advice is this: don't wait. Too many times we've seen somebody wait for the perfect time when the kids are out of the house or the car is paid off or any number of other reasons, and here's what happens: the perfect time never comes around. Plenty of people have waited a year or two or more, and then once they finally begin, they're struck by the realization that they would already be almost done if they had started on the initial date they were considering!
There's always something that will keep you back, but hopefully the reasons described above give you enough incentive to move forward. As you've seen, earning your MSN is a wonderful opportunity in the modern nursing world.