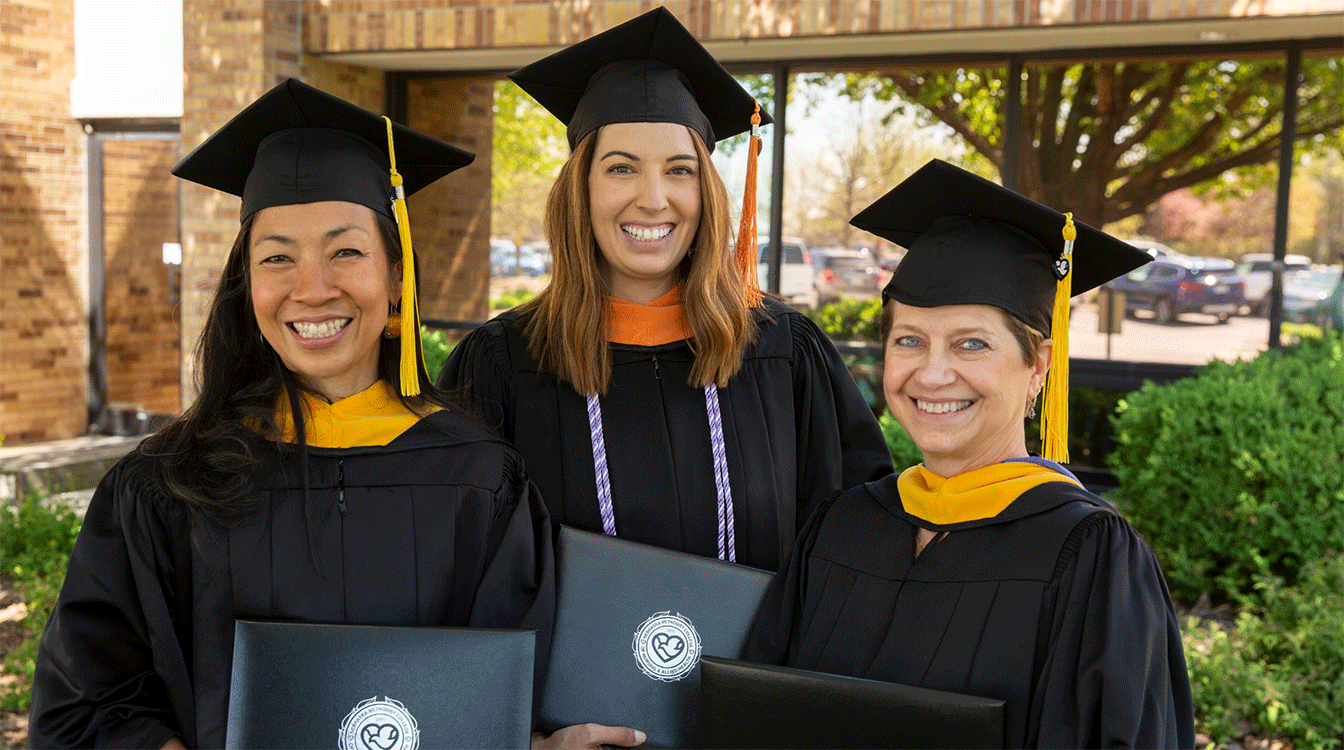 Getting your graduate degree can change the course of your healthcare career. A graduate degree will give you more opportunities to grow and become a leader in the healthcare community.
A graduate degree is right for you if you want to hone your skills, be an expert in your industry, be a stronger candidate for new positions and promotions or have an area of interest you want to pursue.
At Nebraska Methodist College (NMC), you can earn your master's degree or doctorate in nursing, allied health and healthcare management. Degree options are:
The Benefits of a Graduate Degree
Earning a master's degree or doctorate can help you gain specialized knowledge, which can advance your career. Below are ways that earning a graduate degree can help you succeed.
Increases your chances of getting hired or getting a promotion
According to CareerBuilder, 33 percent of employers have raised their educational requirements over the past five years, citing an evolution in the skills required for those positions. Thirty-three percent of employers hire employees with a master's degree for jobs that previously required a bachelor's degree.
Occupations that require more education for entry-level positions are projected to grow faster than average between 2020 and 2030, according to the U.S. Bureau of Labor Statistics.
In 2020, 1.8 percent of jobs required a master's degree. Between 2020 and 2030, the expected growth for jobs requiring master's degrees is 16.4 percent. Jobs requiring a doctoral degree are expected to grow from 2.7 percent to 8.9 percent.
Increases your earning potential
According to the U.S. Bureau of Labor Statistics, those with a master's or doctoral degree earn more than those with a bachelor's or associate degree.
The median weekly earnings for someone with a doctorate is $1,885. Those with a master's degree earn a median weekly wage of $1,545. The median weekly wage for those with a bachelor's degree is $1,305. Those with an associate degree earn a median weekly wage of $938.
Healthcare careers follow that trend. For example, the median annual salary for a nurse with a bachelor's degree is $71,730; for a nurse with a master's degree, it ranges between $76,710 and $99,730 and for a nurse with a doctoral degree is $113,930..
Expands your professional network
Even though you may be taking courses online to complete your graduate degree, you'll still create relationships with your peers and the faculty in your program.
Your classmates will come from diverse backgrounds, have unique professional experiences and have different career goals.
The faculty are experts in their field with connections within the industry.
Develops personal and professional skills
During graduate school, you'll hone your communication, research and analytical skills, making you a better problem solver and creative thinker. You'll improve your leadership skills, which will help you build confidence.
Your graduate program will also allow you to explore an area you feel passionate about, expanding your research portfolio.
NMC Alumni Share How Grad School Changed Their Careers
Stephen Baker, clinical therapist for St. Louis Counseling Archdiocese, lieutenant colonel in U.S. Army
Degree: Education and Leadership in Healthcare Doctorate
Graduated: 2020
"This graduate degree helped me look at my job from a change agent perspective, furthermore learning how to investigate current life situations and initiate change.
It has impacted my therapist job, counseling and providing therapy for all ages specializing in suicide intervention, more than anything. The degree has given me a fresh perspective and the right curriculum to provide better services and initiate change by conducting research and bettering the field of science in the profession.
NMC is a great institution."
Ans Irfan, director of Climate & Health Equity Practice Fellowship, director of the Center for Social Impact & Leadership, faculty and researcher at Milken Institute School of Public Health and George Washington University
Degree: Education and Leadership in Healthcare Doctorate
Graduated: 2021
"EdD was exceptionally valuable in providing me with transferable skills ranging from legal aspects of organizations, organizational accountability, innovation, sustainability of change efforts, curriculum development and leading complex organizations that continue to inform my quite diverse work portfolio.
Organizational leadership skills provided me with the capability to develop and lead programs such as the Climate & Health Equity Practice Fellowship – an international, first-of-its-kind fellowship focused on training physicians on the intersection of climate and health in the Global South.
The higher education administration skills gained through the program have continued to help me be more imaginative, innovative and creative in helping develop and strategize higher education programs such as George Washington University's Doctor of Public Health (DrPH) program.
My EdD allowed me to expand my work portfolio competently to include things I am deeply passionate about. Including developing and changing organizations to be anti-racist and transforming public health higher education institutions to be agents of social change. In a nutshell, EdD helped me execute my passion for global health equity in a more structured and well-informed way."
How to Apply to Grad School
The online application process for graduate students is simple. After applying to your program of interest, you'll submit your college transcripts, complete a written statement, fill out a program/career awareness questionnaire and submit your resume.
Visit the program webpage to review specific application requirements for your program of interest.
You can explore graduate school financial aid opportunities such as employer tuition assistance, scholarships, work study and loans.
If you have questions, reach out to an admissions coordinator at (402) 354-7200 or admissions@methodistcollege.edu.