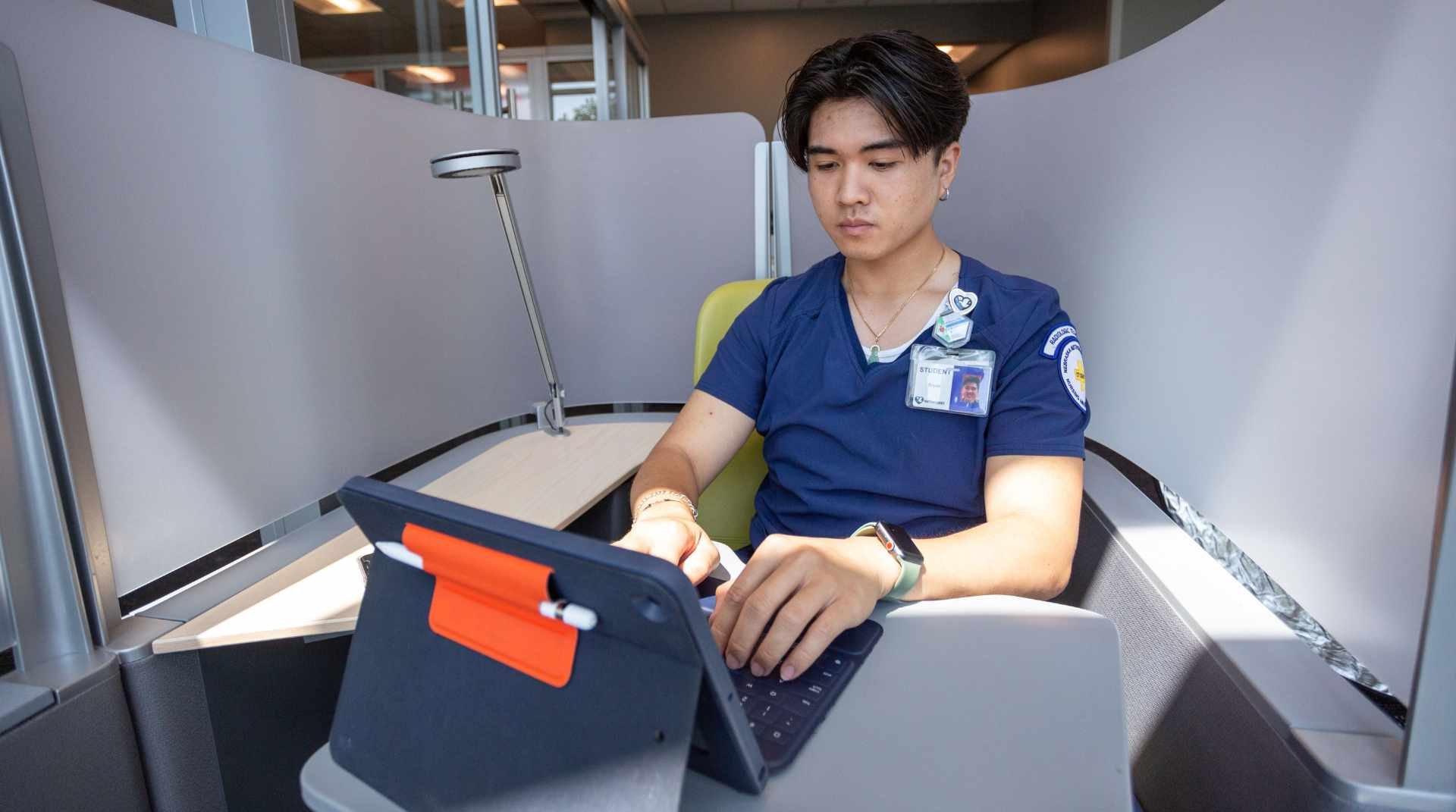 Navigating the college financial aid process can be overwhelming.
But taking the time to understand your options will help you feel more confident and less stressed as you begin the process of applying for financial aid and paying for school.
Financial Aid Essentials for Aspiring College Students
You'll want to be proactive pursuing financial aid because of the cost of tuition, housing and living expenses.
There are many types of financial aid. They include:
Scholarships
Grants
Employer tuition reimbursement
Federal loans
Private student loans
Work-study programs
Taking advantage of various forms of financial aid will help you reduce the amount you'll pay for college.
Read more: Pathways to a Healthcare Education to Decrease Tuition Costs
Demystifying the FAFSA Form
The Free Application for Federal Student Aid (FAFSA) is the first step in applying for financial aid.
In the application, you'll provide basic information like your name, driver's license number, social security number, education level and the degree you're seeking. The form also requires your financial information and your parent or guardian's financial information, if applicable.
The government uses the information you provide to determine your eligibility for federal student aid.
Read more: How to Apply for Federal Student Loans: A Step-by-Step Guide
Scholarships: Free Money for Education
Scholarships are an integral part of reducing the cost of your college education. You can apply for institutional scholarships and external scholarships to help pay for your tuition.
Nebraska Methodist College (NMC) awards about $4 million annually in scholarships and grants, including $3 million in institutional scholarships.
Scholarship funding is limited and distributed based on FAFSA filing dates.
While you might qualify for an institutional scholarship, you'll want to research external scholarships. They could be available through non-profit organizations, religious entities, your employer, your parents' or guardians' employer or athletic clubs.
You can find more scholarship opportunities through EducationQuest.
Each scholarship will have an application that could include a form, essay, transcripts or proof of financial need.
Because some are merit-based scholarships, maintaining academic excellence is important. Your grades in high school, community college or university can impact your eligibility for scholarships.
Read more: Four Ways to Get all the College Scholarships You Can
Student Loans: Federal vs. Private
After receiving scholarships and grants, you may still need to take out loans to pay for college.
You can choose between federal or private loans. Any loan must be repaid with interest after graduation.
The interest rate is the amount you pay to borrow money. When you pay back your loan, you'll also pay a percentage of the loan as interest.
Federal Loans
The U.S. Department of Education serves as a lender for Federal Direct Loans.
Students must be enrolled at least half-time to apply for federal loans. These loans require completing the Free Application for Federal Student Aid (FAFSA).
Subsidized and unsubsidized loans are offered by the federal government.
Direct Subsidized Loans are for undergraduate students with financial need determined by their FAFSA results. The federal government pays interest on the loan while you're in school.
Direct Unsubsidized Loans are for undergraduate and graduate students. They are not based on financial need. Interest begins to accrue at the time the loan is disbursed.
You are not required to make interest payments on an unsubsidized loan while you're in school. The interest will be added to the principal of the loan and capitalized at the start of repayment.
Federal loans offer flexibility with repayment, including:
Income-driven repayment plans.
Public Service Loan Forgiveness.
Economic hardship deferment.
Unemployment deferment.
Private Loans
You can try to get private education loans through a bank, credit union or other lender. They are based on the borrower's credit, have stringent credit requirements and typically have higher interest rates than federal education loans.
Some borrowers can qualify for a better interest rate by providing a credit-worthy cosigner.
Private loans can't be consolidated with federal loans after graduation, however, some lenders allow refinancing to receive a lower interest rate.
Grants: Need-Based Financial Aid for College
Grants, like scholarships, are free aid and don't require repayment.
Most grants are based on students' financial needs as determined by FAFSA results.
Students with the greatest financial need could be eligible for Federal Pell Grants from the U.S. Department of Education.
To qualify for and renew grants, students must fill out their FAFSA each year they're enrolled in college.
Some grants for college students may require an additional application.
Work-Study Programs: Earning While Learning
The Federal Work-Study (FWS) program provides part-time jobs for undergraduate or graduate students with financial need, allowing them to work to earn money for educational expenses.
Work-study may be included in your financial aid offer, if you demonstrate financial need, and you can accept or decline the offer.
You can also contact your financial aid advisor to discover whether you are eligible.
Planning Ahead: College Savings and Payment Plans
While having a savings plan for college tuition is the best way to avoid having to take out loans, you don't have to worry if you or your parents weren't able to save.
Scholarships, grants and work-study will help reduce the cost of college, and loans will allow you to pay for college without having to stress about earning enough money to pay tuition each semester.
As long as you avoid these common financial aid mistakes, paying for college will be less stressful.
Not planning ahead.
Not submitting the FAFSA.
Waiting until the last minute to fill out the FAFSA.
Missing deadlines.
Not researching external scholarships and grants.
Declining work-study.
Read more: Six Ways to Reduce the Cost of a Healthcare Education
Navigating Financial Aid Packages
After you submit your FAFSA, your financial aid office will contact you if they need additional information. Once the financial aid office has everything they need to determine your eligibility, they will notify you of your financial aid offer.
Your offer is the amount of money you can receive in grants or scholarships and the amount the federal government will loan you to help cover your tuition and college-related expenses.
You can accept or decline any part of your financial aid offer.
The loan offer may exceed the total cost of your tuition and fees. You can accept the total loan offer or some of the offer. It's important to remember that the less you borrow, the less you'll have to pay back after college.
Financial aid advisors are available to talk to students to help them understand financial aid packages.
Crafting a Financially Smart College Journey
Investing the time researching financial aid options will be worth it. When you're studying to enter your dream career, you'll want to be able to focus on your classes without stressing about paying tuition.
Empower your college journey with the right financial choices. Want more insights like these?