Working in healthcare is one of the most rewarding professions out there. You may have a calling to work in the industry and help others, but the idea of putting in time and money for school is intimidating. The good news is, you can launch your career faster and easier than you might think.
The world needs more people willing to enter this field. Between a call for registered nurses, respiratory therapists and occupational therapists (all due to a combination of the COVID-19 pandemic and an aging population), the healthcare industry always needs hardworking heroes who care.
Read on to learn more about entry-level healthcare opportunities for those who just entered the field. These jobs are in demand, prestigious and can advance your career in a big way.
1. Surgical Technologist
Not bothered by blood? Want to be in the center of the action in the OR? A career in surgical technology might be for you. Surg techs work under the direction of a surgeon and medical team to deliver the best patient care before, during and after surgery. They're usually relied on to help with surgery prep, inspecting and sterilizing instruments and ensuring the room is organized and ready for procedures.
The program at Nebraksa Methodist College (NMC) is 21 months long. The career is very in demand, and nearly and many NMC grads are hired into the Nebraska Methodist Health System before graduation.

2. Certified Nursing Assistant
A certified nursing assistant (CNA) is one of the most important members of the healthcare team. They work under the direction of a supervisory staff within a healthcare facility. CNAs work with patients to help with daily grooming as well as checking their vital signs, making up patients' beds and sometimes helping with basic medical procedures. They are qualified to work in hospitals, rehabilitation centers, assisted living facilities, medical offices and home healthcare.
CNAs must complete a state-approved education program and pass the state's competency exam to become licensed or certified. NMC offers a four- and six-week online hybrid certificate program, which includes hands-on clinical experiences.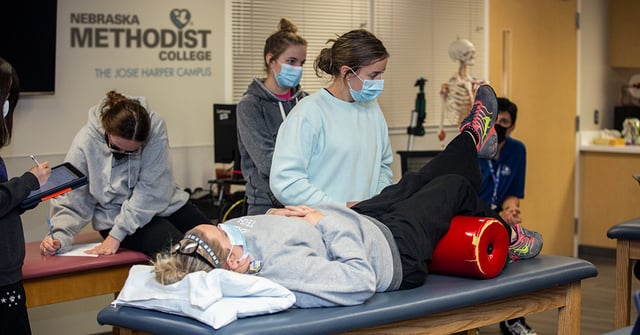 3. Physical Therapist Assistant
One of the most rewarding jobs in healthcare is physical therapy. Working as a physical therapist assistant (PTA) means working with patients who need physical rehabilitation due to an illness or injury. A PTA works under the supervision of physical therapists to help patients improve their physical capabilities. PTAs provide most of the hands-on care and follow patients through a plan of care set by the team.
In less than two years, you can earn your associate degree and begin making a difference in the lives of others. There is always a demand for PTAs, and there is a projected job growth of 29% between 2019 and 2029. NMC combines 710 clinical hours with hands-on classroom instruction in an updated, state-of-the-art lab.
4. Healthcare Management
Healthcare continues to evolve and today's students require an advanced set of business skills in order to effectively manage both a clinical and non-clinical setting. Healthcare management provides a wide array of career paths for those who appreciate the fast-pased nature of the industry, but who feel that they could make a larger impact within an organization in an administrative role.
Healthcare manager/administrator salary ranges will vary by experience, education, level of responsibilities, location and many other variables. The Bureau of Labor Statistics indicates that Healthcare Managers have a job growth rate of 32 percent between 2019 and 2029.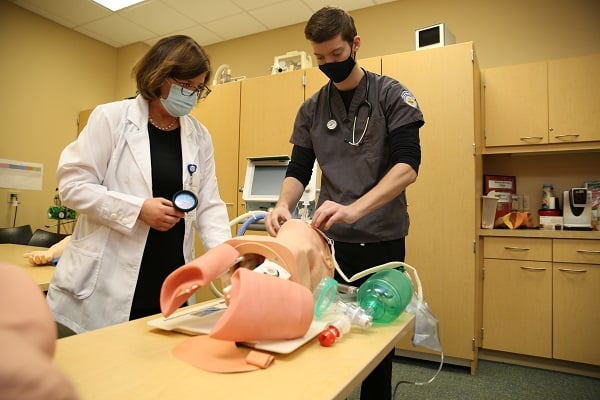 5. Respiratory Therapist
Respiratory therapists are in demand, partly due to the COVID-19 pandemic. RTs assist patients who have trouble breathing due to emphysema, asthma, sleep disorders, cystic fibrosis and more. They work with medical direction at places such as wellness centers, medical offices, asthma clinics, sleep disorder centers and hospitals. Respiratory therapists assist with diagnosing lung and breathing disorders, determining therapies, care and treatment.
Graduates from the respiratory therapy program at NMC have a high job placement. The Associate of Science Degree program can be completed in 24 months. After the program is completed, students can sit for the Certified Respiratory Therapist (CRT) exam.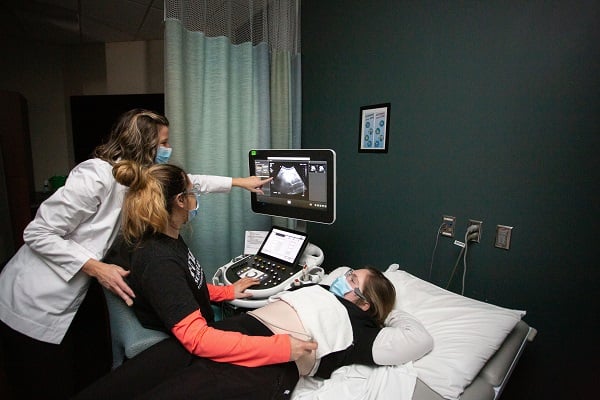 6. Cardiovascular Sonographer
Sonography uses sound waves to generate images used for the assessment and diagnosis of different medical conditions.
The cardiovascular sonography program at NMC is 21 months long. The curriculum focuses on the diagnosis and treatment of disorders affecting the cardiovascular system. Students gain hands-on experience through clinical training as well as lab learning experiences.
7. Medical Assistant
Medical assistants are a very important part of the team at an outpatient medical office or clinic as well as physician's office. They perform clinical and administrative duties and other tasks. Medical assistants are often the first person to greet or care for the patient.
Medical assistants are in huge demand throughout the country. According to the Bureau of Labor Statistics, the employment of medical assistants is projected to grow 19% from 2019 to 2029. At NMC you can earn your medical assistant certificate in one year.
8. Pharmacy Technician
Become a pharmacy technician in 10 weeks at NMC with 7.5 hours of online modules and six hours on an in-person lab. Students also complete 40 hours of experiential training at local pharmacies. After course requirements and a grade of 80% or higher is met, students receive Nebraska Pharmacy Technician Certification.
Pharmacy technicians are responsible for receiving prescription requests, checking medications, labeling bottles, maintaining patient profiles, preparing insurance claims, stock shelves and more. They demonstrate knowledge in medication safety and patient care, all while complying with regulations governing the drug industry.
9. Radiologic Technology
Become a radiologic technologist in 24 months at NMC. A radiologic technician produces images of the human body that are used in various diagnostic procedures. They use a combination of technology, science, patient care and collaboration to perform job-related duties.
Radiologic technician are relied on by doctors to take acute X-rays while maintaining a high level of sensitivity with patients. Technologists may work in hospitals, clinics or other diagnostic imaging centers.
If you want to make a difference in the lives of others, check out Nebraska Methodist College to further your education and start a life-changing career.