As the physical therapy assistant and occupational therapy programs at Nebraska Methodist College grow, so must the facilities and resources. Students in both programs will be provided with state-of-the-art equipment and the most up-to-date facilities. The new labs will assist in serving the growth of the OT (occupational therapy) and PTA (physical therapy assistant) programs. Dr. Melissa Kimmerling, who heads up the OT program, tells us about the new labs and the differences they'll make in the education of students.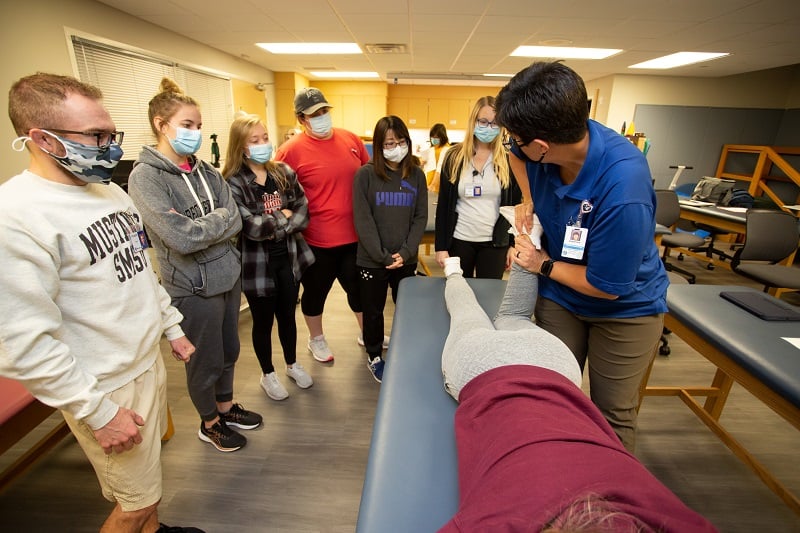 Nebraska Methodist College is proud to unveil their new rehabilitation lab spaces.
The spaces will be used for the Physical Therapist Assistant (PTA) and Master in Occupational Therapy (MOT) programs. The $400,000 renovation opened to students on Monday, September 14, 2020.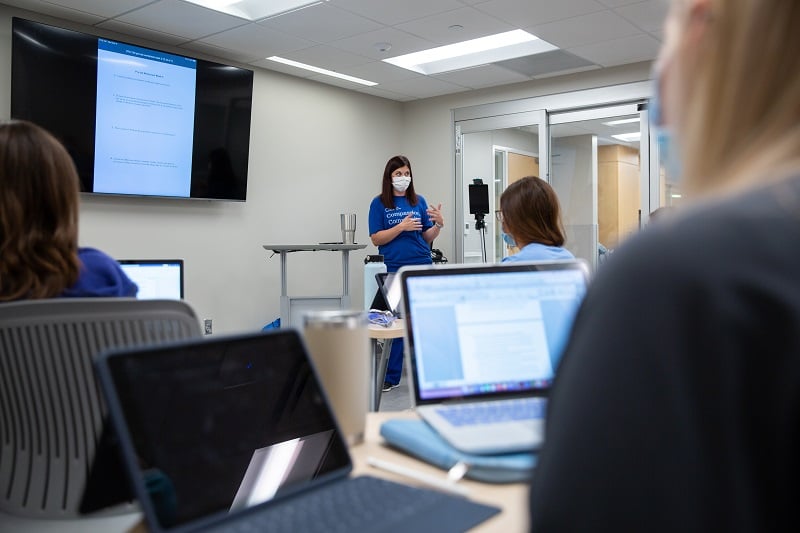 The COVID-19 pandemic has brought challenging times to many academic institutions, but NMC has overcome many of these and used the time which students were off campus to improve on-campus spaces. NMC spent the summer of 2020 renovating an older lab space and two adjacent meeting and classroom spaces into a new lab, consisting of three spaces. Upon entering the space from the south, you enter the PTA lab. This space was enhanced by elevating the ceiling to allow for client stair training, inserting an overhead track system for body-weight supported treadmill tasks, adding wall-length mirrors for balance retraining and upgraded technology including an Apple® TV to pair with the student iPad® launch that occurred Fall 2020. The PTA lab is connected by large glass doors to the MOT lab space.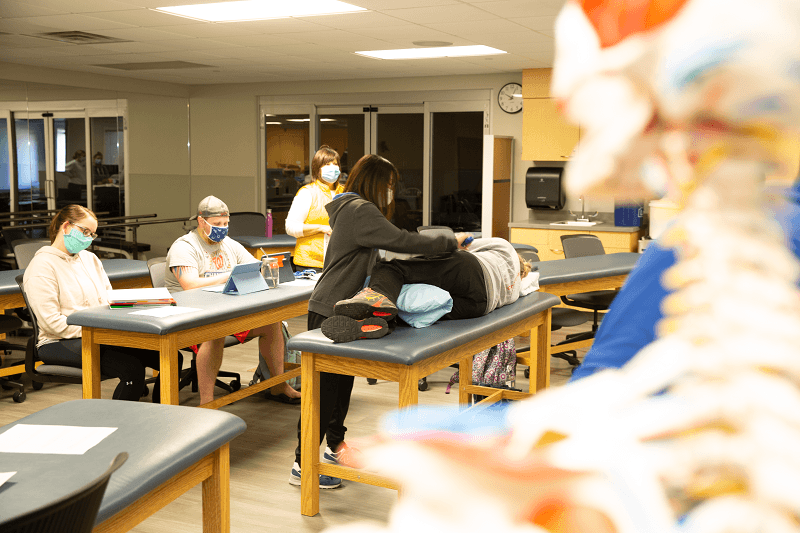 The MOT lab space was enhanced by adding a mock home environment consisting of a full kitchen and bath, as well as a bedroom which can also double as a mock acute-care space and dedicated space for physical agent modalities and splinting.
The mock apartment space is also fitted with a ceiling track system in which students can practice simulating high- level balance activities that prepare their client for independence in the home environment, without worrying about the patient falling.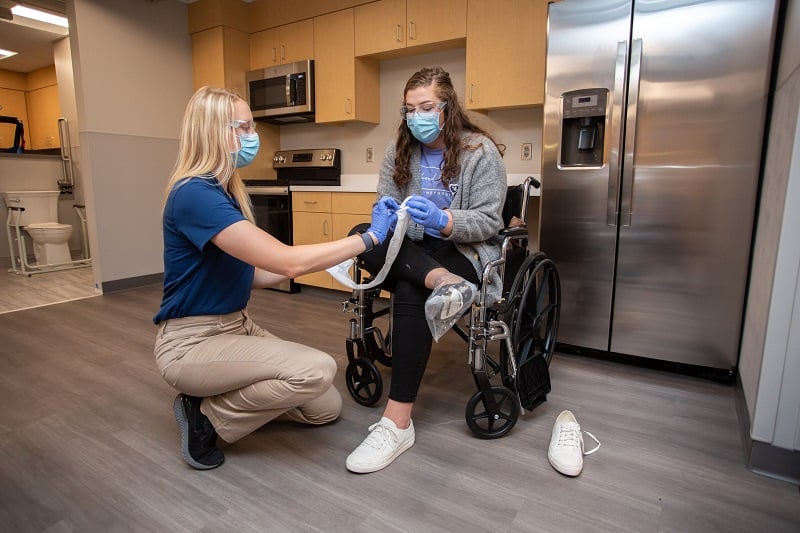 Both spaces include enhanced storage capabilities, mat tables and space for therapeutic activities specific to each profession. In clinical practice, physical and occupational therapy professionals often work alongside each other in spaces such as this. The presence of the large, moveable doors allows either program to expand into the other space and also presents with increased opportunity for interdisciplinary collaboration. Connected to the MOT component of the lab space is a dedicated classroom with another Apple TV to pair with the student and faculty iPads.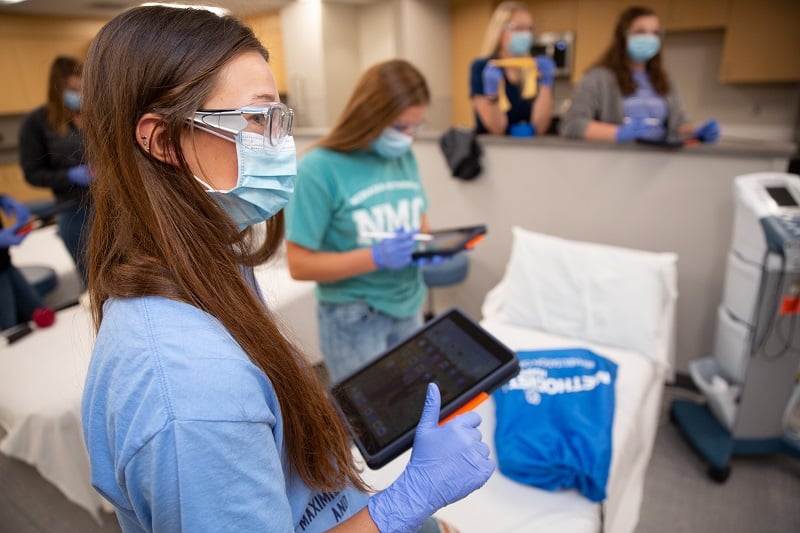 As the MOT program is hybrid in nature, students are only on campus for their laboratory sessions, hence the improvement of this space translates directly into an enhanced program experience for the hybrid MOT students. MOT faculty offices have been relocated to right outside the space, allowing students increased access to instructors during on-campus time. The PTA program instructors continue to be located near this enhanced space as well. The completion of this new space demonstrates NMC's commitment to their rehabilitation programs.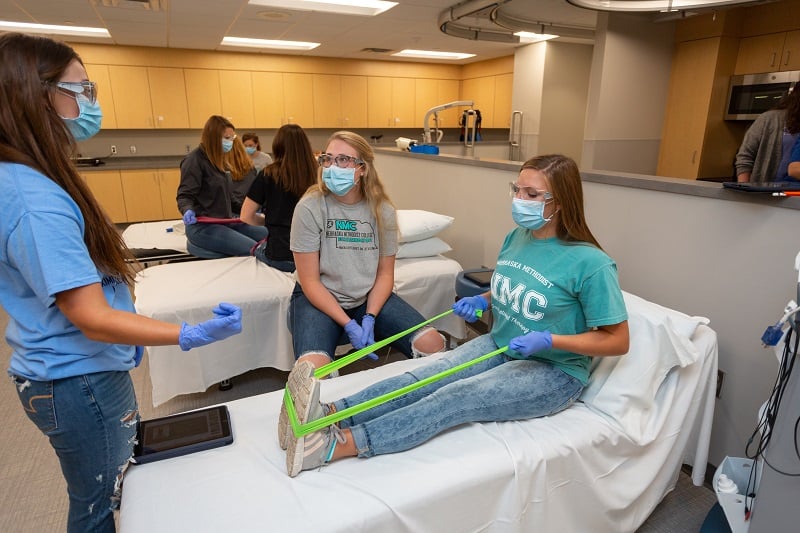 Even in challenging times, NMC is committed to continuing to enhance the student experience; both for face to face spaces and during their online interaction with our programs. This renovation, paired with the iPad launch and launch of a new learning management system in the Fall 2020, are just examples of this commitment to developing practitioners with the skillset, heartset, and mindset to make a positive impact on the communities in which they serve.
# # #
The coursework in the NMC MOT and PTA programs are so up-to-date that students are already working on treatment for patients recovering from COVID-19. Students practice doing stretches that reduce oxidative stress in various tissues and muscles.