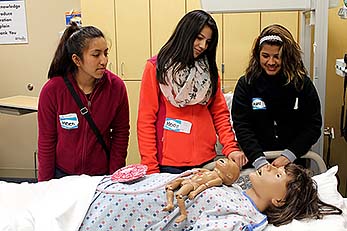 Nebraska Methodist College is always on the lookout for exciting new partnerships, and our work with College Possible certainly fits the bill. Recently, nine students from around the Omaha area were able to see everything that NMC has to offer, and these firsthand experiences were made possible through the collaboration of our organizations.
As an Explore Partner of College Possible, Nebraska Methodist College gives low-income students the chance to learn a little more about class offerings and the career opportunities available to those who pursue a degree in the healthcare field.
Healthcare: More Opportunity Than Meets The Eye
Most surprising to many students is the sheer number of options available through NMC and out in the world at large. While we are and always will be a nursing college, the number of programs dedicated to other fields is always eye-opening to those just learning about NMC. From respiratory therapists to surgical technologists and everything in between, NMC prepares graduates to play highly specialized and vital roles in the healthcare world.
Programs like College Possible are wonderful because they give promising teenagers a chance to catch a glimpse at college life without having to worry about financial hurdles or other obstacles. In order for the world of healthcare to meet the demands of the future, the entire industry needs an array of voices from diverse backgrounds, and College Possible allows such voices to be heard.
A Hands-On Campus Experience
When students visited NMC back in March, they were given the chance to experience what it's like to be enrolled in a college and find out what it means to be a part of the dynamic realm of healthcare. This wasn't some droll lecture about articulation or the intricacies of financial aid. Those things are certainly important, but the NMC campus experience is quite a bit different.
For one thing, we let visiting students actually roll up their sleeves and get into the very same labs that our enrollees use to perfect their trade. Visitors had a chance to practice their injection skills (albeit on our state-of-the-art simulations rather than on an actual human being. Ouch!). They witnessed a simulated birth in a lab dedicated to guiding future nurses through this rewarding experience. And they got to see everything else NMC has to offer throughout campus.
Interaction is key at NMC and in the healthcare field. We want to thank College Possible for giving us the opportunity to showcase our mission to students who otherwise may not have had the chance to get a preview of a nursing and allied health college. Feedback has been overwhelmingly positive, and we look forward to continuing our partnership well into the future.
Interested in your own interactive campus visit? Then click the button to schedule some time at NMC and see what we're all about.