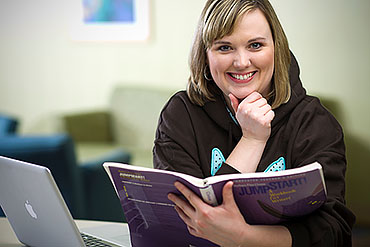 New and exciting methods of teaching are more accessible than ever thanks to technology. With tablets, Smartphones and even Smartwatches available, it only makes sense that colleges would expand their portfolio to include online classes.
Many of today's online classes aren't just the same lectures in a campus class thrown onto a webcam. On the contrary: NMC and other colleges go out of their way to create classroom modules that combine interactivity with expert instruction, enabling students to learn the material in an increasingly intuitive manner.
Today, we'll highlight some of the strengths of both on-campus and online learning so that you can figure out which is the right fit for you. Be warned: this post could change how you feel about an online learning environment.
On-Campus Learning
Whom It's For:
Freshmen
Transfer students who still want the traditional college experience
Individuals who prefer hands-on learning
What It Is:
You know the traditional on-campus environment because you've seen it in pop culture, on your drive to Husker football or Creighton basketball games and in any number of brochures depicting the best of what a college has to offer.
When you're on campus, you can expect to move between classes, meet awesome people and get to take part in the many extracurricular activities that make for a thriving college experience. Your classes will be a combination of lectures and hands-on labs. At NMC, that means participation in our state-of-the art simulations.
In the allied health world, on-campus learning also lends itself well to clinical participation. No matter your degree, you'll be expected to train with some of the most respected minds in your chosen profession in the region. This experience prepares you well for a future in healthcare.
And then there are the benefits of living on-campus. By staying in a dorm, you get the chance to make new friends and stay close to the hub of activity that is your college. Class is never more than a short walk, and for many traditional students, this marks the first opportunity to move away from home.
That said, what some people view as strengths others view as drawbacks. On-campus classes can definitely be more time-consuming, so it's not exactly ideal for the working professional who's trying to attain a more advanced degree. And some older students returning to get a degree may feel out of place surrounded by younger classmates, although NMC goes out of its way to make everyone feel welcome.
Online Learning
Who It's For
Out-of-state students not ready to move
Busy professionals balancing work and family with schooling
Most graduate level students
What It Is:
The biggest advantage online learning probably has over on-campus instruction is time. The classes may still be intensive, and you'll still go through a lot of material, but the nature of online learning means you can move at your own pace to a certain extent.
With online courses, you'll take many classes when it's most convenient, just so long as you actually boot up the learning module and go through the lesson plan within a given timeframe. If a lesson gets posted at 7 AM on a Tuesday, one individual might wake up and complete the entire thing that morning, while others might wait until late at night when the kids have been tucked into bed and there's time to focus.
This balance is critical for adult learners. Nebraska Methodist College strives to ensure that every individual is given the opportunity to get the most out of their learning environment, and online classes are one way that's achieved.
At NMC, each online class is five weeks, followed by a break before taking the next five-week course. This is an advantage for students because, although courses are accelerated, the students only have to balance deadlines for one course at a time. Clinicals could still be applicable depending on the program, but online students may need to take a more proactive role in securing a location.
You also don't exactly have to worry about snow days or other inclement weather when you're taking an online class. So long as you have an internet connection and an Internet-ready device, you can enjoy your classroom module while sipping hot cocoa indoors as a snowstorm rages outside.
As with on-campus learning, one person's strength can be another's drawback. Some people may crave the social aspect of college life, which can go missing when you're focused solely on instruction and don't get to buddy up to your classmates. Still others find it hard to concentrate when sitting in front of a computer screen. And although NMC is focused on assisting instructors with preparing interactive materials well-suited to an online audience, professors at some colleges may still fall into the trap of lecturing into a webcam and hoping the students follow along.
It's All About You
Ultimately, what you respond to comes down to you. Your degree choice, your path in life and your tenacity to further your education. Whatever you choose, know that your life could be changed for the better by pursuing your degree.
At NMC, the choice of online versus offline comes down to your program. But that's just the beginning. If you're thinking about returning to school, then get started by downloading our Step-By-Step Guide to Going Back to College.