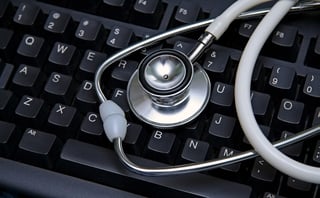 For years, the Certified Nursing Assistant program at Nebraska Methodist College has provided hundreds of students with the perfect entry point into the medical field. But we were always limited by geography due to the on-campus nature of the program.
That's about to change. For the first time ever, our CNA program is available in an online hybrid format.
What does that mean? Basically, the majority of the coursework will be completed online. If you have a computer with internet access, you can go through each week's curriculum where it fits in your schedule that week. Then, once per week over the course of six weeks, you'll come to campus for hands-on learning activities.
True, you still have to come to campus, but the once-per-week nature of those interactions means that students from outside the Omaha-metro area could conceivably take these classes and embark on their own careers too.
If you live two hours outside of Omaha, the thought of enduring a four-hour commute day in and day out isn't exactly pleasant. The same goes for if you're trying to balance CNA coursework with a full-time job. But coming in just once per week, with everything else completed from the comfort of your own home? That's a little more doable.
Thanks to this program, we have the opportunity to launch more careers in nursing than ever before. And there are a number of reasons why becoming a Certified Nursing Assistant, whether through online or on-campus coursework, is something you should consider.
Try Nursing Before You Apply to Nursing
Nursing is a big commitment. Some people have a passion for it from the start and have no question that that's what they want to do with their lives.
But that's not everyone. In fact, many people pursue their CNA credentials precisely because they're interested in nursing but want to get their feet wet in the medical world before jumping all the way in.
That's the great thing about CNA coursework. In a little over a month's time, you can get a job in a medical facility, thereby gaining a front row seat to the career you've thought about pursuing while you get to work shoulder to shoulder with nurses and other healthcare professionals.
There really is no better job shadow for the nursing profession than to become a CNA.
It's Shorter Than A Nursing Degree
Whereas a nursing degree takes four years to complete, a CNA certificate can take four weeks. Whether you choose to pursue a career in nursing or not, that's a pretty quick way to gain a valuable skill set.
In this sense, many people still choose to go through with their CNA certification even if they don't ultimately take the next step to nursing. It really is a fantastic job all its own. According to the Bureau of Labor Statistics, median salary in May 2015 was $12.36 per hour, and growth is expected to expand by 17% between 2014 and 2024.
As a result, life as a CNA is a great experience for so many people. People around the country work as CNAs to put themselves through college, to take a brand new step in their careers or to provide a steady stream of income for themselves and their families.
All of this in just four to six weeks. That's a pretty good tradeoff.
Skills That Last a Lifetime
During class and in your work, you'll learn skills you can put into practice as a CNA, a nurse and really any other career you choose to pursue.
If you go on to become a nurse, then obviously what you learned as a CNA acts as the first building block in your development as a nursing professional. Less obvious is the impact that your education will have in fields that have nothing whatsoever to do with nursing.
As a CNA, it's not just the technical aspects of the job that will stick with you. What you'll get even more mileage from are the interpersonal skills you gain in class and throughout your time working as a CNA.
Your interactions with patients will leave a lasting impact on you as a person. You'll be in a position to really get to know the people you assist in treating. You will be exposed to different cultures and ways of thinking that may have never crossed your mind previously.
As a part of a team, you'll also get a better sense of successful delegation and interactions among coworkers. It doesn't matter if you go on to be a nurse, an accountant or a rugby player; working as a CNA will help you in any environment where you regularly work together with people from a broad range of different positions and backgrounds.
CNAing Is Believing
With the online option finally available, we're mostly excited about the idea that more people will get to take advantage of this incredible career launching pad than ever before.
To become a CNA is to truly get in on the ground floor of healthcare, a huge field that seems to grow bigger every single day. Whether you choose to go with a hybrid online CNA program or pursue the on-campus option, you'll experience what it means to put compassion into practice, seeing how your own actions can make a real difference in the lives of so many individuals.