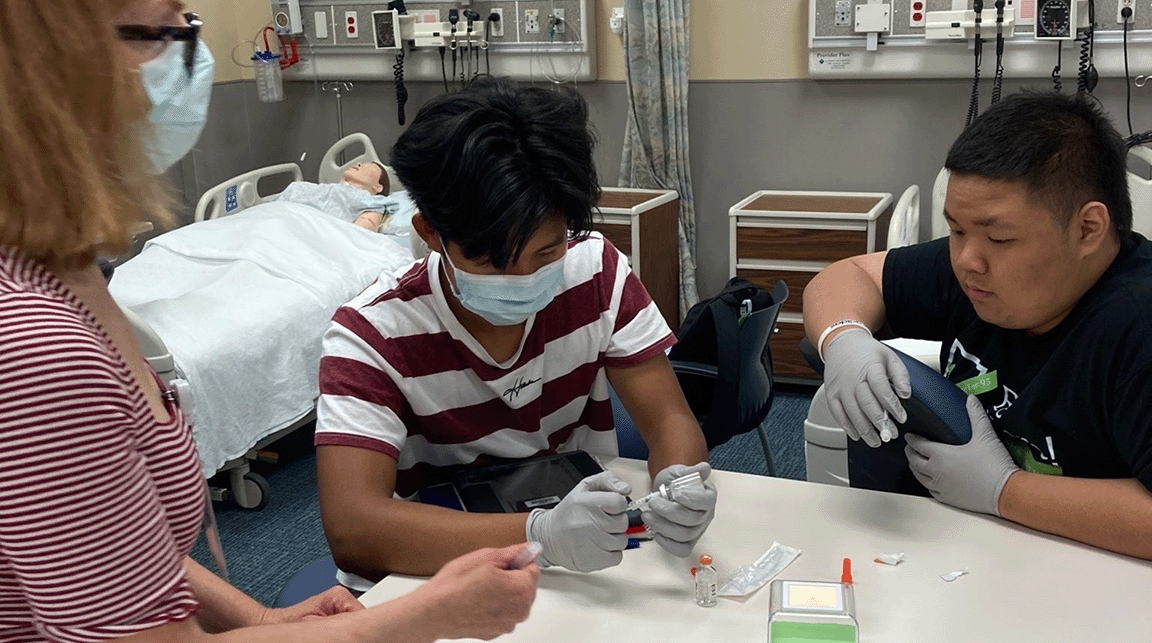 Upward Bound, the college preparation program at Nebraska Methodist College (NMC), received grant funding for the fifteenth year.
Funded by the U.S. Department of Education, Upward Bound provides current high school students with resources to pursue higher education.
"Upward Bound provides the skills and motivation that high school students need to be successful in postsecondary education," said Jackie Lee, director of Upward Bound and Upward Bound Math and Science.
The $1.4 million grant is for 2022-2027.
History of Upward Bound at NMC
NMC first received funding for Upward Bound in 2007 and serves 55 to 60 students yearly.
The program serves high school students who are low-income, will be first-generation college students or both. Students can join the program as high school freshmen and participate until their high school graduation.
"NMC participates in Upward Bound because it aligns with our mission and core values. Upward Bound exists to help increase the number of historically underrepresented populations on college campuses," Lee said. "We guide them through high school so they can have the skills needed to get to college and eventually graduate."
Participating students are from Burke High School in Omaha. Students who meet the eligibility requirements apply for the program. If they demonstrate a commitment to postsecondary education through their application and an interview, they're accepted into the program.
Over 90% of students in Upward Bound attend college in the fall following their high school graduation, Lee said.
Sixty percent of graduates at Burke High School who are Upward Bound eligible attend college the fall after graduation. Sixty seven percent of students in Nebraska and 66% of students in the U.S attend college in the fall after graduation.
NMC also partners with the Teen Center in Omaha.
Upward Bound Programming
Upward Bound helps prepare high school students to be academically, socially and emotionally ready for college.
The program provides college preparation support through tutoring, mentoring, financial literacy training, ACT preparation and college readiness.
Students have the opportunity to go on college visits and participate in work-study, which exposes them to careers that require a postsecondary degree.
After School Programs
After-school programs offer tutoring, test preparation, study skills development, academic and career advising and one-on-one mentoring. Students are also exposed to career options, especially careers that are under-represented by marginalized groups.
College Preparatory Seminars
Once a month, students attend grade-specific seminars on various topics related to college preparation.
Exploratory Seminars
Students attend a monthly exploratory seminar. Topics include ACT preparation, leadership, study skills, health careers, financial literacy, poetry and community service.
Saturday College
Saturday College provides students with information about college. In addition, guest speakers are invited to share tips and instruction with students.
Summer Academy
During the summer, students take enrichment and elective courses, go on field trips, explore careers and participate in community service.
Students take classes in core curriculum subjects, including English literature and composition, science, science laboratory, mathematics and foreign language.
Senior Bridge Program
The Senior Bridge Program prepares students to transition from high school to college.
Upward Bound students that have graduated from high school can take up to two college-level courses, live on campus and take college seminars in the summer between high school and their first semester of college.
More on Upward Bound
If you have questions about Upward Bound, contact Jackie Lee at jackie.lee@methodistcollege.edu.