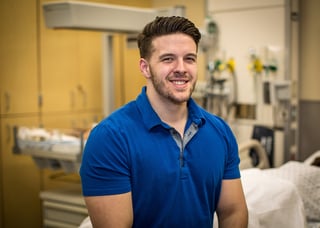 Men in nursing are in the minority: Men make up just 13 percent of the U.S. nursing population. So you can imagine that Jake, a student at Nebraska Methodist College who had dabbled in four different majors, took his parents by surprise when he announced, out of the blue, that he wanted to be a nurse.
"They thought, 'This was the guy who wanted to be an architect or a geologist. Where did nursing come from?'" Jake said. "But when I left my fourth major, I knew it was time to get serious and find a program that I would love."
Leaving Bad Habits Behind
He said he wanted a program that coupled his love for helping others with his passion for science. After Jake enrolled at NMC, he knew he had found his calling. He will graduate this spring with a Bachelor of Science in Nursing.
Jake knew he wanted to make a difference but didn't know how. Like many students unsure of their futures, he spent his first years of college at a large state school, unable to settle on a major. Jake said he became exhausted and even slept through classes.
Rather than become bitter, Jake is grateful for this first attempt at higher education.
"It was where I got my 'bad-student habits' out of the way," said Jake.
Jake found Nebraska Methodist College while searching online. While a career in nursing seemed far-fetched at the time, he couldn't get the idea out of his head.
"I found a program that would get me up in the morning because it meant helping people."
Next, he had to convince his parents that this was the best choice for his future. Jake is the first person in his immediate family to go to college, making it very important to them.
"My parents didn't go to college, and they were determined for me to get a good job that paid well, and that would work well with my passion. Since they haven't been to college, they didn't really know what it was like," said Jake.
Once he enrolled, he assured them it was the right combination of science and care he sought. But they still weren't sold. It wasn't until his parents started experiencing medical problems that his mom saw firsthand how important nurses are.
"My mom wasn't afraid to wander around the hospital and ask nursing staff questions about their careers. Nurses on the floor explained how remarkable the career is, and how rare men in nursing come along," Jake said.
Changing Minds
Jake's parents finally glimpsed the nurse their son would become, but they needed to see more. He signed them up for an on-campus visit so they could see what he saw in NMC. During their tour, his parents were awed at the students' work ethic. This was the moment they realized Jake was part of a college that changed the way students like him worked.
Being male in a female-dominated industry came with its own set of challenges: some people mistakenly perceive male nurses as less compassionate or less hirable.
Jake proves these perceptions as falsehoods with his passion for care and penchant for proving himself. As a Certified Nursing Assistant at Methodist Hospital, Jake's colleagues recognize his ability to calm upset patients.
"There was one patient who was so angry, he didn't want to be there, he yelled at both his doctors and nurses. When I had time with him I made sure to get on his level," Jake said. "I literally squatted down next to him and asked him what was wrong. In that moment I could see he finally experienced relief."
He also helps others in their career paths. In one of Jake's proudest moments, he served as a student Ambassador, welcoming students and giving visitor tours on campus.
"I focused on the parents and transfer students because I knew where they were in their college selection process because of my own experience," he said.
The Finish Line In Sight
Currently Jake is precepting in a night shift at Nebraska Medicine – one of his final requirements before walking across the stage at St. Andrew's for graduation. For most grads, this means you're finished; however, nurses have one last hurdle: the NCLEX.
Jake said he isn't worried about the NCLEX because NMC prepared him well.
"I already scored a 98 percent on the practice test," he said.
From dabbling in different majors to acing the practice exam, Jake is a different person than he was before Nebraska Methodist College.
"I'm been fully involved on campus with the Ambassadors, and I've worked harder and learned more than I ever imagined," he said.
Congrats, Jake, on an awesome four years at NMC, and good luck on your boards!