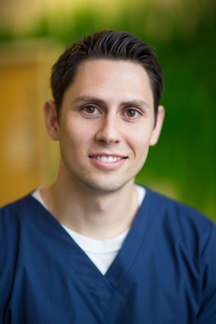 If you think only women can be nurses, it's time to update your perceptions. You're selling yourself short if you're overlooking nursing as a career path just because you're a man. Male nurses are becoming more and more common; according to the U.S. Census Bureau:
In 1970, 2.7 percent of registered nurses were men
By 2011, that number more than tripled to 9.6 percent
At Nebraska Methodist College, we've seen male enrollment in our Bachelor of Science in Nursing (BSN) program increase steadily, and today almost 10% of current BSN students are men. That's in line with the national average, as more and more men now see the benefits of becoming a nurse.
Why Nursing?
There are many positive aspects of nursing, and they're all great reasons why you shouldn't let outdated gender stereotypes limit your career choices. Benefits include:
It's exciting and fast-paced. Especially if you opt to work in an environment like the ER, your days will fly by. But even if you work in a hospital or a clinic, it's a think-on-your-feet, always-on kind of job, and that's really appealing to a lot of people.
It's challenging but satisfying. Nursing is an important job. It's technical and precise, but it's also very people-oriented. You're often the main contact with a patient, which means your role is vital – both to the patient and as part of the medical team. You'll get to see firsthand how the medical care you're providing is helping patients.
It's a great opportunity with great pay. Job outlook for nurses is very good, and with a median salary of more than $66,000, it's a strong career choice. There's also a lot of room to advance your career with more education, becoming a nurse anesthetist or nurse practitioner just to name a few possibilities.
(Still not sure if it's right for you? See "What Makes a Good Nurse? 6 Key Traits.")
Why Now?
There's never been a better time to be a male nurse, and you'll find plenty of support from peers. The American Assembly for Men in Nursing is a well-established organization that provides information, resources and support for men in nursing, including meet-ups with local chapters and an annual conference. With an initiative to increase male enrollment in nursing programs to 20 percent by 2020, the AAMN is dedicated to adding more males to the nursing workforce for a number of reasons, and diversity is a big one.
All professions benefit from a diverse workforce. When more men join the nursing field, they bring more and varied voices to the discussion. Your unique perspectives and strengths as a male are valuable.
Whether you're just graduating high school, looking to change career paths or want to advance your current career in the medical field, we encourage you to consider nursing and add your voice to the conversation.
Ready to transfer to a nursing program but don't know where to start? Download our free Transferring Credits Checklist today!