To advance students' skills and careers within the occupational therapy field, Nebraska Methodist College has rolled out a new Post-Professional Occupational Therapy Doctorate (PPOTD) program. Students can apply now through April 15, 2021, Fall 2021 semester classes.
The PPOTD program is designed for practicing occupational therapists and will advance knowledge and clinical skills in the area of cognition across the lifespan and practice areas. The goal of the program is to enhance research skills, leadership, education, clinical practice skills, administration and program development.
Nebraska Methodist College currently offers a Master's in Occupational Therapy program that allows for students to gain real-life learning. But the decision to earn a master's degree or doctoral degree can be a big decision. Read on to learn more about the new program and the benefits of the PPOTD degree.


Why choose PPOTD?
Occupational therapy is a growing, in-demand career. Occupational therapists (OTs) get to work with patients who are dealing with an illness, injury or disability. Earning a Master's in Occupational Therapy (MOT) will allow you to be a trained clinician, necessary for an entry-level position. OT fieldwork will begin in the first year. Those wishing to teach after graduating should consider the PPOTD option.
If you have a bachelor's or master's degree in occupational therapy, you can advance your studies through the PPOTD program. The courses at NMC are all online, allowing students to balance work and familial obligations. Courses are 10 weeks long, with scheduled breaks every 5 weeks.
This program offers two tracks: clinical leadership and OT educator. Both tracks will have core curriculum, with each track including courses geared towards becoming a healthcare leader in a multi-disciplinary environment, or for those who wish to pursue a path of becoming an academic OT educator. Occupational therapists who listed academia as their primary work setting grew from 5.8% in 2010 to 6.9% in 2018 according to the AOTA 2019 Workforce and Salary.
What will you learn in the PPOTD program?
Graduates of PPOTD will develop lifelong skills to advance their careers, promote interpersonal relationships, exhibit leadership characteristics and more. They'll learn client advocacy, teaching proficiencies and evidence-based approaches to practice. Students who earn their PPOTD will be prepared to:
Take on new roles in healthcare leadership and/or emerging practice areas
Pivot into academia
Make a difference in your career
Why study at NMC?
In addition to the 100% online program format and flexibility, there are many reasons choosing NMC is beneficial. Class sizes are smaller than at other colleges, allowing for a more personalized experience (you're never just a number at NMC). PPOTD students will learn from program faculty who are experts in the field of occupational therapy.
Most exciting of all, NMC has a brand new, state-of-the-art lab for occupational therapy and physical therapy assistant (PTA) students. Unveiled in September 2020, the lab features up-to-date facilities, including a mock home environment with a full kitchen, bath and bedroom. The mock apartment is also fitted with a ceiling track system for students to practice simulating high-level balance activities that prepare the clients for independence in the home, without worrying about the patients falling. A dedicated classroom with an Apple TV™ to pair with the student and faculty iPads™ is also connected.
The coursework in the NMC MOT and PTA programs are so current that students are already working on treatment for patients recovering from COVID-19. This includes stretches that reduce oxidative stress in various tissues and muscles.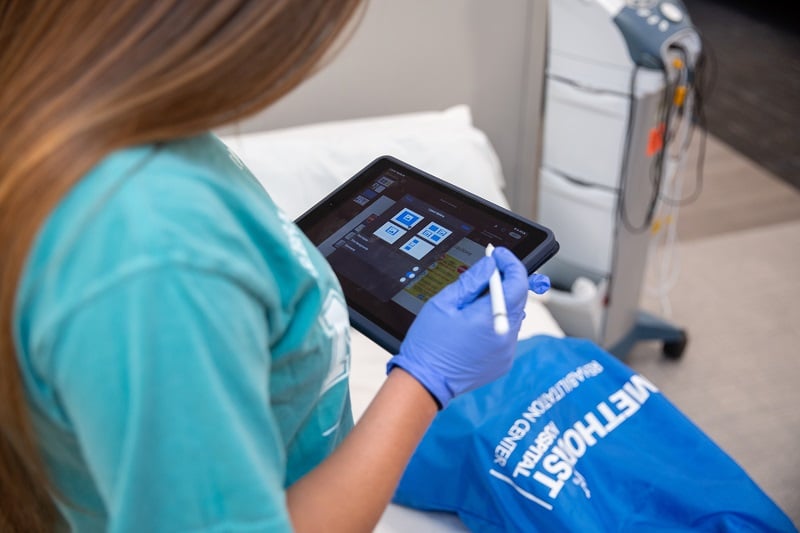 If you want to explore the exciting, rewarding career in occupational therapy, apply today and advance your education and career. Contact Michelle Olson for questions and more information.