Occupational therapy is a growing career in healthcare (and very rewarding). It is expected to grow 16% over the next 10 years. Occupational therapists help patients with injuries and diseases through the therapeutic use of everyday activities. In order to have a career in occupational therapy, a master's or doctoral degree is generally required. Admission to master's or doctoral degree programs will require a bachelor's degree and specific coursework.
But should you pursue a master's degree or doctoral degree? Both are hard work and outstanding achievements. So, what's the difference between the two? Read on to learn more about the two degrees you can earn in occupational therapy.


Why occupational therapy?
Occupational therapy is a growing, in-demand career. Occupational therapists (OTs) get to work directly with patients who are dealing with an illness, injury or disability; sometimes elderly patients who can't get around the house the way they used to. These patients may have to re-learn everyday activities done around the house that improve their quality of life. Usually, these are small things that other people take for granted.
What is a Master's in Occupational Therapy?
Earning a Master's in Occupational Therapy (MOT) will allow you to be a trained clinician in the field of occupational therapy. This is considered necessary for an entry-level occupational therapy positon. OT fieldwork will begin in the first year, which is exciting when starting out in your career.
An MOT will also allow you to finish your program a year sooner than if you earned a Doctorate of Occupational Therapy (OTD), on average. This will give you the option to start practicing much sooner and potentially acquire less student loan debt. When taking the MOT route, you are still required to pass the National Board Exam (NBCOT) and complete continuing education courses each year.
Starting salary for MOT graduates will not differ much from entry-level occupational therapists with an OTD. In 2019, the median pay for OTs was $84,950 per year.
The great part about obtaining your MOT is that you always have the option to earn your OTD in the future.
What is a Doctorate in Occupational Therapy?
If you see yourself teaching after you graduate, you may want to consider the OTD option. You can also earn your PhD later on, if you wish to teach. It does take longer to earn an OTD, which could take away a potential $60,000- $70,000 salary from getting your MOT than if you began earlier. Students should weigh their options of putting in extra time and money if they aren't interested in teaching or research.
An OTD is not required to practice and only 20% of occupatio
nal programs are doctoral level. Before you make your decision, be sure to compare programs at different institutions.
A Post-Professional Occupational Therapy Doctorate (PPOTD) option is available at Nebraska Methodist College. Students with a bachelor's or master's degree in occupational therapy can advance their studies through the flexible program.
What are the benefits of the MOT and PPOTD programs at Nebraska Methodist College?
The MOT program at NMC features an online and on-campus hybrid program combining classroom learning, research assignments, lab work and fieldwork teaching formats in a six-semester, 24-month program.
The PPOTD program can be completed in 24 months and offers two tracks: clinical leadership and OT educator. Both tracks have core curriculum, with each track including courses geared towards becoming a healthcare leader in a multi-disciplinary environment; or for those who wish to become an academic OT educator.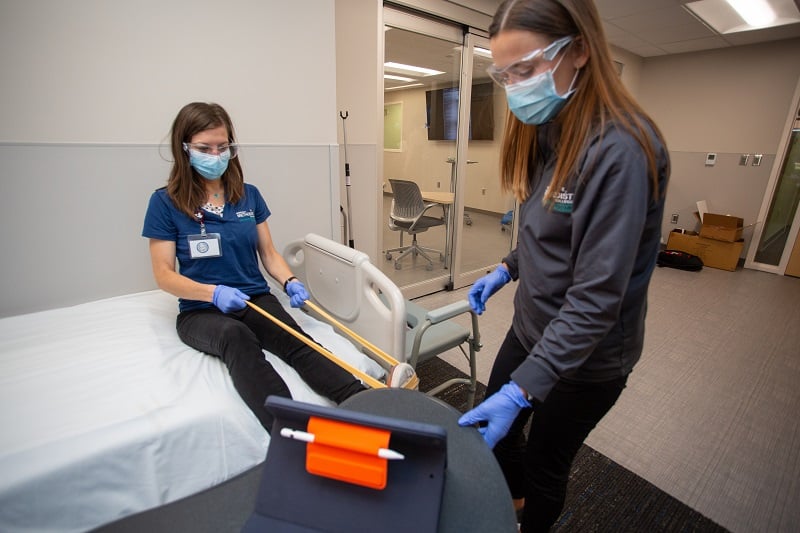 The occupational therapy labs at NMC have undergone an update in September 2020 with state-of-the-art facilities and up-to-date equipment. Students are able to work in a mock home environment with a full kitchen and bath. It also includes a ceiling track system and students can practice simulating high-level balancing activities to prep patients for independence in the home environment.
Fieldwork assignments begin in the first semester and include hands-on learning opportunities in rural and urban areas throughout the country. Graduates of the MOT program are eligible to sit for the NBCOT exam. After certification, graduates must also meet the licensure requirements for the state where they choose to practice.
Download the Inquiry Packet for more information about the MOT program.
If you want to explore the exciting, rewarding career in occupational therapy, apply today and advance your education and career.
MOT Degree Guide
OTD Degree Guide