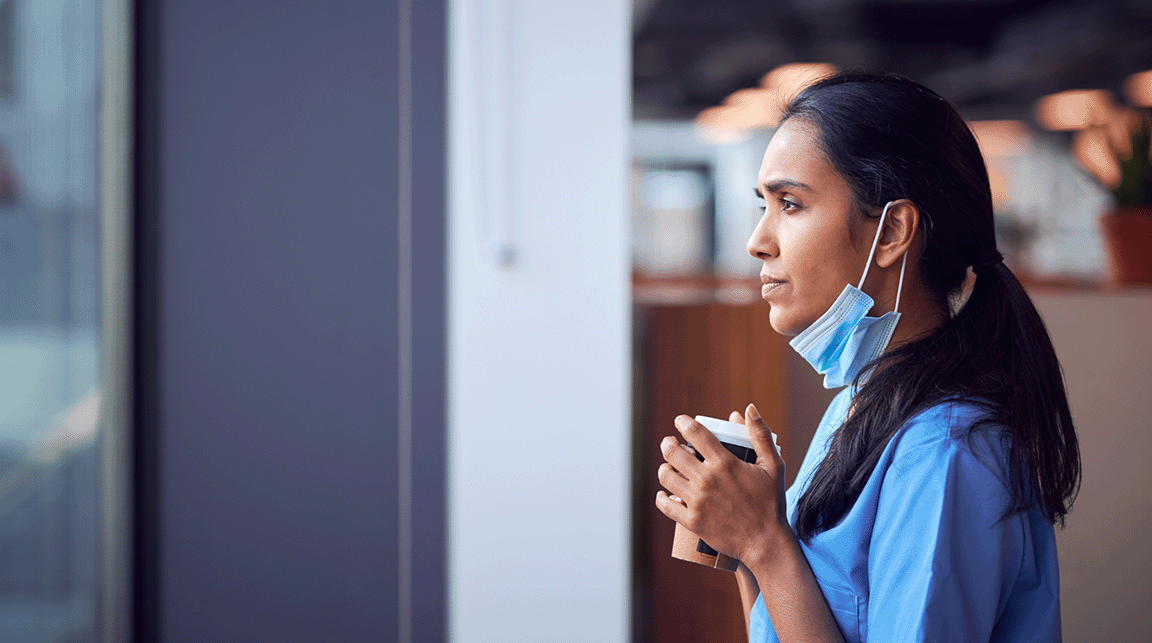 Choosing to get a graduate degree while working in healthcare during a pandemic is a big decision.
Students who attend Nebraska Methodist College (NMC) say the level of care and support they've received while still being held to high academic standards has been unparalleled.
"These have been some of the most trying times in my life. I've experienced some things that question my purpose of being in the medical field and service industry," said Nicholas D'Amico, a public health nurse at a local county detention center. He is pursuing his Doctor of Nursing Practice as an adult-gerontology primary care nurse practitioner at NMC.
"However, NMC faculty have been incredibly supportive, flexible and humanistic during this pandemic. All without sacrificing academic integrity or rigor."
The COVID-19 pandemic has reaffirmed the importance of healthcare workers while shedding light on areas that need improvement - creating a higher demand for skilled and compassionate leaders in healthcare.
Getting Support at NMC
NMC's graduate programs in nursing, allied health and healthcare management provide students with the skills necessary to work in leadership roles.
The holistic culture of caring makes the healthcare education at NMC unique because you receive the support you need to be successful, even while working in a pandemic.
Dr. Tara Whitmire, NMC Bachelor of Science in Nursing-Doctor of Nursing Practice Program (BSN-DNP) director and nurse practitioner, said the faculty understand the challenges graduate students working in healthcare face, so faculty have been more intentional about checking in with students.
"We're much more upfront about encouraging students to take care of themselves," said Dr. Hilary Applequist, NMC associate professor and palliative care nurse practitioner. "We recognize that being in grad school is challenging to begin with and even harder when there's a pandemic going on."
Allyson Fortenberry, a progressive care nurse at Methodist Hospital working on her Doctor of Nursing Practice as an Adult Gerontology Primary Care Nurse Practitioner, said working on a COVID unit during the pandemic, being a single mother and being in school brought its challenges.
"Shifts were long and exhausting, and I got home late often," she said. "The instructors at NMC have always been there for me and had all the student's best interest. They encouraged us to take time for us, and to openly communicate if we needed an extension on something. They understood because, they too, are healthcare professionals and have a life outside of work."
Emily Charvat, who worked on a COVID unit at Methodist Hospital for the first 17 months of the pandemic and is pursuing her Doctor of Nursing Practice as a family nurse practitioner, said balancing her job with school has been difficult. Still she found ways to make it work.
"I remember a month where I thought, 'I'm not going to make it in school,'" she said. "There's just too much to do and not enough time to do it. Tears were shed, but I made it through."
Charvat now works in the emergency room at Methodist Women's Hospital.
Finding the Right Graduate Degree Program
Kacey Anthone, a nurse navigator in oncology research at Methodist Hospital pursuing her Doctor of Nursing Practice as an adult-gerontology primary care nurse practitioner, initially enrolled in the Master of Science in Nursing program in the nurse executive track. After less than a year in the program, she realized that she missed direct patient care. NMC faculty and staff helped her find a path that would be a better fit.
"I'm so glad I went with NMC because you can just tell how much the staff and faculty care about the success of students," she said.
"The faculty have been incredibly supportive and understanding, especially for those students who were working overtime to help support the hospitals during this difficult time."
Fortenberry said she chose the part-time path in the DNP program because it fit better into her work and personal life.
"I'm grateful they have different paths to choose the length of time to complete the program," she said. "It allows you to set your own pace and work if you still must."
Kyle Morgan, a pediatric intensive care unit nurse at St. Jude Children's Research Hospital in Memphis, TN who is pursuing his Doctor of Nursing Practice, said he chose NMC because of the small class size and approachability to faculty.
The student to faculty ratio at NMC is 14:1. Most graduate programs are 100% online or have an on-campus and online hybrid format. You can get a professional education on a convenient schedule, which will allow you to balance school with your full-time job.
"Working during the pandemic and going back to school has been quite the journey," he said. "It has required a whole new level of time management and flexibility."
Why it's the Right Time to Advance Your Healthcare Career
Getting your graduate degree can change the course of your healthcare career giving you more opportunities to grow, become a leader and have an impact on the future of healthcare.
"One thing the pandemic has opened everyone's eyes to is how fast things in healthcare can change. These jobs are some of the most rewarding but also require individuals who are both flexible and up for a challenge," said Antone.
"Healthcare is an amazing field because there are so many different things that you can do. Even just within the world of nursing, the job opportunities are endless and incredibly diverse. There are also always opportunities for advancement and continued education."
Sydney Gress, NMC recruitment and admissions coordinator, reminds healthcare professionals that there will never be a "perfect" time to start a graduate program. But if you are interested, NMC admissions staff and faculty will work with you to set up a manageable plan of study that fits with your work and life responsibilities.
"If you are thinking about going back to school, do it! Don't wait because it won't ever be the 'right' time to go back," said Morgan.
While a graduate degree can lead to more job opportunities, a higher salary and an expanded professional network, NMC graduate students say the most important reason to go to graduate school is to improve patient care.
"I love patient care, and learning about physiological processes in the body. I love meeting people and learning about their lives. I like to help someone at their lowest and make them feel better. It's a very fulfilling career," Charvat said.
"There's no better time to find a job and help people. Most importantly, go back to school for the right reason, do it for patient care. Otherwise, you'll get too burned out."
NMC's expert faculty teach the skills necessary for high-quality patient care.
"I work in healthcare to empower others and give back to something greater than myself. I love seeing successful interventions, and when patients realize they have an advocate for their human needs," D'Amico said.
How to Get Your Graduate Degree in Healthcare
NMC's graduate-level programs are:
Nurse Educator
Nurse Executive
Nursing Informatics
Care Coordinator

Family Nurse Practitioner
Adult Gerontology Primary Care Nurse Practitioner
Adult Gerontology Clinical Nurse Specialist
Public Health Policy
After applying to your program of interest, you'll submit your college transcripts, complete a written statement, fill out a program/career awareness questionnaire and submit your resume.
You can explore graduate school financial aid opportunities such as employer tuition assistance, scholarships, work study and loans.
If you have questions, reach out to an admissions coordinator at (402) 354-7200 or admissions@methodistcollege.edu.