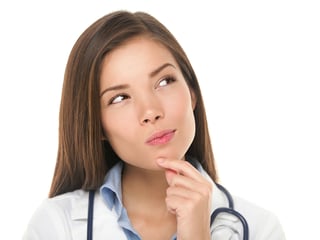 When you attain your Master of Science in Nursing, you're catapulting yourself to the cutting edge of a thriving field. Your new credentials show the world that you're a leader within healthcare, capable of tackling any challenges that may arise.
But how do you know which area to specialize in? Nursing careers can take you to any number of places, but where you choose to focus your education will be a deciding factor in your journey.
Nebraska Methodist College offers three separate online nursing tracks at the MSN degree level, and today, we'll explore the differences between those three. At the end of it, you'll have a better idea of whether or not you would like to hone your skills in our Nurse Educator, Nurse Executive or Nursing Informatics tracks. Each of these fields allows you the opportunity to help a great many people, but they do so in decidedly different ways.
Nurse Educator: Teach the Future of Your Profession
One of the largest areas of need within healthcare today is people qualified to teach the nursing professionals of tomorrow. Healthcare continues to expand at an astonishing rate, which means we need more people than ever to fill critical positions.
Before individuals can enter the ranks of nursing, they have to be educated, and that's where you come in. Within the Nurse Educator track, you'll learn to teach others how to be the best nursing professionals they can be.
The Nurse Educator track will provide you with the academic framework needed to truly excel within an academic setting. You'll learn about things like pedagogy, instructional methods and curriculum development, and you will ultimately complete a practicum in nursing education.
Once you graduate, the shift from a clinical to an educational setting isn't as dramatic as one might think. True, you'll be in a classroom for part of your time, but you're also likely to spend time within clinical settings, helping students gain the necessary experience to thrive independently once they graduate and become professional nurses themselves.
The Nurse Faculty Loan Program is perhaps the most attractive benefit. Because of the intense demand for nurse educators, the federal government created the NFLP to draw nurses to the teaching profession by helping them pay for school. To put it in simplest terms, it works like this: if you sign a contract agreeing to teach full-time for four years, you can have up to 85% of your student loans forgiven.
Do you want to teach the next generation of nurses? The Nurse Educator track is for you.
Nurse Executive: Shape the Course of Hospital Administration
Nurses are stepping into important administrative and leadership roles within health systems across the country, shaping the future of healthcare as Directors, CNOs and more.
The Nurse Executive track will prepare you to assume a senior leadership position at a hospital system or major healthcare corporation. Being a Nurse Executive is all about taking your experience as a nurse and applying management techniques and business skills to become an even more effective leader, thus influencing the decision-making process at the highest levels of healthcare.
Your nursing experience makes you uniquely suited to having a guiding influence on policies. You've seen the needs of patients firsthand, and you know how to shape policy to improve healthcare and maximize hospital efficiency.
The classwork in the Nurse Executive track teaches you to perfect these skills and put them into action in a dynamic way. You'll find out how to effectively develop and communicate your ideas, implement effective solutions to healthcare conundrums and take your healthcare organization to the next level of success.
Nursing Informatics: Where Data and Care Intersect
You've helped patients overcome incredible odds. You've seen the obstacles that a person can surmount. You know when policies and mandates could be improved and how to go about that process.
If you want to turn your intuition into an actionable insight backed by hard data, then the Nursing Informatics track may be your best option.
A specialization in Nursing Informatics will give you the education you need to harness data from multiple sources in order to develop action steps that improve outcomes at the patient and population level, a skill that's more important than ever in the wake of the Affordable Care Act.
Informatics specialization gives you the ability to evolve healthcare in the most intelligent way possible. Because of your clinical experience, you're positioned to act as a liaison between the nursing staff and the Information Technology portion of a system.
You see the people, not the numbers, and that's what makes you well-equipped to be the one who analyzes the numbers to overcome the challenges of the modern healthcare world. Even things like data analysis and implementation require a compassionate hand, which is why nurses are exploring their possibilities with Informatics like never before.
Get on the Right Track
Only you know which of these is right for you. We have degree options for nurses who have their BSN and those who don't, so you owe it to yourself to explore the possibilities. If you have any questions, don't hesitate to contact us. We'll explain a little more about each track and even help you decide where you want to focus.