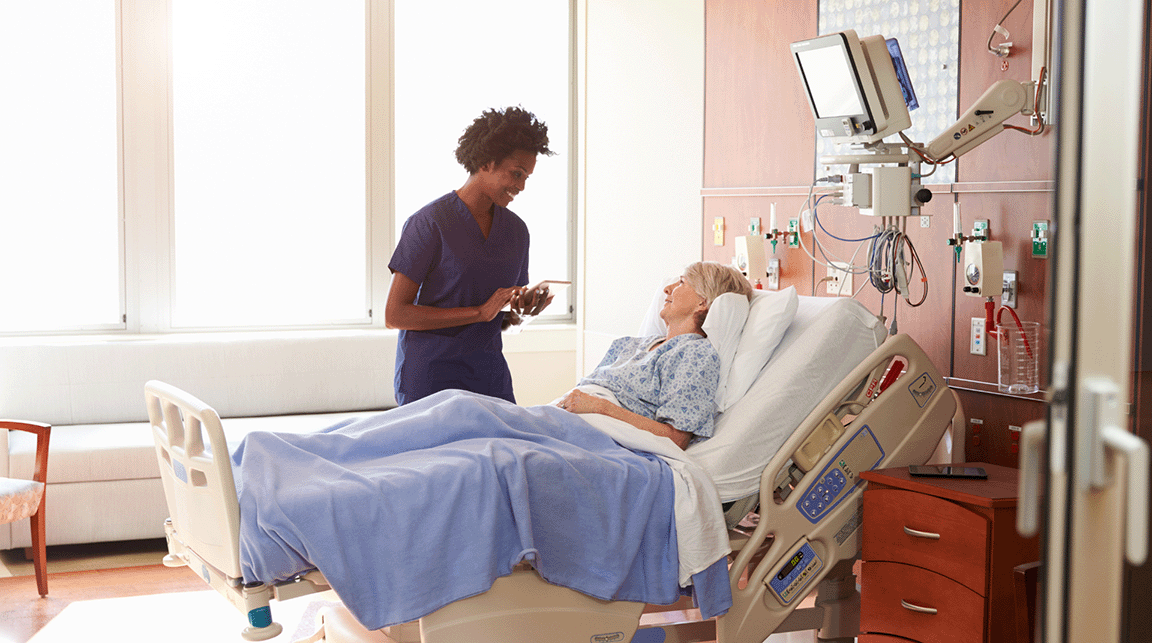 When a patient transitions from one care setting to another, a care coordinator ensures their needs are met.
Working as a care coordinator is a rewarding career that allows you to positively influence the health and well-being of your community.
"Care coordinators are essential in today's complex healthcare arena," said Marla Kniewel, Master of Science in Nursing program director at Nebraska Methodist College (NMC). "A care coordinator is vital to public health management and acts as the 'glue' in the healthcare system."
What Does a Care Coordinator Do?
As a registered nurse or a bachelor's-prepared nurse, you're most likely providing direct patient care. While a master's degree in nursing can mean moving away from patient interaction, nursing care coordination allows master's-prepared nurses to continue working with patients and their families.
An MSN care coordinator works to improve health outcomes for patients with complex diseases. You'll provide emotional and supportive care and assistance in navigating the healthcare system.
"Care coordinators have a direct impact on the quality of care that patients and populations receive," Kniewel said. "The care coordinator is in a key position to build rewarding relationships that facilitate patient engagement, which leads to high-quality, low-cost, patient-centered health care."
A care coordinator collaborates with healthcare teams to help facilitate the trajectory of patients' conditions and provide support. This support could mean ensuring patients have supplies at home or help from family or friends to assist with recovery.
"Care coordination is a very diverse and rewarding career path for a nurse. Nurses with a MSN in care coordination can work in various environments such as hospitals, clinics, emergency rooms, long-term care facilities and home health," Kniewel said.
Other roles nurses can have with an MSN in care coordination include:
Patient navigators.

Transition managers.

Patient care facilitators.

Patient/nurse advocates.

Nurse case managers.

Managed care nurses.

Health coaches.
Read More: Should You Get Your Master's in Nursing?
What Skills Do Care Coordinators Need?
If you've been working at the bedside as a nurse, you may be wondering what skills you'll need to be a care coordinator.
Your skills as a nurse will help you make the transition to care coordination, and your master's program will provide you with the expertise you'll need to help in the navigation of the healthcare system.
"A nurse who has a good foundation of clinical knowledge and is passionate about caring for individuals or populations would be a great care coordinator," Kniewel said. "There are times multiple healthcare professionals work with one patient or group, each with their own role. The role of the care coordinator is to unify all the moving parts to ensure care needs are appropriately addressed."
Skills required for nurse care coordinators include:
Ability to collaborate.

Good communication.

Ability to work in teams.

Resource management.

Having compassion and empathy.

Organization.

Strength in leadership.
"Care coordination involves deliberately organizing care activities and sharing information among all of the healthcare team to achieve safer and more effective care," Kniewel said.
What's the Salary of a Nurse Care Coordinator?
Getting your graduate degree in nursing will advance your career, and allow you to earn a competitive salary.
As an MSN-qualified nurse, you can expect to make more money in most roles than a BSN-qualified nurse.
This will be the case even if you don't immediately take on a new job. Numerous health systems have a pay scale that will adjust your wages based on your degree.
The average yearly salary of a nurse care coordinator is $78,675, according to salary.com.
How To Become a Nurse Care Coordinator
If you're a bachelor's-prepared nurse or a registered nurse, you can earn your Master of Science in Nursing as a care coordinator.
The MSN program will prepare you with the knowledge and skills required to effectively coordinate the care of patients, families and communities.
MSN program details:
100% online.

No GRE is required.

The program starts in January and August.

Courses are five to 10 weeks long, with one week off before the next course starts.

Can be completed in 21-33 months.

Upon completion of the program, graduates are eligible for the Care Coordination and Transition Management (CCTM) certification exam.
Learn more: Master of Science in Nursing Virtual Information Session
Methodist Health System (MHS) offers the Tuition Assistance Program when you attend NMC. You'll receive up to $3,500 a year in tuition assistance if you've worked for MHS for at least six months at a minimum of 16 hours per week prior to the beginning of the semester.
Registered nurses working for MHS are eligible to apply to the Methodist Health System RN to MSN Academy Program. In exchange for tuition, recipients are required to work at an MHS-affiliated hospital or clinic for five years following graduation.
Fill out an online application. If you have questions, reach out to an admissions coordinator at (402) 354-7200 or admissions@methodistcollege.edu.