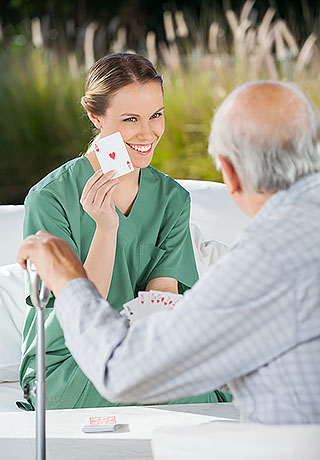 One of the most popular programs at Nebraska Methodist College is also one of the most mysterious: Accelerated Nursing, or ACE as we call it, gets a lot of attention from people looking to switch careers or degree paths.
There's a lot of misinformation surrounding the program, and that's what this blog will attempt to set straight. Today, we're busting five myths about the ACE program that I've uncovered during my time guiding incoming students interested in this degree path. Be warned: some of what you're about to read could change your preconceived notions.
1. "Anyone Can Apply"
One of the biggest misconceptions surrounding ACE is the entry requirement.
The reason we can offer a Bachelor of Science in Nursing in just 12 months is because you have to already have a degree in another field.
The thinking goes like this: if you've earned your Associate's or Bachelor's, you've likely gone through many of the core Arts & Science courses that our traditional nursing students would complete over the course of four years.
Therefore, when you enroll in ACE at NMC, you can focus all your attention on the core nursing courses that will enable you to succeed in a clinical setting.
2. "I Haven't Completed the Pre-Reqs. I Can't Apply!"
Many people catch a glimpse of our pre-requisites only to have their hearts drop. They see that they've earned most of the prereqs but that there's a handful still missing from their previous college career.
Not to worry: ACE is set up so that applicants have time to complete those courses before they start. After you apply and get accepted, you should have ample time to find an appropriate course at a local college (or even at NMC itself) to get the credits you need to start the program.
And here's another little secret we'll let you in on: we'll help you find the classes you need to begin ACE. All you have to do is ask for a helping hand. After all, that's what we're here for.
3. "I Did The College Thing Once. I'll Be Out Of Place Going Back To School"
We're always disappointed to hear that a person won't even give another trip to college a chance because they're worried they'll stick out among all the doe-eyed freshmen wandering campus.
Let me assure you: there's no need to worry. Nebraska Methodist College goes out of its way to welcome transfer students. With a combination of first-time freshmen, previous graduates and transfer students, NMC has a diverse age range that lets anyone feel right at home.
Speaking of home: we offer apartment-style housing for all of our on-campus students. With one- and two-bedroom options available, it's a great choice for individuals, couples and families with kids.
ACE is composed exclusively of people in the same boat as you: every one of your classmates will have earned their degree and come back to college to pursue something they're truly passionate about. You're always a perfect fit at NMC.
4. "12 Months for a Complete Nursing Education? Piece of Cake!"
Some ACE students assume that the work expected of them during their 12 months at NMC will be just like any other college program. Not so. In that timeframe, you're going from no experience to being able to stand toe to toe with someone who's had a four year education and then some, and that's a lot of knowledge to take in on a pretty short timeframe.
We won't lie to you and say that getting through the program will be a walk in the park. Far from it. ACE is most certainly not for the faint of heart, as you will be working diligently to complete coursework that will prepare you for the high-pressure world of nursing.
But ACE is certainly not impossible for someone who has discovered his or her passion for nursing later in life. Classes and assignments are tough but fair, and your best resource will be your fellow students going through the gauntlet with you. Our recent graduation rates and NCLEX pass rates show it can be done, especially with a team of like-minded individuals backing you up.
5. "I Already Earned A Degree, So I Must Be On My Own Financially"
The final concern many prospective ACE students bring to me is that they won't be able to afford it. They assume that because they already did the scholarship and FAFSA thing for their previous degree, they won't qualify now.
This couldn't be further from the truth. Not only might you still qualify for an assortment of loans and financial aid, but NMC actually offers exclusive scholarships for ACE students. It's just one more way we help our students find their calling in the healthcare world.
This is doubly important when you consider one big piece of advice we give students: do not try to work a full or even part-time job while enrolled in ACE. The coursework is just too much to handle. This is what financial aid is there for; it's meant to get you through your degree so that you don't have to worry about balancing work with school.
Let Us Help You
Hopefully you've found this blog to be enlightening. If you have any additional questions, please don't hesitate to contact me. You can also download our Nursing Careers guide for more information on the many opportunities that exist in the nursing field.
Now get out there and ACE your application!