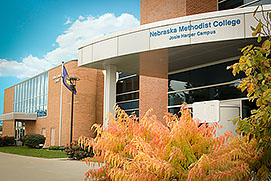 There are two schools of thought when it comes to campus size. On the one hand, you have your ginormous state schools, institutions that students flock to by the tens of thousands. On the other, you've got your cozy private schools offering a few highly focused degree paths.
Most colleges fall somewhere in between these two extremes. Nebraska Methodist College, for instance, touts an enrollment rate of over 1,000 students, small enough to offer hands-on attention from instructors but not so small that a student feels limited in their choices. Although our classes are centered around the worlds of nursing and allied health, these industries are large enough to host a number of degree paths and job opportunities.
Below, you'll find 6 reasons why students are typically drawn to a campus that can accommodate an enrollment rate of around 1,000 students. If these points sound like music to your ears, then you'll have narrowed your college search down quite a bit.
1. Faculty Attention
Giant lecture halls filled with hundreds of students are great if you want to doze off in class or skip out without catching the eye of the professor. But is that really the best learning environment?
When class sizes are more reasonable in number, you may not be able to escape the attention of your teacher, but that's actually a good thing. Each faculty member is focused on the students he or she has, and this creates a tighter bond that can really pay off for your GPA.
Nebraska Methodist College, in fact, has a 12:1 student to faculty ratio, and we feel that this enables our instructors to really get to know and interact with everyone who comes through their class. That's good news for you.
2. A Like-Minded Student Population
When you're at a larger school, you'll be rubbing elbows with students going through a number of different disciplines. That's all fine and well, but it also means most classes are filled with students who have very different goals from one another.
At a campus like NMC, every student enters different facets of the same field. You're working with individuals who have been through similar circumstances as you, all united toward the same goal: a career in helping people.
As you move through your degree program, you'll see many of these same faces. This can really come in handy when you're organizing study groups and tackling your class load, as you'll always have a few different partners in crime who can help you out.
3. Hands-On Learning
Because class sizes are more manageable, students have more opportunities for creative learning. You'll have some lectures, but these will be interspersed with hands-on activities you may not get at other colleges.
Our Nursing Arts Center, for instance, is equipped to offer every nursing student the chance to roll up his or her sleeves and practice their skills in a realistic hospital environment. Our simulations run students through real-world scenarios they'll face once they graduate, prepping them for the challenges to come. And our clinicals (most of which begin in the first year) offer the opportunity to get an inside look at what your career is going to look like.
Patient interaction is at the heart of healthcare, so we'd be doing a disservice not to let you get fully invested in your job from the start.
4. No More Campus Sprawl
No longer do you have to worry about leaving 45 minutes early for class because your dorm is two and a half miles from the lecture hall on the other side of campus.
Our campus housing is centrally located right next to our main building, a 60 second walk away (we've timed it). When moving between classes, you can take a leisurely pace and still have time to stop off at the Student Center or Deja Brew to grab a bite to eat. Having such convenient access to class and campus just makes the college experience that much more enjoyable.
5. Financial Aid Made Easy
At other colleges, trying to track down answers to your financial aid questions can feel a bit like calling your cable company to change service. You're on the phone for an hour, transferred to six different people just to get an answer to a simple question.
Not so at NMC. Our financial aid advisors focus on specific programs, so you'll know precisely who to talk to if you have any questions whatsoever. Their offices are always open, and you'll have their direct lines available to you the whole time you're at college. This goes for all aspects of our administration.
6. Advising That Actually Advises
Just like with financial aid, our academic advisors are paired up with students based on degree program, and we encourage each and every one of our students to visit with them throughout their course of study.
We want to see you succeed, and we've lined up resources to ensure that happens. At a campus like ours, you're able to take advantage of this system without feeling like you're just being processed and then sent out the door.
Relationships matter, and when you can develop a rapport with people who work at your college, your academic career can truly thrive.
That about does it. Hopefully you've seen the many benefits of a campus like NMC. The next time you visit a sprawling university, just remember, it's not the size of the college that matters; it's how you use it.
Does a more manageable campus sound like the right fit for you? Then schedule a visit with Nebraska Methodist College today!