Nursing continues to be one of the most in-demand careers. It's estimated that registered nurse employment will increase 19% from 2021 to 2022. The COVID-19 pandemic as well as an aging population has certainly contributed to this need. If you've decided nursing may be the career path you want to take, your next step is to choose a program.
A Bachelor of Science in Nursing (BSN) typically has two pathways: traditional and accelerated. It's helpful to understand the difference between the two so you can decide which is best for you. Read on to learn more about the differences between accelerated BSN and traditional BSN programs and why Nebraska Methodist College is a great choice for both.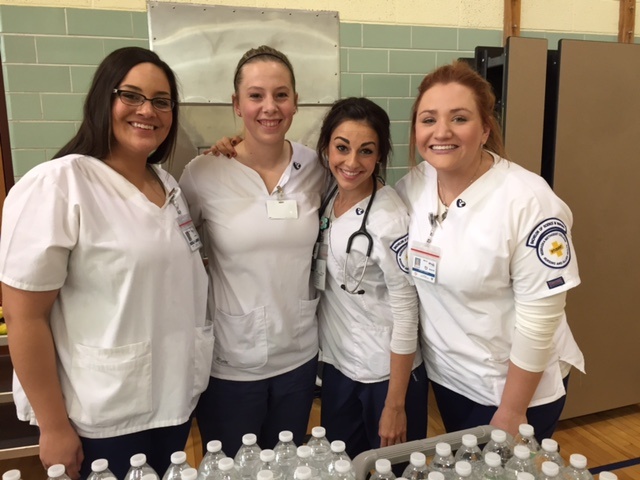 At Nebraska Methodist College, interested students can choose to pursue a Bachelor of Science in Nursing (BSN) through either the college's traditional or accelerated programs. While the pace of Nebraska Methodist College's traditional BSN is what you'd expect in a four-year setting, the college's Accelerated Population-Based Education (ACE) nursing program puts students on the fast track to their new nursing career. Through the ACE program — which is for those students who have already earned a previous associate's or bachelor's degree — students can earn their BSN in just 12 months.
Here are a few questions you should ask yourself when deciding between the two programs:
What level of time commitment can I make to earning my degree?
In either program, earning your BSN degree requires a significant time commitment in terms of attending class, studying course materials and participating in clinical experiences. However, because of its fast pace, the ACE program requires a greater time commitment from students than the traditional BSN. Students in the ACE program should be prepared to devote hours comparable to a full-time job to their coursework for the 12 months of the program.
Traditional BSN programs are for students with no college experience and only require a high school diploma. Accelerated BSN programs accommodate students who have enough college credits required for admission. NMC requires an associates or bachelor's degree from an accredited institution, with 39-63 credit hours of prerequisite criteria and encourages students to have had success in previous math and science coursework.
Can I have a fulltime job while I earn my degree?
While students in the traditional program are able to have jobs outside the classroom, Nebraska Methodist College recommends students in the ACE program not have a job because of the commitment the program requires.
Only you know what your time management skills are like. If you're able to balance a demanding curriculum through the ACE program with a part-time work schedule, this is entirely up to you. Just remember not to spread yourself too thin and overdo it.
What kind of learner am I?
Both programs require students to have strong learning skills, but if you are able to assimilate and demonstrate new knowledge and skills at a fast pace, the ACE program might be right for you.
If you can't wait to become a nurse and already meet the criteria needed for the ACE program or have a non-nursing bachelor's degree, an ACE program will be the quickest path for your career. However, if you work, have family obligations and don't have any college credits, a traditional BSN will be best for you.
What does Nebraska Methodist College offer?
NMC offers both traditional and accelerated BSN paths. The ACE program can be completed in 12 months. Our graduates are prepared to quickly enter the field with job titles such as nurse manager, nursing director, public health nurse and registered nurse.
The traditional BSN program is four years long and designed with three semesters of general education courses and five semesters of nursing skills and clinical classes. In 2019, 96% of our undergraduate students found employment six months after graduation.
Interested in learning more about Nebraska Methodist College's BSN programs? Give us a call and we can help answer the questions above and see if we are the right fit for you! You can reach us at (402) 354-7200 or admissions@methodistcollege.edu.
Traditional BSN: